Vietnam's goalkeeper Huyen: "We all want beach handball in the Olympic Games"
12 Oct. 2019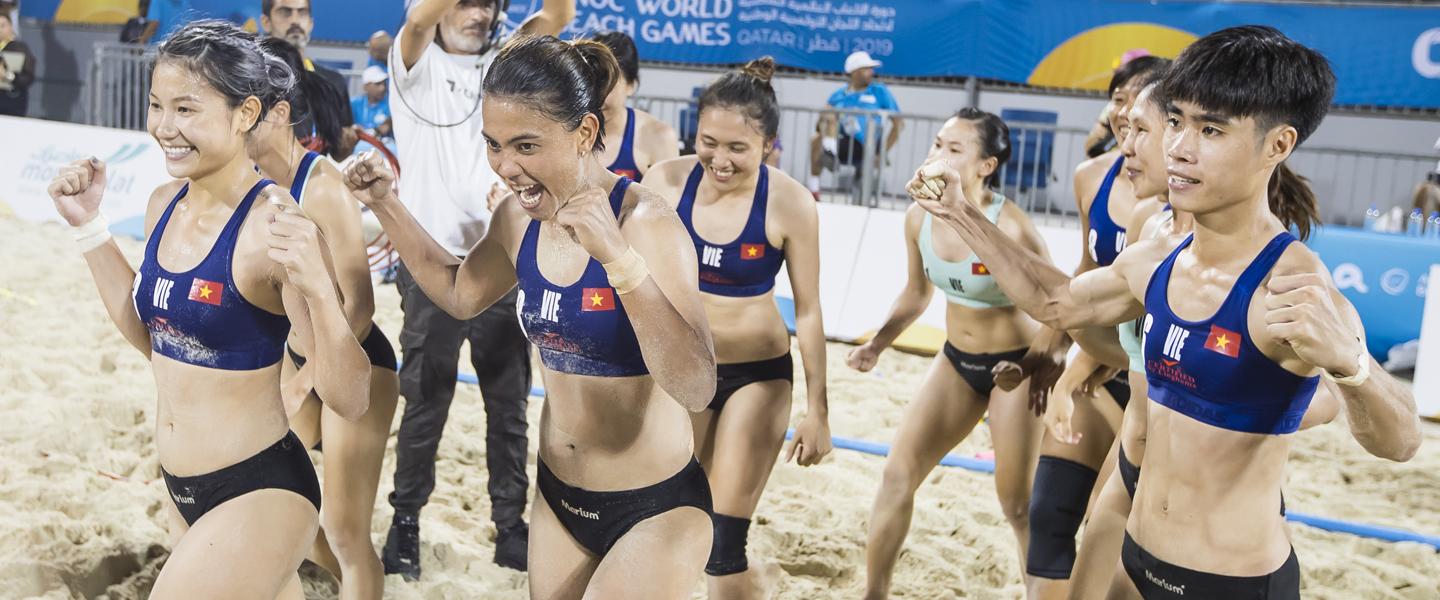 The women's beach handball team from the south-east Asian nation of Vietnam find themselves at the ANOC World Beach Games – Qatar 2019, as a replacement nation for Qatar and have promptly gone about their business, impressing on their three games so far on the Doha sand.
Their place was confirmed at Qatar 2019 after finishing as the second-ranked team in their continent having beaten Chinese Taipei to the spot with their head-to-head record at the Asian Beach Handball Championships, held in P.R. of China in June.
In their very first game at Qatar 2019, they took 2016 IHF Women's Beach Handball World Championship winners Spain all the way to a shoot-out, eventually losing 8:5, while they defeated the 2018 World Championship fifth-place team Poland via the same way in their following game, winning 7:4.
Earlier today, they had the chance to take current world champions Greece to a shoot-out at least but failed at key points in the game and lost 2-0.
The current form can be traced back to 2016, when the city of Da Nang in Vietnam hosted the Asian Beach Games. The Vietnam women's beach handball side won gold after a shoot-out win against China, their first gold which had followed three bronze medals in a row. They then won silver in the 2017 Asian Beach Handball Championship, and again earlier this year, behind China.
Since that gold in 2016 the women's team has been supported by the Vietnamese Olympic Committee and their Vice President, Bich Thang Vuong was at the Poland game in person yesterday to watch an historic first victory for the side.
"I am so happy to be here and to attend such a good match and see the first win," he told IHF.info. "We are so proud and happy to win, especially so through a shoot-out.
"The Vietnam Olympic Committee have made arrangements for our women's beach handball team since 2016 when we hosted the Asian Beach Games and we finished first. So, after that, we only wanted to make sure they had the best conditions and then provide the best preparation for the first ANOC World Beach Games.
"We are very happy that we have qualified and very happy they got their victory."
In that shoot-out victory, 25-year-old goalkeeper Huyen Nguyen Thanh was the difference, coming on for the red-carded pivot Huyen Dam Thi Thanh late on and making two saves to seal the victory. She is one of six players who played in Da Nang and who are now in Qatar with the team, and after the Poland match she was full of emotion but had time to reflect on the potential of the sport in the future.
"I was happy with the saves but before the actions I remembered what the opponent had done before and I had a feeling they would do that again, so that's why I saved them," she said to IHF.info. "I am very happy, but surprised, we won. I am surprised because we performed better than we do normally.
"We all want handball in the Olympic Games as it's a very fast and fantastic sport," she added. "It makes me and all my team very happy when the NOC President comes to support us here.
"Maybe we cannot win it, but we would be very happy to make it into the top three."