100 days until Japan 2019
22 Aug. 2019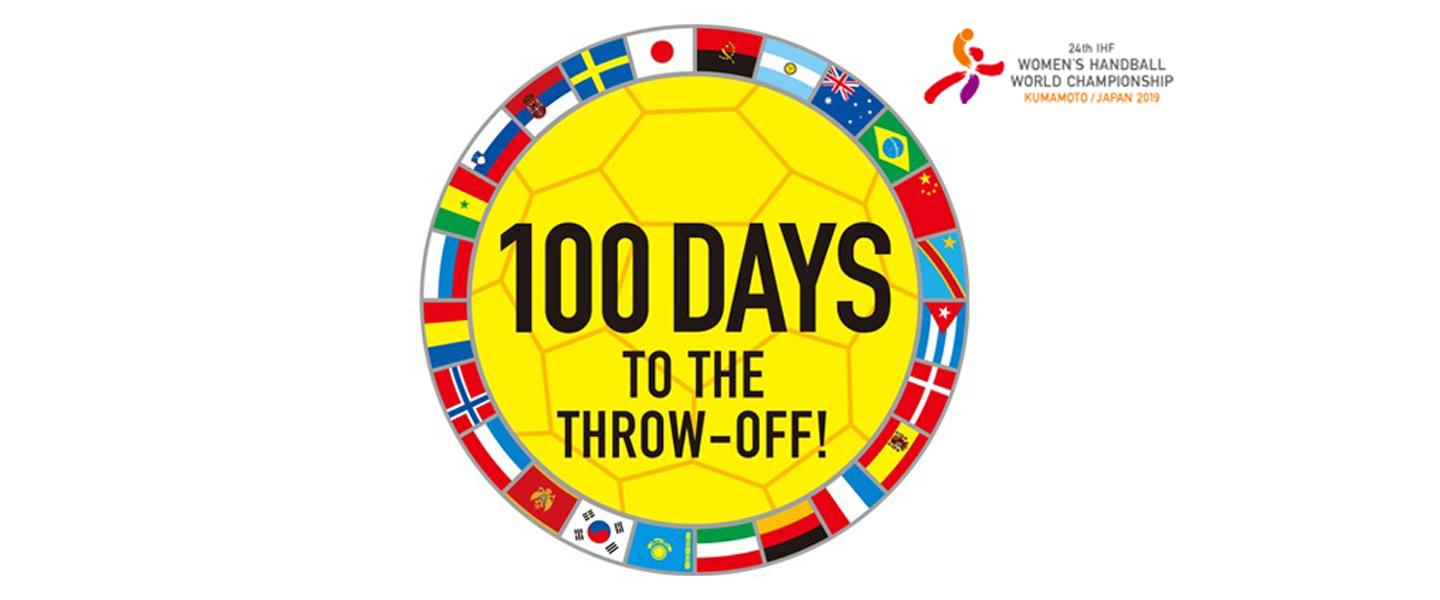 Today, Thursday 22 August 2019, marks 100 days to go until the throw-off of the 24th IHF Women's World Championship in Kumamoto, Japan.
While the city is currently being branded in Japan 2019 logos and designs of the championship as well as the famous Kumamon (Kumamoto Prefecture) mascot, dressed in handball kit and with a handball, a number of events are taking place in Kumamoto today to mark the milestone.
The prefectural government office of Kumamoto has been full of excitement with staff wearing Japan 2019 branded t-shirts in the specially-decorated office. Staff in the main branch of event sponsor Higo Bank today were also wearing bright orange kimono-style jackets emblazoned with Kumamon playing handball.
Players from the elite women's club side OMRON, who finished fourth at the first-ever IHF Women's Super Globe in China earlier this month, have also been conducting a number of high-profile media interviews to local radio stations to promote not just the world championship but handball itself.
Japan 2019 are also encouraging everyone around the world to get involved with their famous 'Hand in Hand' videos which show people who love handball saying how excited they are about the championship while receiving and throwing a ball off screen.
You can see previous videos HERE and can enter via Facebook HERE. 
The championship takes place from 30 November to 15 December with 24 nations battling it out in the Asian country to be crowned world champion.
Round-up of Japan 2019 news
In June, the draw was made for the preliminary groups, with the first stage of tickets on sale via the website HERE. 
For all media (journalists, TV, radio, online, photographers etc) interested in attending, applications are being invited until 31 October via HERE. 
After the application deadline for volunteers closed in July, training and workshops have been held across the city, with a variety of roles being filled.
The Royal Spanish Handball Federation signed an agreement earlier this month with Hikone City in Japan for their team to complete their tournament preparation from 23-29 November in the city which is located in Shiga Prefecture. If either, or both, Spain teams were to qualify for the Tokyo 2020 Olympic Games, Hikone, along with Sasebo, in Nagasaki Prefecture will be used for preparation.
Kumamoto's famous kimono store 'Kunimono Salon Kuni' has made a special handball, using kimono belts, to mark the coming of the world championship. Each ball is stuffed with cotton and uses around five types of belts to make. "Especially for handball, it was difficult to arrange hexagonal and pentagonal fabrics in a balanced manner," said master kimono craftsman Kunio Ibaraki. "I wanted to fuse kimonos, which have a history of more than 1,000 years, with foreign sport to make a souvenir that will be appreciated by all."
The theme song for Japan 2019, 'Hand in Hand', was released too. Singer Aki Yashiro, from Kumamoto, music producer Takeshi Kobayashi and songwriter Eiji Ishiwata joined together for the song which aims to "unite the hearts of Kumamoto citizens, serves as a bridge between many people from all over the world and conveys the feeling of gratitude from Kumamoto to the world."
Back in June, the Japan 2019 trophy and medal designs were revealed. Using inspiration from Japanese and Kumamoto culture, Japan 2019 produced a special video showing the process, watch it HERE. 
For more information about the 2019 IHF Women's World Championship in Japan, visit the official website at www.japanhandball2019.com.