Montenegro "role models" achieve highest-ever world championship ranking
14 Dec. 2019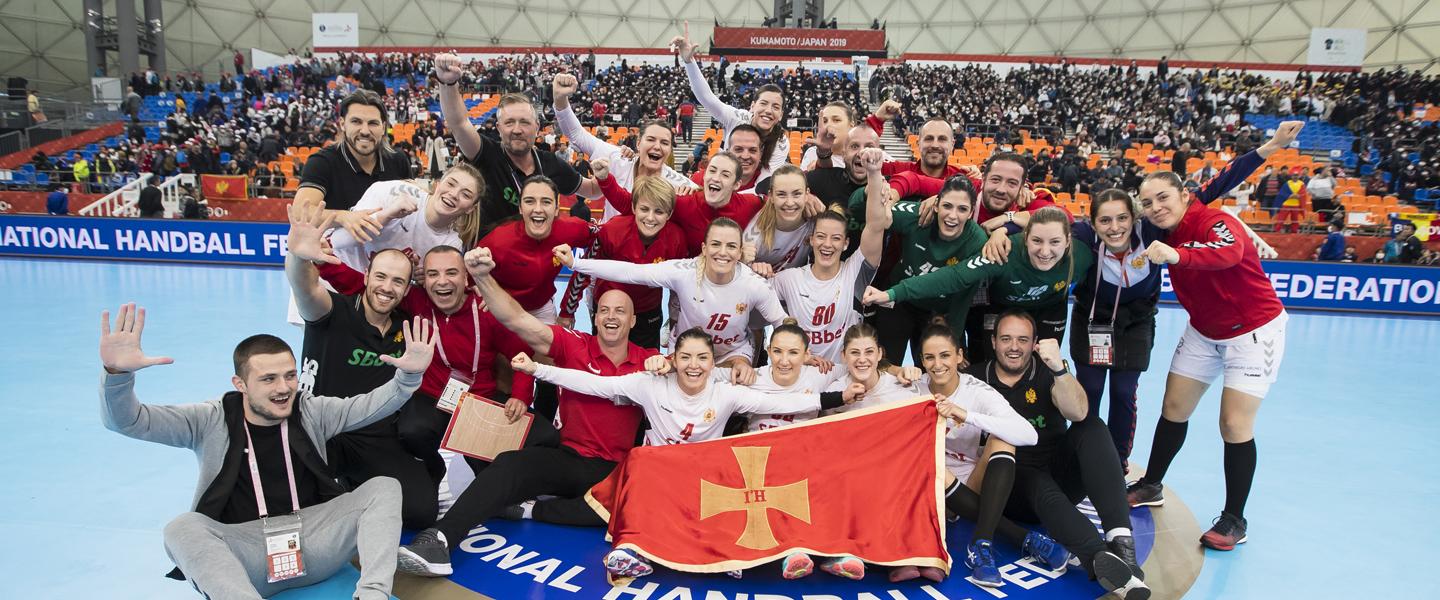 With their 28:26 victory over neighbours Serbia in the 5/6 placement match at Japan 2019, Montenegro achieved their highest final ranking in an IHF Women's World Championship, following sixth place at Germany 2017 and eighth at Denmark 2015.
IHF.info spoke with President of the Handball Federation of Montenegro, Petar Kapisoda, Head Coach of the women's team Per Johansson, and player Andrea Klikovac about the historic ranking, the championship itself and the future of the team.
IHF.info: Everyone wants to get a medal from every competition they enter, but at Japan 2019, it is two competitions in one with the additional prize of qualifying through to the Olympic Games by winning or a spot at the Olympic Qualification Tournaments (OQT). In addition to these, you have also achieved your best-ever ranking? What does it mean to you?
Petar Kapisoda: It's a step of work for all of us. For our small country, every single achievement at such a high scale of sport is amazing, because – I am telling you – we are so small and have such a small base (of players to choose from).
At the last world championship, we were sixth and now we are fifth, this was very important for us.
No matter what's going to happen in the OQT – which is going to be very hard for us because in every single tournament you have two or three European teams – I have to be satisfied here in Japan, not only about the wins that we achieved here, but with the approach of all the players.
For every sportsperson and athlete in Montenegro, every single player has to be a role model, so I am very proud of each and every one of them. It is very important for us in Montenegro because as we are such a small country our athletes are our best ambassadors for our country.
We are all trying to present our country in the best possible way which is very important, and I am looking forward to competing again in the OQT – and believe me, I'll see you in Tokyo.
Per Johansson: It is an honour for me as a Scandinavian to be the selector for Montenegro and it is an honour that we now have the signature of fifth place, which is the country's best achievement. I am very proud of myself, but most of all of the players and how they have behaved. I have a really good team and with small, small margins we could have been in the final actually.
Andrea Klikovac: It's our best position in the world championship of course we can be satisfied but we know we were very close to playing in the semi-final. We made the Olympic Qualification Tournament and we will try again to qualify for the Olympic Games, and this is such a big success for our small country. We are proud and I really believe we can get to Tokyo.
Every time we go higher; last time it was sixth, this time it was fifth, next time we will see. But I'm glad because in this championship we have used more players than we normally use, some really young players and I think they will show how talented they are, and I really hope – and believe – that they can be better than us.
IHF.info: How much motivation was needed to beat Serbia to finish fifth?
Per Johansson: It's always important for the Montenegrins to play a good game when they face Serbia and for my players it was motivation enough. When we were looking at both possible Olympic Qualification groups we could qualify through to, we didn't see so much difference between them, but we knew that if we won, we would have faced Romania.
But, yes, the players motivated themselves, I only motivated them by telling them that if they won the last game in a tournament then you will always get out with a good atmosphere. 
This game was very important for the girls and in another way, for me, to finish this championship with a good atmosphere because with seven wins and two losses – one of which was narrow – I am more than happy with this championship.
In these types of games, when players are exhausted, we get these two, three-goal leads I just told them to be calm and we don't want to be caught by continuing to play good defence.
It was a good day against Serbia, and everybody will be happy, that was my motivation.
IHF.info: The continued progression at world championship level shows what the team is capable of and with a number of young players coming through, the future looks promising?
Per Johansson: I feel that. We gave away the game to Spain and were unlucky with the last decisions with the referees. Russia are outstanding but of course we can always do better, but the results with the team here it's a close as 100% that they can give.
If I will stay here and continue it's a great investment for the future, I have a contract but if I see myself in a few years and we have a good base of, not so many talents [as previously], but it was actually the ones which played today; Itana (Grbic), Dijana (Ujkic), (Durdina) Jaukovic, Ema (Ramusovic), Tatjana (Brnovic), Ljubica (Nenezic); they are a group who are 20-23 years old, who are very talented and the core of the team, but they still need the older ones – we need a good mix.