Kang Jae-Won: 'I found potential in my squad'
14 Dec. 2019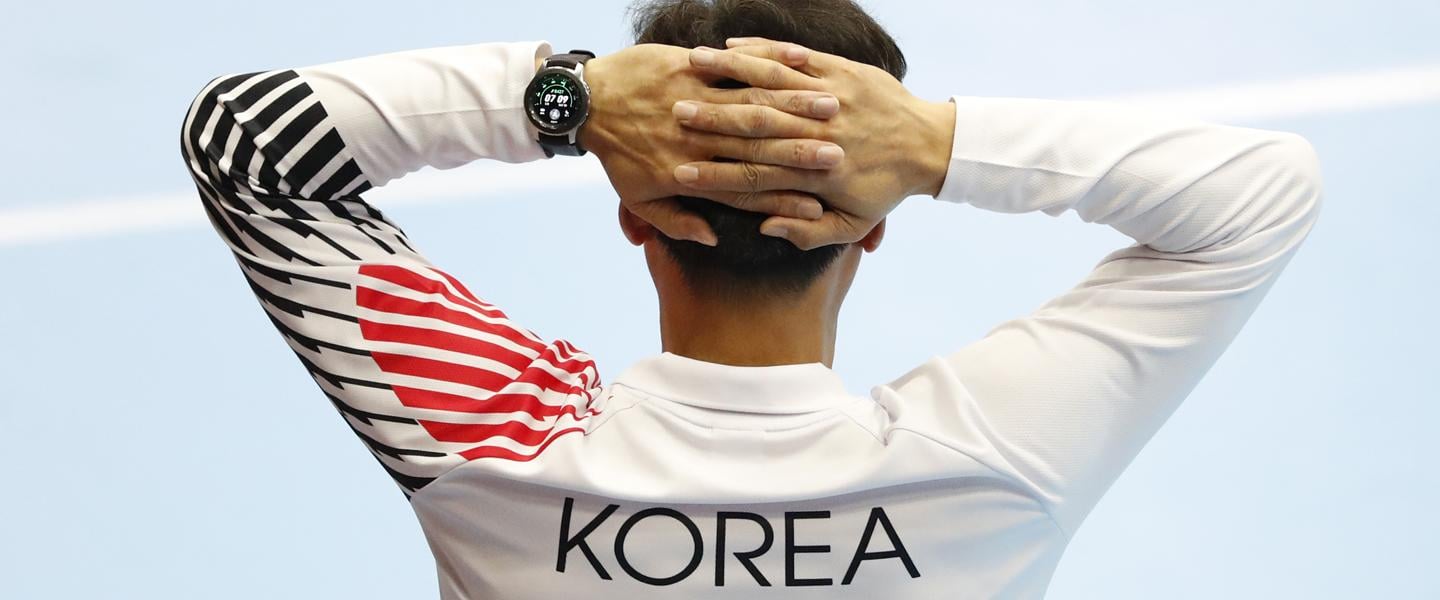 Republic of Korea head coach Kang Jae-Won spoke to IHF.info after his side ended their 2019 IHF Women's World Championship campaign with a 40:33 main round loss against the strong Netherlands side.
Despite a strong preliminary round showing which saw them finish top of their group and unbeaten, they lost all three of their main round games, including that Dutch defeat, but with no qualification for the Tokyo 2020 Olympic Games at stake, having already qualified, the experienced Kang used the time in Kumamoto to gain experience and trial some tactics on court.
IHF.info: Of course, you want to win every tournament you enter, but as you had already qualified for the Tokyo 2020 Olympic Games before Japan 2019, did this give you some freedom to experiment here in Kumamoto?
Kang Jae-Won: Yes. I had no pressure because we are already qualified for Tokyo 2020, but one of the reasons why we came to this world championship is to find some potential in our young players. 
We brought a lot of young players for this tournament to get more experience as, for the future, it will be very important for them to get experiences like this.
I found some potential and that is one of the most important values during this tournament.
IHF.info: You talk about potential, so what have you seen that you like from your team here in Japan?
Kang Jae-Won: For most of the games, we scored at least 27-30 goals, and this is the positive thing, but still we have some problems with defence and our goalkeepers. But if we can improve these problems, we can show a better performance in the Olympics next year than we did here in Kumamoto.
Before every game we made a strategy and it actually worked very well, but it's important for us is to show good teamwork all the time.
We usually use two defensive formations and we have 7-8 tactics to use, however our playing speeds are really good, and our line players are strong, but the most important thing is our players' individual ability.
We have seen here that handball played without speed is meaningless. During the game today we scored a lot of goals within 10 seconds of the restart, so speed is the most important thing. 
However, we have around six players who stayed in Korea due to injuries, so, as long as they recover and join the team, before Tokyo 2020, the entire playing system will change, but we have to improve with more speed.
IHF.info: With no competitive tournaments or matches before Tokyo 2020, how do you keep the standard of your players high and their competitiveness up?
Kang Jae-Won: Well, in previous years Korean handball was really famous, with great speed. Now, however, we are seeing European players playing much faster, so we need to improve our speed first. 
This is actually the problem of the Korean league; they don't play that fast and this is something we have to improve on in the Korean league. It finishes in mid-April and after that we have two months to stay together and during that time, we will recover our injured players, increase our conditioning and contact play. 
I am thinking about making two groups of players, groups of six each, who can play during one 30 minutes and six players for another 30 minutes, that is my plan and that will keep the level up.
IHF.info: Your key player and top-scorer Ryu Eun-Hee joined Paris 92 last April, have you noticed some differences in her style since she went to Europe to play club handball?
Kang Jae-Won: She was actually playing for the team I coached in Korea before, but after she went to France, she brought back a lot of positive vibes to the national team. She shared that emotion with our younger players and that is a nice thing.
In Europe she has got more mental stability for the game and gained a lot of skills to deal with European players, this is a great achievement. 
I played for 11 years as a professional handball player in Europe and I learnt many, many European styles of handball and culture too.
Eun-Hee brings this European culture and style to the team and uses it; it's very important that she can also talk about this to the team and not just me. When there are good players in Korea who have an opportunity to play in Europe, they should.
IHF.info: For you personally, what will you remember from Japan 2019?
Kang Jae-Won: During this tournament our players became one team together and showed really good teamwork. For me, this was the most important thing – during the games everything was well-organised. Also, the IHF provided us with tickets for any games we wanted, so it was really convenient to go and watch any game.