"A very positive legacy" as Japan 2019 concludes
15 Dec. 2019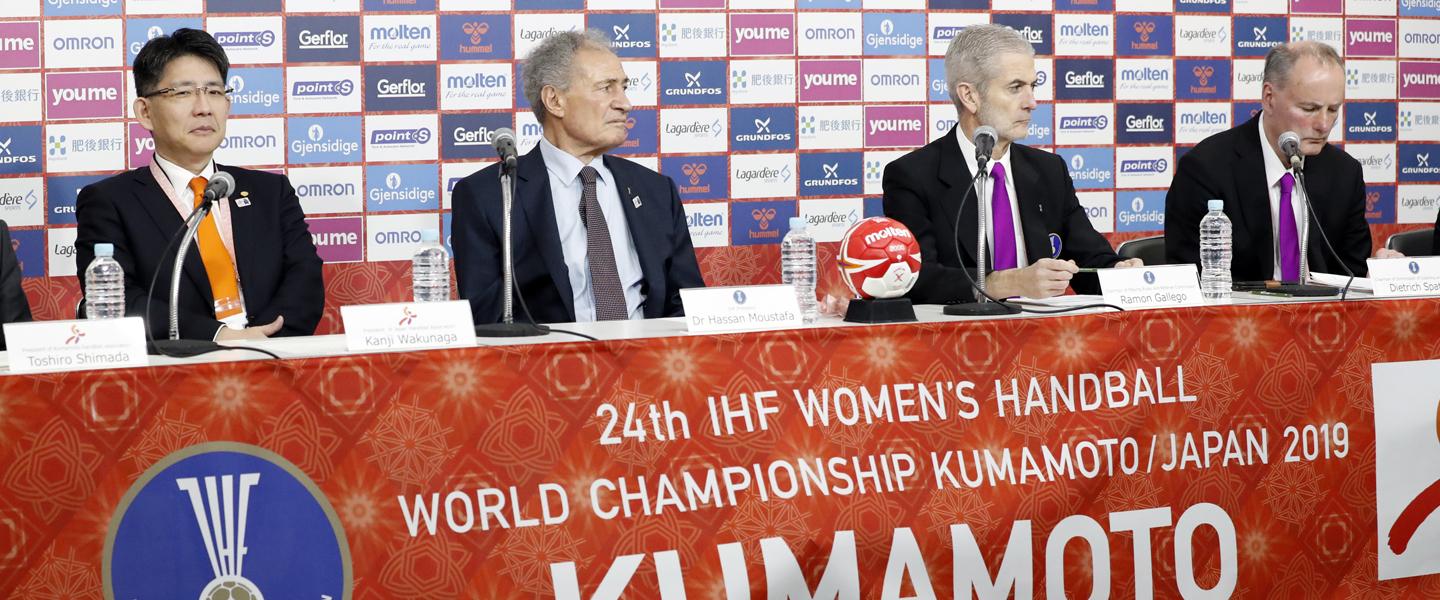 Representatives of the Japan Handball Association, Kumamoto Prefectural Government and the Kumamoto Handball Association spoke to the world's media at the closing media conference of the 2019 IHF Women's World Championship, held earlier today.

Kanji Wakunaga, President of the Japan Handball Association (JHA)
I would like to express my gratitude to the IHF, the Kumamoto Organising Committee and all the staff members involved this competition which has been very wonderful.
For the Japan national team, it was a great experience for them too, matched against the world's top level, from all over the world, just before the Tokyo 2020 Olympic Games. 
We believe as the JHA, that it is a very significant for us to handle and organise this world championship on our own and with the help of all the people around the world. 
We really hope that we can utilise this experience and make it become a very positive legacy to be handed over to the overall future of Japanese handball association after next years' Olympic Games.
I am looking forward to seeing you all in Tokyo next year.
Toshiro Shimada, President of the Kumamoto Handball Association (KHA)
We only have two matches left and as the responsible organiser of the local organisation. I was really full of emotion when this competition organising was decided in October 2013, and our dream of organising has now come true, and the road to success is just around the corner.
I am really want to express my heartfelt appreciation for the help of IHF, JHA, Kumamoto Prefecture, Kumamoto City, Yatsushiro City, Yamaga City – without these cities and municipalities and volunteers, this event wold have been possible and we are all committed to making Kumamoto the centre of handball in Japan.
Shingo Terano, Secretary General – Kumamoto International Sports Events Promotion Bureau Secretary General
I would like to thank the IHF for selecting our prefecture for the world championship and the operation of it moved very smoothly thanks to the very valuable advice they gave us.
Our targeted number of spectators was 300,000 and this was achieved. It makes me happy to be able to communicate the charm and attractiveness of handball to so many people as possible.
I believe that we successfully communicated to the visitors from inside and outside of Japan that we showed our current situation is Kumamoto which is making a very creative restoration from the 2016 earthquake.
We would like to deliver our thanks to the people who are supporting us. I hope that everyone here will keep the good memory of Kumamoto even after the games are over and please come back to Kumamoto – you are always welcome.