Norway find a way against Germany, Netherlands celebrate
11 Dec. 2019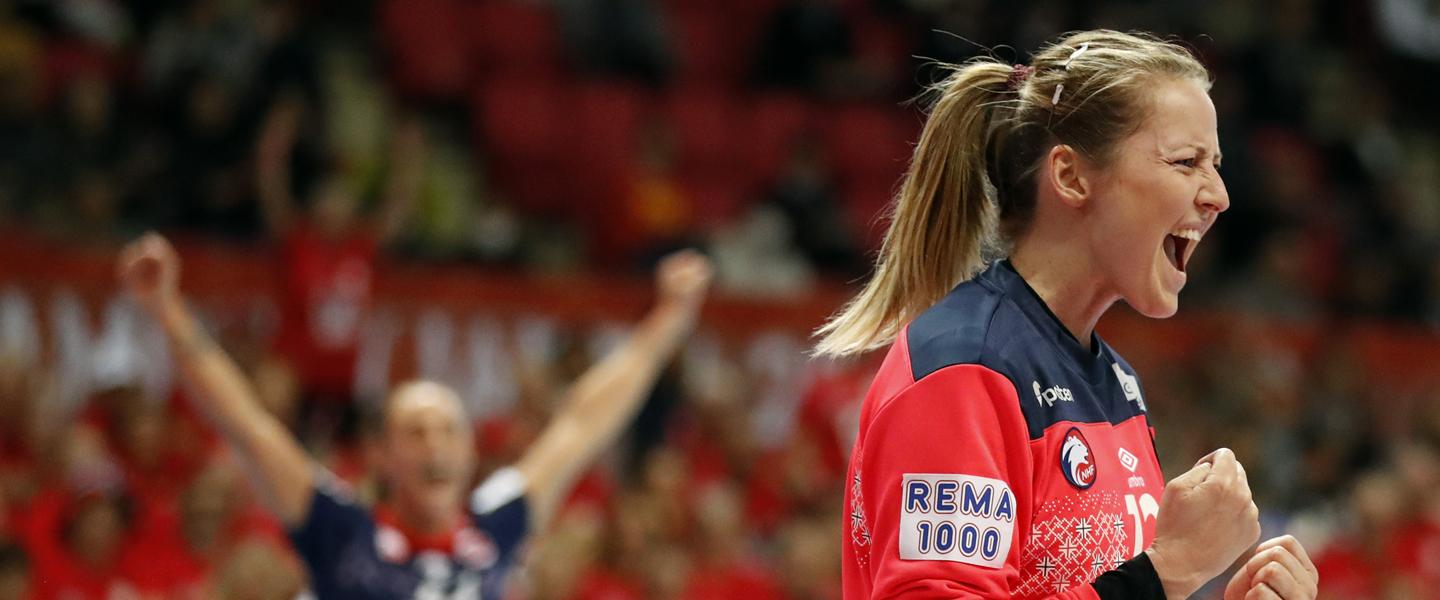 A draw would have been enough for both teams in this encounter to push through to the semi-finals at the expense of the Netherlands – waiting back at their hotel for a positive result, but in the end, Norway's effective attack ensured they had another chance to play for a medal at an IHF Women's World Championship, winning 32:29.
The result meant that Germany ended on five points and Netherlands on six points and the Dutch will now face Russia in the first semi-final, while Spain take on Norway in the other semi-final.
MAIN ROUND – GROUP I
Norway vs Germany 32:29 (17:16)

Triple world champions Norway came back from being behind early on to defeat Germany and take their place in the semi-finals of the 2019 IHF Women's World Championship and also seal their spot in the Olympic Qualification Tournaments with a now-guaranteed top four finish.
Germany not only lost the chance of winning a medal at Japan 2019 but also now have to play in the 7/8 placement match against Sweden knowing that a loss in that would also see them finish outside of the top seven.
It is not often you see top, top players mishandle in the top matches, but with so much at stake in the championship itself and for a view towards Tokyo 2020, mistakes were made by both sides in this clash, but in the end Norway's laser striking into the goal was the difference.
An example of the nervous was early on as Stine Oftedal threw a pass away, Germany collected, but panicked in their attempted long-throw for the fast-break, and it was overthrown. Then Germany's Antje Lauenroth gave away a seven-metre for a foul on Stine Skogrand, which Oftedal duly converted (4:3) with just five minutes on the clock.
Even the superb Silje Solberg (14 saves) in the Norwegian goal was penalised for a technical fault for her handling of the ball, a mistake which Emily Bolk quickly took the opportunity to benefit from and put her side 6:4 up.
So with just 8:27 minutes on the clock, Norway coach Thorir Hergeirsson was left with no other option that take a very early time out. Germany could have been three clear in the 11th minute, but a Norwegian turnover saw Germany goalkeeper Dinah Eckerle attempt a near-impossible full-court pass on the fast break to Lauenroth who never had a chance of getting anywhere near it.
Worst was to come for the Germans, with Alicia Stolle injuring herself after trying one of her trademark 9m shots.  The right back appeared to land awkwardly on her right foot, twisting her ankle and she would go off the court in the 13th minute for lengthy treatment, in floods of painful tears.
While Germany would stay in front for a few more minutes, Norway went on a 5:0 run (17-21st minute) to eventually put daylight between themselves and their opponents (14:10 – 21st minute), with Germany coach Henk Groener's first time out in the 19th minute not having the desired effect.
Such was the Norwegian shooting prowess that Heidi Loke made it 15:12 from nearly on the floor, but Germany came back again as that Loke goal proved to be Norway's solitary strike in a fruitful six-minute period for the Germans (22-28th minute) where they outscored the Norwegians 6:1, going ahead again (16:15).
You sensed that Germany had sewn up the first half as Norway failed with a number of chances and had a player down but Hergeirsson added a court player for the goalkeeper and the tactic worked well as first Camilla Herrem made it 16:16 and then Oftedal converted a seven metre as soon as she heard the whistle to put her side 17:16 at the break, despite Eckerle making saves and Germany against having time to go in front further as Amelie Berger threw well over the net in between.
Eckerle ended the half with eight saves and Norway started the second period with the ball and went up 18:16, but a 4:0 run inside the first five minutes (22:17) eventually proved to be costly for the Germans, who never came close to equalising again as Norway did enough to earn their semi-final place, again.
As the game entered its final 10 minutes the statistics spoke for themselves - 71% strike rate for Norway and just 60% for Germany.
At 31:29 to Norway with 55 seconds remaining there was the potential of some late drama as Oftedal shot well wide from a seven-metre but Stolle, who had returned to the court in the hope she could inspire a comeback could not find a way past Solberg from distance and it proved not to be for her side – the Norwegians meant business and delivered, their bench already celebrating before the final whistle.
"We were well prepared for the match, we have respect for the German team who we lost to in the European Championship last year," said Hergeirsson. "They have played very well in this tournament, we knew our players had to take the fight and they showed a good team spirit, but we are a new team with new players so we had to fight a little bit extra to compensate for the time together."

hummel Player of the Match: Stine Oftedal, Norway