Danish hearts broken as Serbia keep Olympic hopes alive
11 Dec. 2019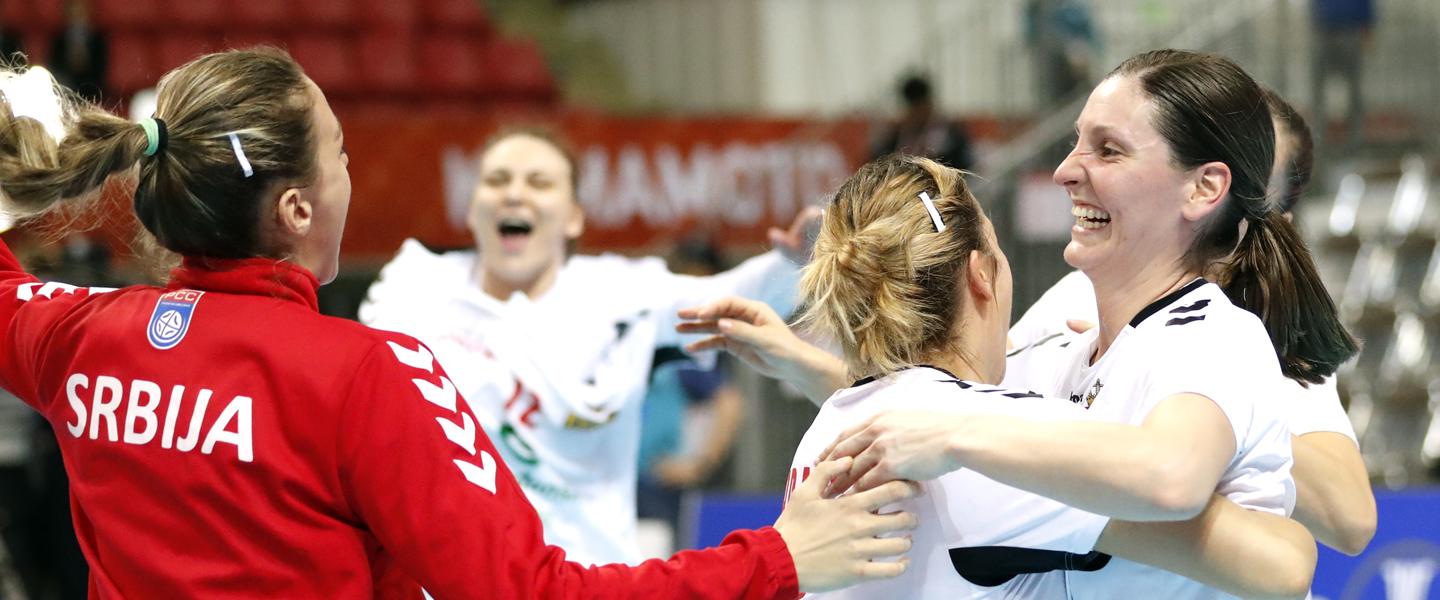 While the chance to win a world championship medal was long gone for both Serbia and Denmark, the dream of an Olympic medal was still very much alive, with the winners of this match qualifying for at least the 7/8 placement match, and a chance to make the top seven at the 2019 IHF Women's World Championship – and a crucial spot in the 2020 Olympic Qualification Tournaments.
Denmark had to win to leapfrog Serbia into that spot in their main round group, but a final Danish shot with the scores locked at 26:26 went wide and they broke down in disbelief while Serbia danced and celebrated on court, knowing there was one more game left for them in Japan.
MAIN ROUND – GROUP I
Serbia vs Denmark 26:26 (14:11)

Serbia knew that if they did not lose, it would ensure a place to play for the Olympic Qualification Tournaments and they certainly ensured that, just about. 
Leading for nearly all of the first half, Serbia fell behind with 10 minutes remaining (21:20) as the penultimate game at the Aqua Dome Kumamoto got tense, making for captivating viewing for the neutral but pulse-racing watching for fans of either team.
It became more and more tense as Serbia looked to break the Danish attack by sending Sladana Pop-Lazic out to defend, but even though the Danes had a deep start to their attacks, they found a way through – Louise Burgaard breaking through at 25:25 (56th minute) and causing a two-minute suspension with Dijana Radojevic given the punishment.
When Stine Jorgensen sunk home the resulting seven metre it was 26:25 to her Danish side with just over three minutes remaining and with the clear anger from Kristina Liscevic after she failed in the next Serbia attack responded to by shouts of "yes" from the Danish bench, the result was going with the Danes.
However, an anxious Klavs Bruun Jorgensen then saw his side turnover the next ball and as it entered the last minute a failed attack saw Serbia maintain possession and a time out called.
With 36 seconds left and back to a full team, Liscevic scored her only goal of the game but it was one of her nations' most important. She pretended to pass, bounced the ball right on the line in the centre and picked it straight back up to shoot in – 26:26.
This prompted a Danish time out with 20 seconds left and the ball eventually worked it way out to Anne Mette Hansen on the right side of the Serbian area whose shot hit the crossbar with five seconds left and fell into Zeljka Nikolic's hands as the buzzer went and Serbia celebrated.
"It was a very tough match," said Serbia coach Ljubomir Obradovic after the match. "We played very well in the first half, but the match was very important and that's why we had a lack of concentration in the second half."
"I have to say that I am proud of my team," added his player Katarina Tomasevic. "We made a big result and I want to congratulate all the team on what we have done in this tournament."
"Once more, I am sad to say that we had everything in our own hands, but we blow it all away, I am extremely disappointed," said Denmark coach Klavs Bruun Jorgensen while his player Stine Jorgensen was even shorter in her feelings. "I am really disappointed and sad right now," she said.

hummel Player of the Match: Sandra Toft, Denmark