Senegalese handball history made in Kumamoto
07 Dec. 2019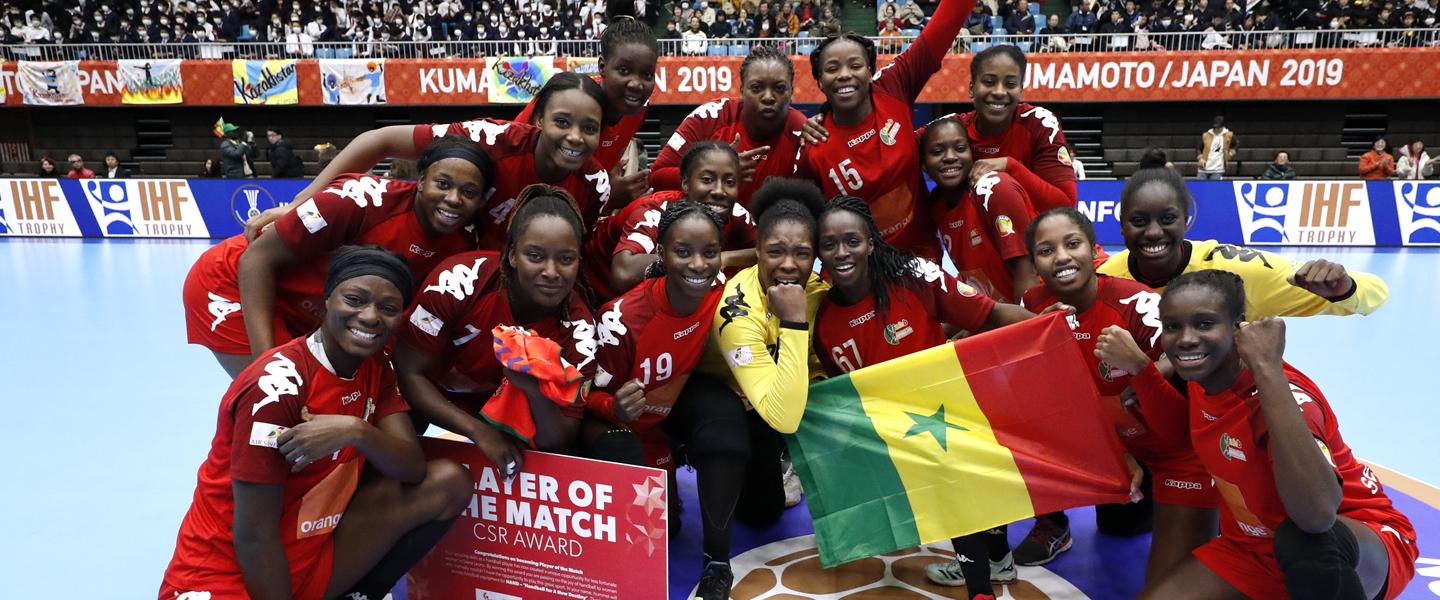 At every sporting event there are the stories about the players who win the trophy, the top-scoring player and the best team in the tournament.
But for the majority of the teams or players in any tournament – they do not win the title and go home with memories of individual games, performances and targets achieved.
One dream became reality on Friday (6 December) when Senegal picked up their first win at a men's or women's senior IHF World Championship, defeating Kazakhstan 30:20 in their preliminary group C encounter.
While the match was played between two teams who could not progress through to the main round, for both it was a chance to get their first points and Senegal prevailed. 
In their own words, coach Fred Bougeant – celebrating the win on his 45th birthday – and left wing Awa Fall Diop say what the wins mean to them.
Fred Bougeant, Head Coach - Senegal
Everybody needs to think, but we have worked hard for three years to arrive at this level. At the beginning [when we started] it was like a joke when people began to speak about Senegal in a world championship. 'Oh it's a joke, they don't play handball there,' they said, but after a week here in Japan I think everybody can see that we play handball. 
After this experience in Japan we want to use this first participation to analyse our progress, to analyse our level (against the other teams), make a very good evolution and put in place a good process of training for the players, because we want to go to the 2021 IHF Women's World Championship in Spain at a better level [than here].
It was really nice to make a crazy surprise for Montenegro (Senegal led 15:14 at half time, only to lose 29:25) and we confirmed this in our match with Romania (Romania won 29:24 (15:12).
We had a good first half against Spain, really incredible (Spain won 29:20 and led 14:13 at half-time), and after we had a really bad match against Hungary (30:20 loss) and I am really happy against Kazakhstan because of the reaction of the team was very good and now we want to finish the competition in the best place possible.
It was really a big, big surprise (here in Japan), but we need a little more experience and maturity as I have a lot of young players here because I want them to learn what the level is of international competition. They don't play in European cups at their clubs so it's really good for them to be here. 
The road to come here was a very long road. It was three years of hard work and we have more goals in the next days at Japan 2019, but our big goal is the 2020 Women's African Championship. We are up against Angola (as our continental rivals to number one spot) but one day we want to 'kill' them, but a friendly kill.
We have goals for them and want them to follow with this spirit, which is actually good, we want to work during these next 12 months really hard, so we look eye-to-eye with Angola.
With this work and progression we can play better in Spain and, perhaps, go in the main round with this team, but we need to follow with the spirit we had against Kazakhstan – they found a really good present for my birthday. 
And in a Facebook post on his personal account, the coach said:
Thank you for the players for this crazy adventure that started in 2016. What progress.
Thanks to President of the Senegalese Handball Federation Seydou Diouf for coming to me in October 2015 to transform Senegalese Women's handball together and congratulations to him for having this vision and commitment.
Once again it was a nice moment of my coaching life and with my friends, with my staff doing a crazy job.
And then big, huge kisses to my wife and son, to my parents and my family, because this job that I love prevents me from enjoying this moment by their side.
We have two more ranking games to finish the best possible, but the only ranking that matters is that of the heart.
Awa Fall Diop, Left Wing - Senegal
I am really, really happy for this win. It means a lot for our country as we have worked hard these three, four years. It means a lot for Senegalese people and all the youth; this win is its very formidable (wonderful).
Three years ago I couldn't imagine this, and we are here now, and we will work hard for the next steps.
This championship has been really fun and really good; we really like Japanese people they are really fun, and they have really helped us out.