Perfect Germany on a roll in Kumamoto
03 Dec. 2019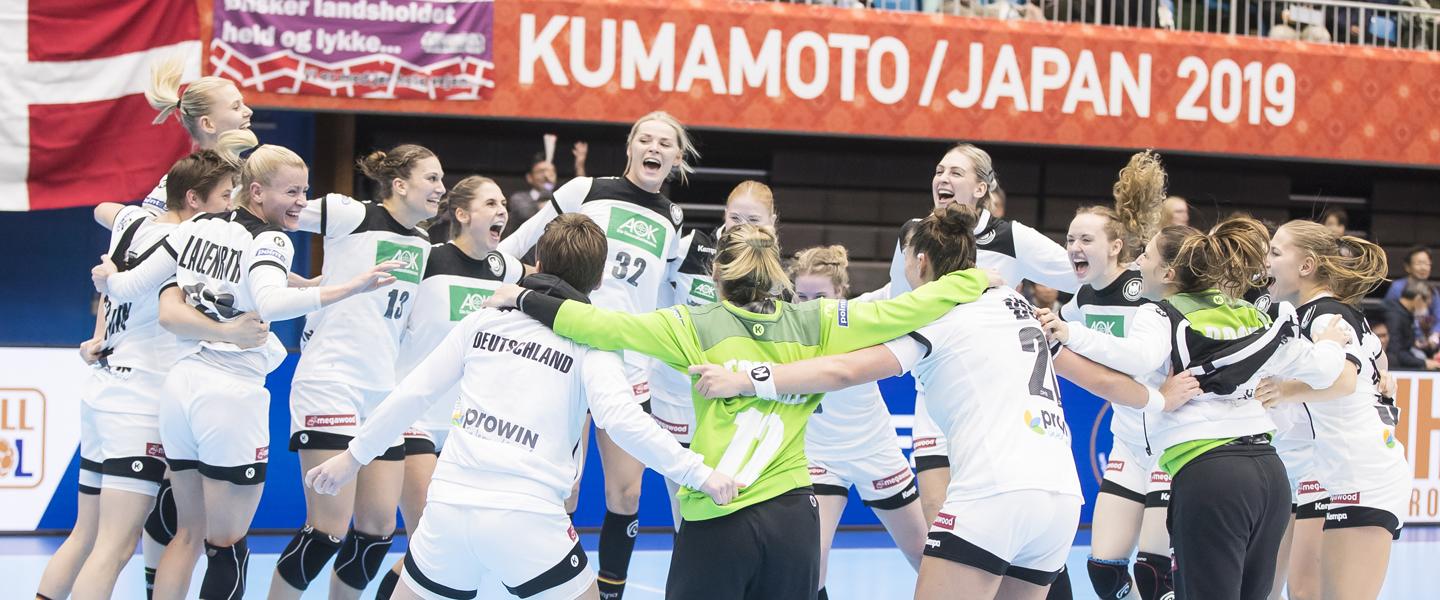 All 24 teams at the 2019 IHF Women's World Championship have played three games each, but just seven have won all three of them – Norway in Group A, Spain and Montenegro in Group C, Russia and Sweden in Group D and Germany joined Korea in Group B tonight.
Henk Groener's German side defeated Denmark 26:25 put an end to a long wait, dispatching their northern European rivals for the first time in a competitive match for 19 years.
For those watching the action unfold at the Kumamoto Prefectural Gymnasium it was an adrenaline-packed thriller, but, in reality, Denmark were only even once in the game – and that was late on, in the 51st minute (22:22).
GROUP B
Denmark vs Germany 25:26 (11:13)
Germany can now start looking towards the main round of Japan 2019 after securing their third win out of three in Kumamoto to put themselves in a strong position at the top of group B.
Again goalkeeper Dinah Eckerle produced a game-changing performance, saving 12 shots, but in this defensively-minded game, her opposite number, Sandra Toft was also outstanding, winning the hummel Player of the Match Award with 18 stops – but they were not enough against a vibrant opponent.
The way Germany appear on and off court is very different – a fully-focused, serious machine one side of the line, and a relaxed, full-of-smiles, happy team the other side – and with coach Henk Groener letting his player work out solutions on court themselves regularly, it seems to be a great combination.
And it is a combination which could push his side not only into a spot for an Olympic Qualification Tournament space, with a ranking of seventh or higher, but one which could potentially place his side on the world championship podium for the first time since 2007.
We will have to wait and see, but with a 6:1 (12th minute) lead prompting a Danish time out and then 10:4 (18th minute) advance, Germany were well on course for an easy victory early on tonight. But you can never write off a Klavs Bruun Jorgensen Denmark side and so they came back, with a 5:0 run to be behind by just one (10:9) in the 24th minute.
By half-time Germany had stretched out again, to two goals (13:11), as Toft and Eckerle decided to showcase their superb talents.
And when Freja Cohrt Kyndbol finally put her side equal after Denmark squandered a number of chances (22:22 – 51st minute), you sensed that Denmark – fighting for their main round future in the group – would step up a gear, but immediately after Emily Bolk saw her shot saved in the next German attack, Stine Jorgensen had the ball stolen by German captain Kim Naidzinavicius.
Alicia Stolle then failed to put her side up again, but Jorgensen saw her shot saved and, finally Julia Behnke got the one-goal lead back -  her shot coming off the post and into the net and, following it, Denmark's chance went too as Kyndbol hit the post in their next attack.

Fittingly, Naidzinavicius put her side two up again (25:23) with 90 seconds remaining, but Denmark did not give up as Lotte Grigel gave them hope late on, but Stolle broke through to seal the deal (26:24) with 27 seconds remaining.
hummel Player of the Match: Sandra Toft, Denmark