Table-topping Montenegro win battle of Europe against Hungary
03 Dec. 2019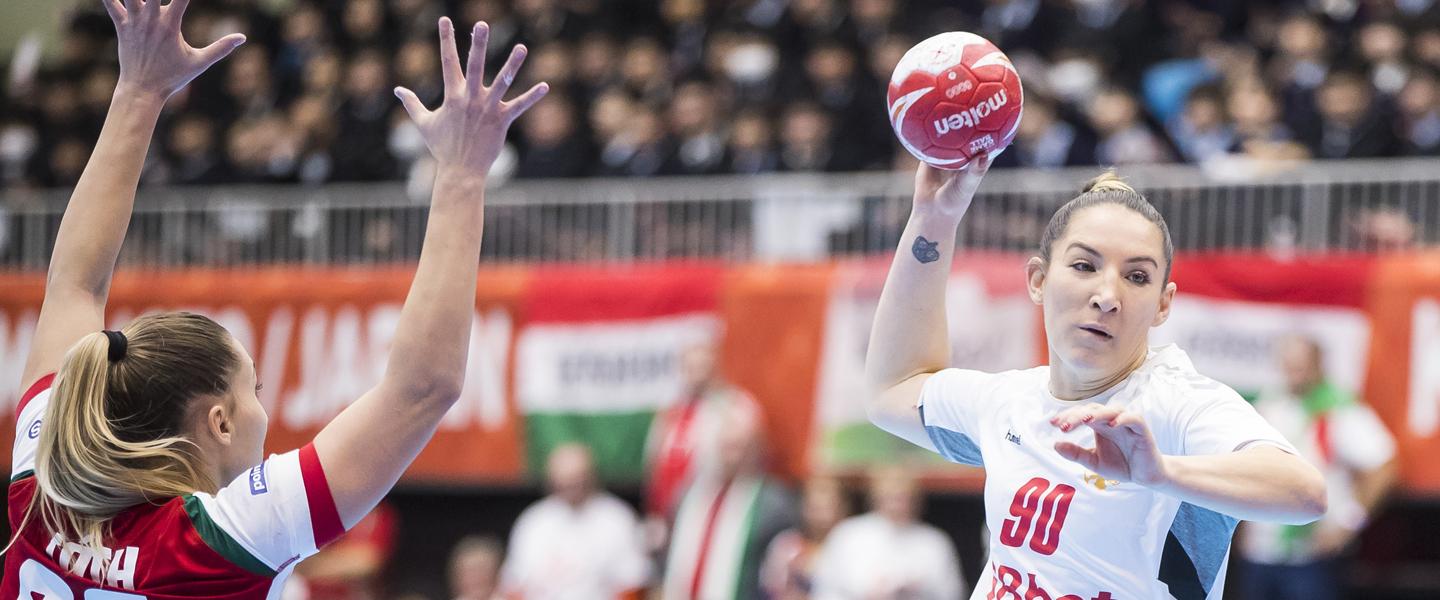 The opening game of the third round of group B matches at the 2019 IHF Women's World Championship saw Hungary and Montenegro provide everything; explosive strikes, amazing goalkeeping, emotion, suspensions, red cards and 49 goals – 25 of which went to Montenegro who took the win to go joint-top.
Many of the 1,600 spectators inside the Kumamoto Prefectural Gymnasium were local schoolchildren watching their first-ever international handball match, with the 3pm throw-off designed to attract the local young population, and they were enthralled by two classic European women's handball teams doing battle.
GROUP C
Hungary vs Montenegro 24:25 (12:13)
Just 58 seconds had gone on the clock when Durdina Jaukovic received a two-minute suspension for Montenegro – the first of six in a first half where both sides were in the lead twice.
The game would eventually see the lead change five times, but early on it was Hungary in charge as they did not go behind until the 24th minute thanks to a fourth strike from Milena Raicevic (10:9).
Up until that point, Blanka Biro in the Hungary goal had been in strong form (she ended the first half with six saves), including one where four Montenegro players had been in a counter-attack and she had nullified their threat, only to see her unbelievable save fall to the livewire Montenegro captain, right wing Jovanka Radicevic, who ensured the attack did not go to waste.
Radicevic and Raicevic were to prove to be a problem that Hungary could not deal with as their coach Kim Rasmussen admitted in the post-match media conference that his team struggled to play against the five court players of Montenegro every time they had a player on a two-minute suspension. 
This lack of 6v5 superiority was credited by the Dane Rasmussen to Montenegro's experience together as a unit and he revealed that maybe it would have been better had his team played a full-strength team on court.
But despite this, his side were able to cope for a large period of the first half, and luck went their way – an example being Zsuzsanna Tomori's rocket shot smashing the crossbar but bouncing in off the back of Montenegro goalkeeper Marta Batinovic (6:5 – 13th minute).
Radicevic suffered a little injury scare on the 15-minute mark after slipping onto her hip, but she bounced back immediately after a time out from her coach Per Johansson, a pause in which she had her sore side rubbed.
She immediately ran through to make it 7:7 (16th minute), and, moments later, her side missed a chance to go in front as well as then suffering yet another two-minute suspension with Katarina Bulatovic spending time on the bench.
Radicevic expressed her disbelief in the turn of events verbally on court as Hungary then went two goals clear (9:7) but the luck turned again when a Katrin Klujber two-minute suspension for Hungary was followed by a Rasmussen time out and then save from Montenegro's Marina Rajcic – with her face.
This turn of events saw an upturn in the Montenegro's luck as Radicevic and Raicevic scored five between them in a 6:3 run which took their side 13:12 up into the break, moments after Andrea Klikovac received a direct red card for a high block on Hungary's Gabriella Toth.
The second half was a real mental battle between the coaches off court and physically and through the players on it, but when Montenegro took a three-goal lead (17:14) in the 40th minute, thanks to yet more crucial goalkeeping from Rajcic, Rasmussen had to take another early time out (39:52 on the clock).
This sparked a 4:0 run from his attackers, backed up by Biro performing to her best in goal to make it 18:17 with a quarter remaining. But Montenegro went ahead again (20:19) and kept pushing to go clear further. 
Hungary's Laura Szabo then missed a penalty thanks to yet more Montenegrin goalkeeping magic and their coach Johansson then took his second time out (48:25).
Biro again did her best to provide possibilities in attack, including a particularly impressive one-on-one fast break save from Tatjana Brmovic which would have seen Montenegro lead by two as the game entered the last 10 minutes.
But they did go ahead by two (23:21) eventually when Raicevic scored her seventh goal, smashing home. This was followed up the other end by the third save from Batinovic and it appeared that Montenegro had done enough despite Hungary taking their time out just before to settle.
As the last few minutes approached, a Montenegrin miss and Hungary playing with seven in attack forced the issue (24:23) but the two-goal gap appeared again (25:23) when Bulatovic used all her height to tower over the Hungarian defence and score with passive play being signalled.
Hungary's next attack was full of nerves with just 90 seconds remaining. Aniko Kovacsics lost control of the ball which slipped out of her hands, but she won it back, reset the attack and put Viktoria Lukacs in for a shot, but Batinovic saved again and the Montenegro players knew the win was theirs.
As Rasmussen urged his players to play a high press in defence, Johansson took his final time out with just 30 seconds remaining, no doubt telling his players to just see out the game and run down the clock.
However, from the restart Raicevic was too quick to attack, playing in Radicevic on the line from distance, but she was not expecting it, Hungary got the ball, broke and then grabbed a seven-metre with 13 seconds remaining.
Klujber converted to make it a one-goal game, but from the restart, Hungary had barely six seconds left as Montenegro ran out the time and celebrated their third win in three, leaving Hungary with a lot of work to do to qualify through to the main round.
hummel Player of the Match: Nadine Schatzl, Hungary