First win for African champions
03 Dec. 2019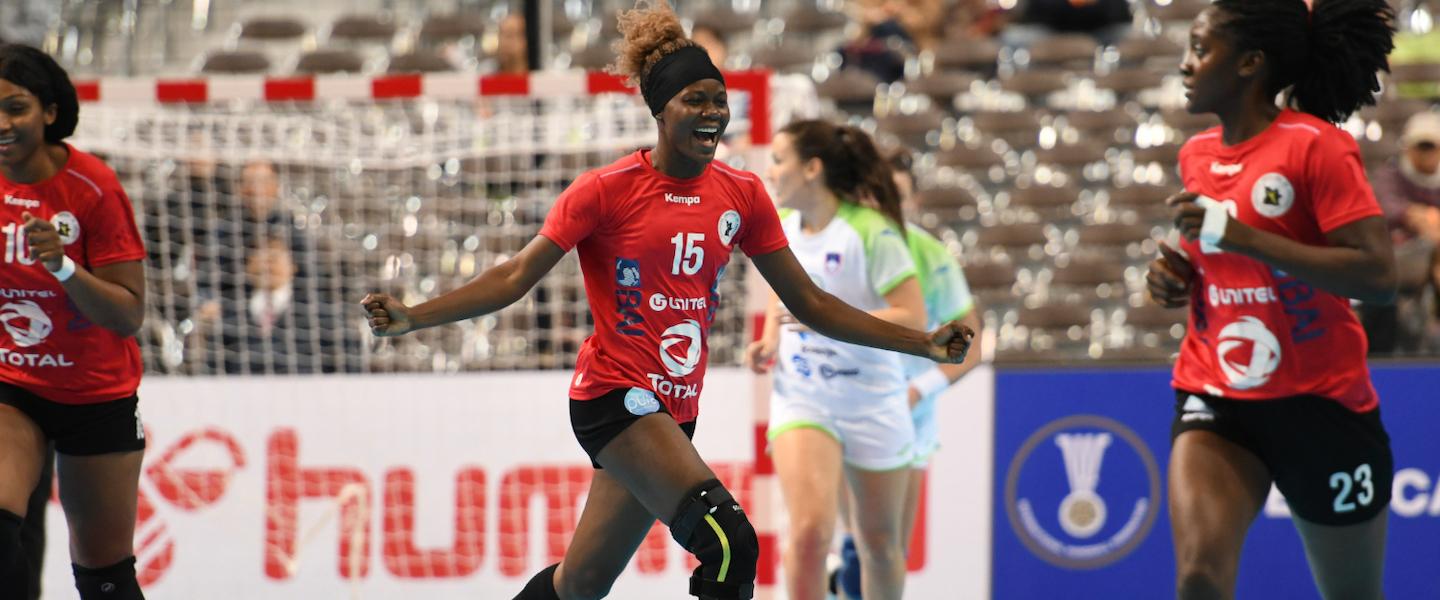 Angola earned their first points at the 24th IHF Women's World Championship in round 3, defeating Slovenia with a powerful display thanks to tough defence that caused their European rivals considerable trouble, and some great attacking play led by the back court and line players. Both sides are now on two points on the Group A table, sitting in fourth and fifth. 
GROUP A
Slovenia vs Angola 24:33 (12:16)
The match against Angola told a familiar story for Slovenia, who were leading the first half against Norway in round 2 before succumbing to a 16-goal defeat. Versus Angola, the first quarter was level before the African side pulled ahead, but with a four-goal distance at half-time, the difference was still manageable for Slovenia. 
However, the second half saw Angola with all the momentum. Led by strong games from back Azenaide Carlos and line player Albertina Kassoma, with six goals apiece and key roles setting up play, Angola took control. The African team reached a 10-goal advantage at 27:17 with 14 minutes to play, and there was no coming back from there for Slovenia. 
In the first period, it was the entry of 2018 Junior World Championship top scorer Helena Paulo that proved the key for Angola. The match had been equal up until the centre back took the court at the end of the first quarter, and Angola quickly turned the score of 6:6 into a 10:7 lead. 
Slovenia coach Uros Bregar responded with a time-out, but the game had already swung Angola's way. Slovenia fell behind by four before the break, and the distance only grew. 
In contrast to their previous match, Slovenia initially relied on a shared effort, with the first four goals coming from different players rather than back duo Ana Gros and Tjasa Stanko taking charge. However, the key backs' importance soon became clear as Slovenia battled the tough Angola defence. 
While Gros was key early, with three goals in the first 12 minutes, 6:5, the Angolan defence found a way to quieten the right back and she reached a tally of five during the game – a fairly low figure for her. But with Gros largely silenced, Stanko took charge, and once again proved very difficult to stop. The left back counted nine goals by the end of the game. 
Perhaps the most important factor for Angola came at their own end of the court, where goalkeeper Helena Sousa had a great match. Her 11 saves – including many on open chances such as wide-angle wing shots and six-metre breakthroughs – were crucial for Angola. 
At the buzzer, Angola celebrated their first victory at Japan 2019, thereby joining Slovenia on two points. 
hummel Player of the Match: Albertina Kassoma, Angola
 
Photo: JHA/Sports Event