Spain captain Navarro hits 200 internationals: "The best present is the victory today"
03 Dec. 2019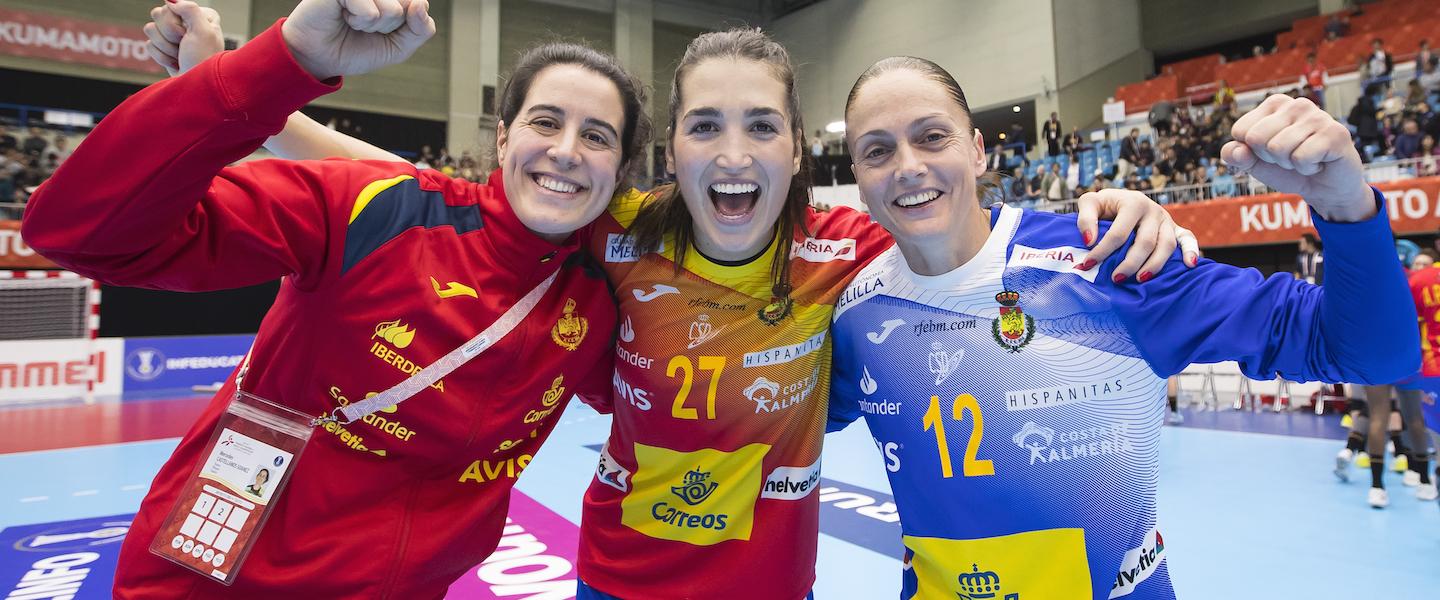 Goalkeeper Silvia Navarro celebrated her 200th match for Spain in round 2 at the 24th IHF Women's World Championship, with a commanding performance from her side against Hungary leading to their second win in a perfect celebration of the milestone. 
Team captain Navarro has won medals at every major international competition with Spain – indeed, she was part of all of the biggest successes for the team affectionately nicknamed the 'Guerreras', meaning warriors in Spanish. 
The first medal came at the European championship in 2008, when Spain clinched the silver medal in North Macedonia after being defeated by Norway in the final. They finished as runners-up behind Norway again at the EHF EURO in 2014, with Navarro key in the campaign at the event in Hungary and Croatia. 
In between those events, Spain won the bronze-medal match versus Denmark at the 2011 World Championship in Brazil, where Navarro finished as the top-ranked goalkeeper with an incredible overall rate of 46% and a total of 108 saves. In 2012, Spain won the Olympic Games bronze medal, defeating Republic of Korea in extra time. Navarro also ranked among the top keepers at that championship, sitting in fourth with an average 37% rate. 
Following the 2016 Olympic Games and the retirement of some key players, Spain entered a transition period. With two wins so far at Japan 2019 – a clear 31:16 result against EHF EURO 2018 semi-finalists Romania and then 29:25 versus Hungary – it seems as though that rebuilding period may be coming to an end and Spain are ready to be competitive again. 
ihf.info spoke with Navarro following the round 2 victory, with the goalkeeper cautioning that Spain cannot afford to feel too comfortable in their standing within the group yet – the situation can change very quickly. Ahead of round 3, Spain lead Group C with four points, alongside Montenegro, also with four. 
ihf.info: Congratulations for an important and impressive win against Hungary. What was the key to this victory? 
Silvia Navarro: The key was our defence and being focused from the beginning to the end. 
ihf.info: Both matches so far have seen very strong starts from Spain. You have scored several unanswered goals in the opening minutes of both. What's your secret?  
Silvia Navarro: I think now we have much more trust in us, and we have been working hard for a long time. To be really focused from the beginning – that's the key. 
ihf.info: Looking back to round 1, did you expect such a clear win against Romania? 
Silvia Navarro: We didn't expect that but it's true that we know the Romanian team is not the same as last year, with all the things that have happened, they miss so many players. I think we used that to our advantage. 
ihf.info: This was your 200th match for Spain. What does that mean to you? 
Silvia Navarro: I am really happy and really proud to have 200 matches with the national team, and the best present is the victory today. 
ihf.info: You have been undergoing a rebuilding period for the last years. Do you think that time is coming to an end and you are ready to challenge for the top positions again? 
Silvia Navarro: It's true in the last two, three years we have been changing, with some players – a generational change. We have been working hard for a long time. And I think now the results start to come – but I think also we need to be pessimistic. It's only the second match, so it's still a long way. And we know that can change really fast. 
ihf.info: You have been in the national team for a long time. What can you tell us about how it has changed over time? 
Silvia Navarro: Many years ago, I have been with really good players – we won four or five medals. It's true it's a new generation, new people come, and they also bring a little freshness to the team. And I think I give them to them a lot of experience, to be calm, and I'm enjoying with the team. 
ihf.info: What do you think about the remaining matches in the group? 
Silvia Navarro: We must go step by step, match by match. We can't put our feet up – it's so early. We need to be really focused. Right now, our coach said to calm down. The day after tomorrow we have a hard match against Senegal; it's not going to be easy. And we need to win that, so we cannot think 'we are so good, we are not so good'. We hope we can keep the focus and how we played the last two days, we can still keep it.