Japan goalkeeper Kametani relaxed in Kumamoto
02 Dec. 2019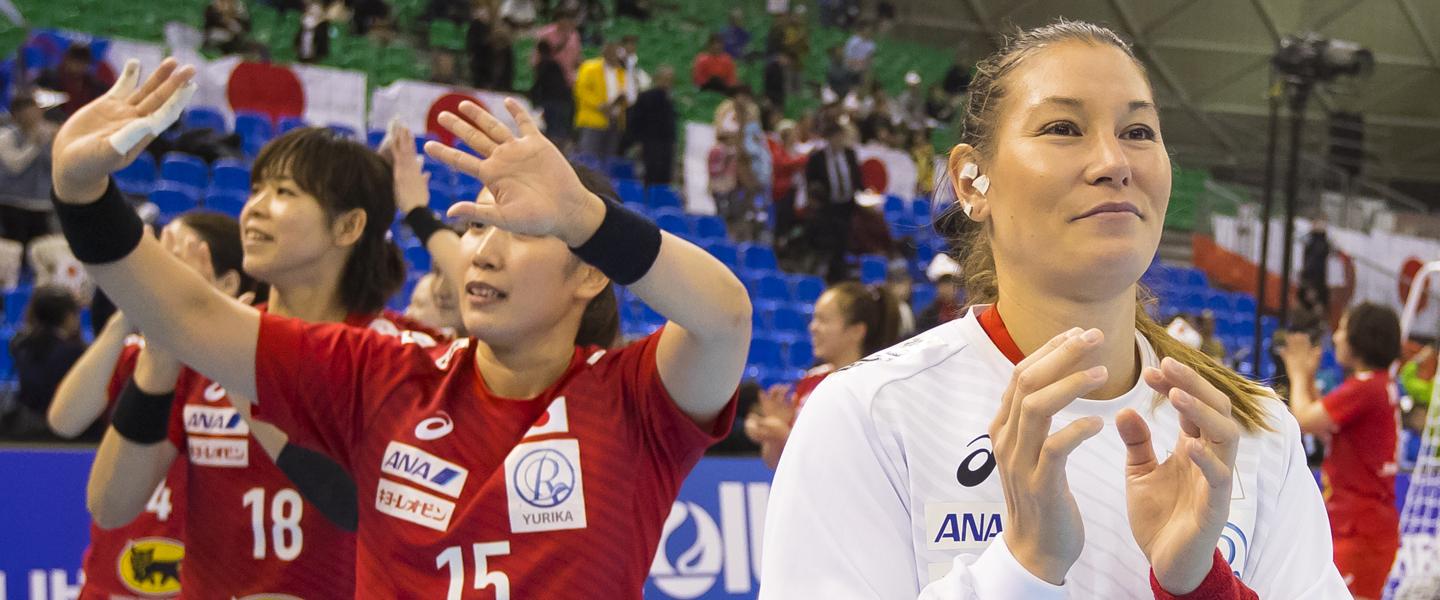 Back at the 2015 IHF Women's World Championship in Denmark, Japan goalkeeper Sakura Kametani spoke to World Handball Magazine (2016-1) about her experience playing for the nation of her mother's birth.
Four years have now passed since Kametani, who was born in Bergen, Norway, and played for Norway's junior and youth national sides, made her full international debut in the Asian qualifying tournament for Rio 2016 in Nagoya in October 2015.

She spoke to IHF.info after Japan's opening victory against Argentina at the 2019 IHF Women's World Championship in Kumamoto, Japan.
Kametani was in demand in the mixed zone following Japan's 24:20 victory over the South Americans. As one of the few members of the Japan delegation fluent in English, she is the go-to player for media who do not speak Japanese, but she spoke to each and every one of them, eventually leaving after 15 minutes of media duties, happy and content with two points out of two so far for the host nation.
"It feels good to finally play and get started with the world championship," said Kametani to IHF.info. "I felt good when I heard the national anthem and I was ready to just play really. We are happy to play on home soil, maybe we were a little bit nervous, but, of course, we are all glad we won.

"I was not nervous really, I didn't have any feelings," she continued. "But I could see that my players were nervous because maybe they feel more under pressure than me – they made some easy mistakes, mistakes I know that they would never have made normally."

In 2015, Kametani described herself as a "mini coach" for her team, explaining that as a player playing in Europe, she had not only been working on bringing in European goalkeeping techniques, but emotions and feelings too with her teammates.

That "mini-coaching" was in effect against Argentina, but with a nervy start in front of a near 10,000-capacity Park Dome in Kumamoto, during the first time out Japan goalkeeping coach Antoni Parecki had to remind Kametani of the basics.

"Usually I'm the one who talks all the time," said Kametani, laughing in acknowledgment of that time out chat. "Of course, to have to communicate so much with the defence when I also have to concentrate about my own performance takes energy out of me, plus looking for the shots which are coming because, often, against us they are coming from six metres, not so much from long distance.

"Antoni and I talked about that and about how we have to find a balance and timing," she added, coughing. "But I was sick for a few days before that game so I said to all the girls that others are going to have to talk and take responsibility on court because right now, with the energy I have, I just have to focus on myself."

Kametani's coach in 2015 was Masamichi Kuriyama who told World Handball Magazine at the time that "the players in the squad easily accepted Sakura, it was easy because she is a nice person and everything she has done has been of benefit to us."

Now, Ulrik Kirkely from Denmark is in position as Japan coach, and Kametani acknowledges the differences between 2015 and now as the team continues to progress.

"Ulrik is Danish and I am half-Norwegian, so we are from the same culture so it's (showing more emotion) is really easy," she added. "Maybe, in Japan, people are not used to it because I know that they have boundaries, maybe the two-way communication is not the same way as in Europe.

"But I think we have managed to opened up more smiling, more taking a little bit of responsibility and for players to show their emotions also – if something is not OK or if it is OK, it is just about demands on the court, but outside of the court you are friends again. Ulrik and me have come a long way since he started."

With their second game against the Democratic Republic of the Congo coming up on Monday 2 December (18:00 local time), Kametani is looking forward to seeing the host nation support again, playing another team from another different continent, but speaking to her family at the arena will have to wait.
"My family will come to watch me later in Japan," said the ESBF Besancon player. "The other players' have their families here and maybe they feel more pressure than me. But I really feel a lot of Japanese people are coming to a sport which is not so big here compared to Europe. It's really nice so many fans came out to cheer us and maybe this will help with the interest of the sport in the country.

"You never know," answered the goalkeeper when asked about the DR Congo test coming up. "They have a unique handball style and it's not the same as in Europe or Asia. We take every match seriously and we will take them seriously, but we, as players are only focused on ourselves."

And after the Argentina win did she get on her mobile phone in the locker room straight away to see the messages from her friends and family?

"I don't have the internet in the arena because I have a European cell phone and data, it's Norwegian actually," she said with a smile. "I have to wait to see the messages until I go back to our hotel."