Russia clinch bronze for first World Championship medal since 2009
15 Dec. 2019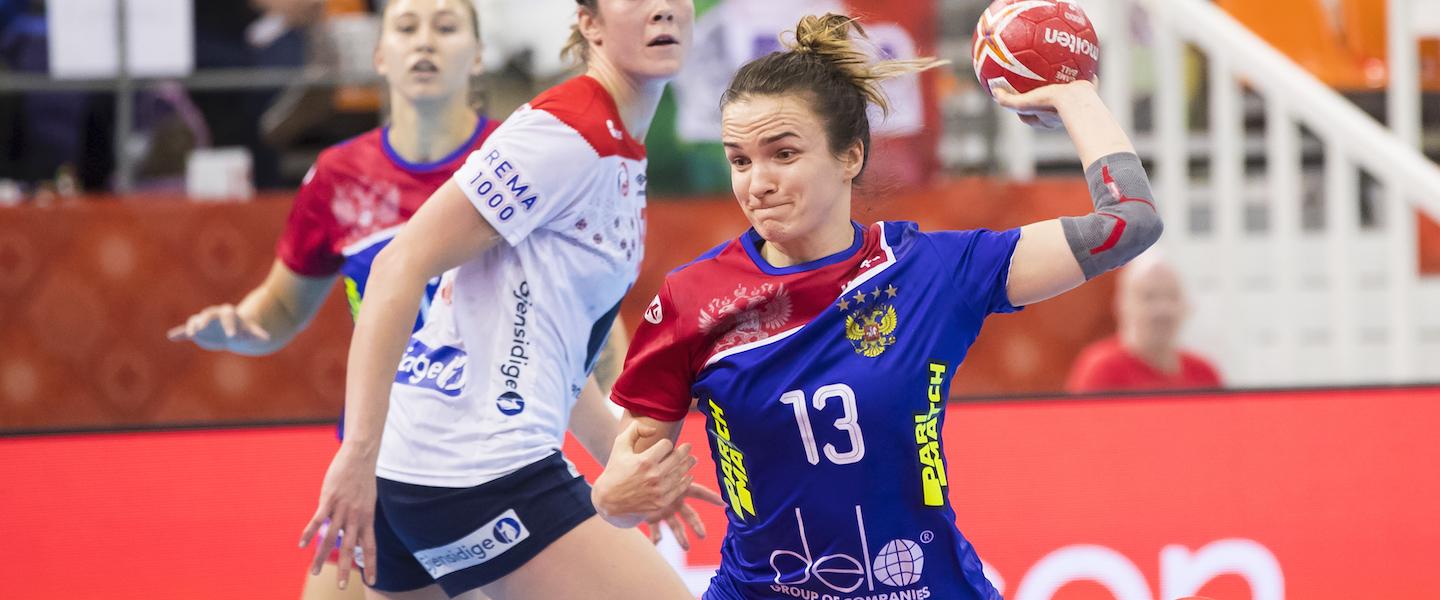 Russia claimed the bronze medal at the 24th IHF Women's World Championship with a clear win against Norway, after controlling the match from the 15th minute on. It was Russia's first bronze medal at the Women's World Championship, and ended a long wait for a piece of silverware after their last in 2009, when they raised the trophy in China. 
For Norway, it was a disappointing end to their Japan 2019 campaign. The result represents only the third time in history that the Scandinavian side have not celebrated a medal after reaching the semi-finals at a major international competition – the last two occurring in the mid-1990s. 
BRONZE-MEDAL MATCH
Norway vs Russia 28:33 (15:18) 
Norway had a stronger start to the match, leaving Russia chasing to reduce the deficit after a 3:0 lead for the Scandinavian side in the opening minutes, and a two-goal gap at 7:5 in the 10th. Norway were helped by a good start from keeper Silje Solberg, who saved a penalty in the first five minutes of the game, but as the clock ticked on it was Russia's Viktoriia Kalinina who stole the show between the posts – and she who made a decisive save late in the game to end the last chance for a Norwegian comeback. 
Russia recovered from the slow opening and, after equalising in the 12th minute, 7:7, off a goal from line player Kseniia Makeeva, it was not long before the moved well in front. Some changes to the back court at the end of the first quarter were the key for Russia, as a 5:0 partial spearheaded by Anna Vyakhireva, Elizaveta Malashenko and 2018 Youth World Championship MVP Elena Mikhaylichenko – with the latter two entering the court only in the 15th minute – took the Olympic champions to a 13:9 advantage it the 21st. 
From that point, Russia held the lead through to the buzzer. 
Norway threatened to come back more than once as the first half drew to a close, coming within a two-goal margin three times. But the 15:17 in the 29th minute was the narrowest score line seen after Russia claimed the upper hand. 
Russia hit a five-goal lead five minutes into the second period, and they survived even two almost simultaneous two-minute suspensions around the 54th minute with the help of an important save from Kalinina. The save kept a four-goal distance for Russia, 30:26, in a critical moment. 
Russia coach Ambros Martin did not even use his first time-out until the 55th minute, when his team led 31:27. As they held onto the advantage with the buzzer approaching, Russia began to celebrate the medal in the last 60 seconds when it was clear the outcome was decided. 
hummel Player of the Match: Anna Vyakhireva, Russia