Danick Snelder: "A beautiful final for everybody"
15 Dec. 2019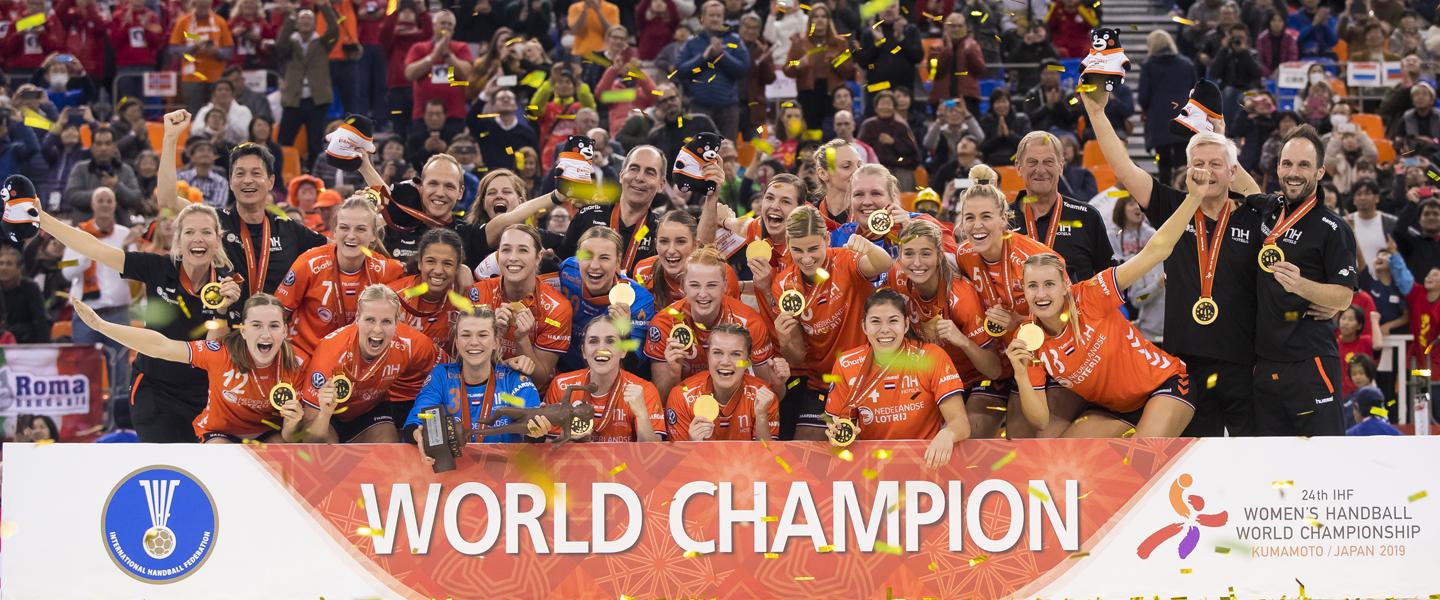 Statements from the Official Post-Match Media Conference
2019 IHF Women's World Championship
Gold Medal Match: Spain vs Netherlands 29:30 (13:16)Sunday 15 December 2019
Park Dome, Kumamoto, Japan

Carlos VIVER ARZA – Head Coach, Spain (runners-up: silver medal)
This was an unforgettable world championship for all of us. How we work, how we played and how we showed ourselves on court. I want to congratulate the Netherlands, because they played a great world championship and they deserve this gold medal as I think we do too.
But this silver medal is worth a lot to us, it means a really big something for us and we don't want to take it off because it really feels like a gold medal to us.
It's hard now, half an hour after the match, to think positive, but when we will have time or when we arrive back home, we will feel what this medal is worth to us and what it means to us.
I would like to thank my team and my teammates not only for the work here in the matches, but also the work outside and in training. Thank-you very much. 
Emmanuel MAYONNADE – Head Coach, Netherlands (winners: gold medal)
I am very happy, really for my team, for my staff, for my captain. It was not an easy tournament for us. We lost the first match against Slovenia and after this match you cannot imagine how difficult it was for me and also for the team but we discussed with some players and Danick, and I think we believe in us during all the tournament even if we lost the first match.
But we worked a lot really before and after this Slovenia match and after it we won against Angola, Cuba, Serbia, Norway, Korea and then Russia in the semi-final and tonight against Netherlands in the final. Really, I don't know if we deserved to win tonight but we were ready to fight during the 60 minutes and the girls did a great match. 
I hope you will understand what I will try to explain, I am sad for the Spanish national team, really, because I know some players and I saw the technical staff during the whole tournament and we discussed sometimes, just to be honest, I am really sad for them.
Nerea PENA ABAURREA – Spain (runners-up: silver medal)
I would like to say that this was a great final, both teams were really fighting for this victory, we show it on the court. For the spectators it was a great match for sure, but of course I am sad that we could not get it, but I am really proud of my team because we didn't expect to get this far and get close to this final.
Congratulations to the team of the Netherlands, congratulations on their pass to the Olympic Games and I want to say that we will fight for our pass to the Olympic Games too at the qualification tournament in March. This has been our objective from the beginning and the team will be ready for sure.
Danick SNELDER – Netherlands (winners: gold medal)
First of all, I want to thank the team of Spain how they made this into a beautiful final for everybody and I think it was a great match. Of course, I am really happy that in the end we could win.
I am really, really very proud of the team and how we fought during this whole tournament. We had some really bad points and I think it's amazing how we start to be a real team and even continue playing good in hard situations and I think this was our biggest lesson and that's why we end here with a gold medal.
So, to thank you all for your support, this great tournament and I hope you have a great evening now.