Germany overthrow Netherlands in main round opener
08 Dec. 2019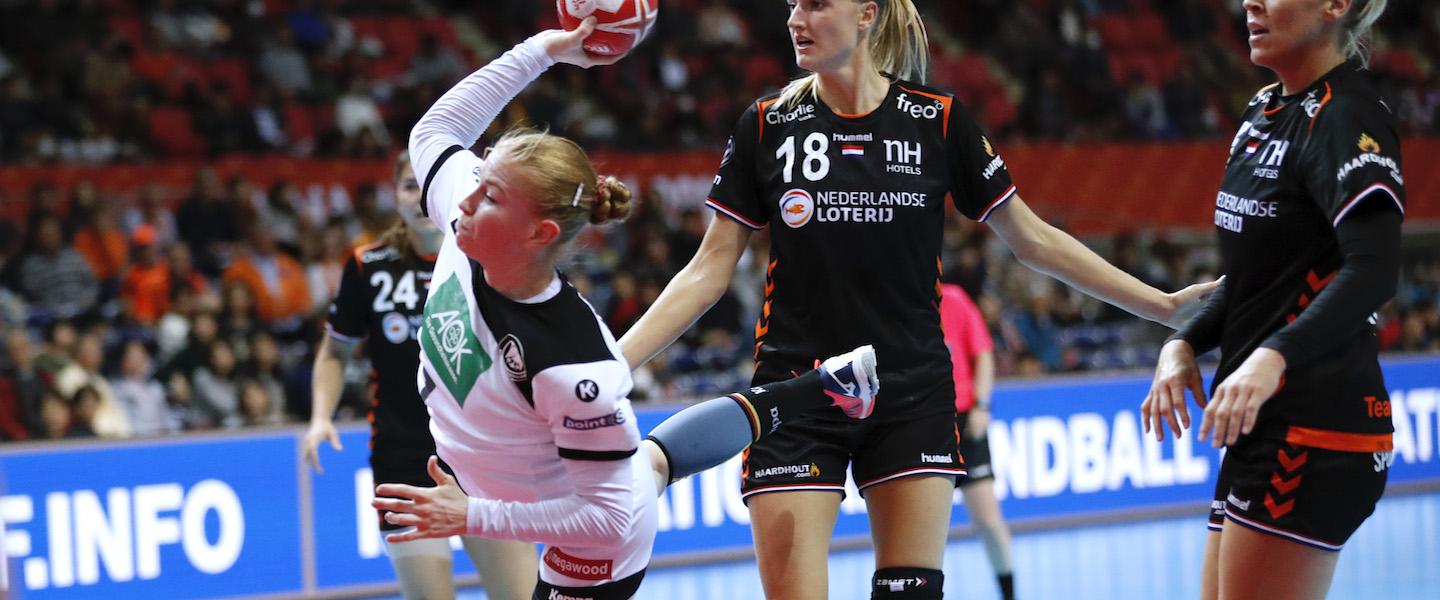 After a close match with nothing sure until the final minute, Germany defeated the Netherlands by two goals to earn their first points in main round Group I. Germany thereby move into first place in the group, with five points gathered from Group B and versus the Netherlands, who remain on four. 
GROUP I
Netherlands vs Germany 23:25 (12:11)
After a nervous start from both sides, Germany enjoyed a much stronger opening than the Netherlands. Led by goals from all over the court and saves from goalkeeper Dinah Eckerle, Germany pulled ahead to an early 4:1 lead, prompting a time-out from Netherlands coach Emmanuel Mayonnade after seven minutes. 
The Netherlands' attack had been struggling against Germany's 6-0 defence up until that point, with a number of uncharacteristic turnovers that led Mayonnade to make some early changes to his line-up. But the time-out worked wonders for the Netherlands – not only did their attack settle, but Germany's roll came to a halt and their opponents levelled the score five minutes later, 5:5. 
Germany kept the edge for a time, but the momentum soon swung towards the Netherlands. Despite two two-minute suspensions for captain Danick Snelder – a key in their defence – the 2017 bronze medallists took the upper hand in the 20th minute. With the help of some great saves from Wester, the Netherlands went to the break with a one-goal advantage. 
Germany left back Emily Bölk immediately levelled the game when the second period began, and it was she who pulled them in front with the next strike. Germany keeper Eckerle began to cause big trouble for the Netherlands, and her saves paved the way for her side to create a clearer lead. When Mayonnade called a time-out with 12 minutes remaining, Germany were in command at 22:17, having allowed the Dutch just five goals so far in the period. 
While the Netherlands changed their attacking line-up many times as no combination clicked quite right, Germany could rely on a solid performance from their backs Bölk, Alicia Stolle and Kim Naidzinavicius. The three were the top scorers for their side, combining for 15 goals. 
After the time-out just before the 50-minute mark, the Netherlands began to challenge for the advantage, and it was a tense end to the game as they came within two goals at 22:24 with still three minutes to play. But Germany secured the win with style, with an in-flight goal from Antje Laurenroth pulling them in front by three with not enough time for the Netherlands to come back. 
hummel Player of the Match: Dinah Eckerle, Germany