Russia within touching distance of last four
08 Dec. 2019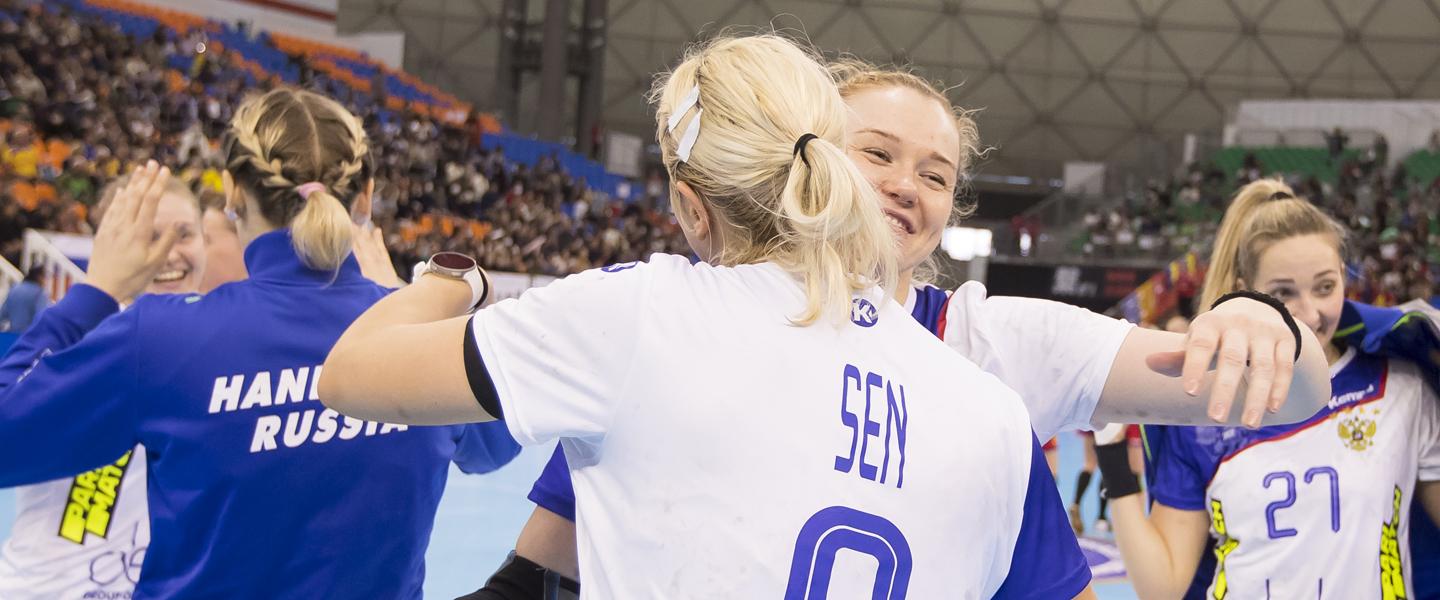 A game of two halves saw Russia coach Ambros Martin go up against his former Romania side and deal them a near-fatal blow as they attempt to get into the semi-finals of the 2019 IHF Women's World Championship in Japan.
After a nine-goal loss (27:18), Romania will now be hoping that Montenegro do not beat Japan and Spain lose against Sweden tonight firstly, and then they can live another day. 
If Spain pick up at least a draw, or Montenegro win, then Romania will be out of contention for that final four spot.
MAIN ROUND – GROUP II
Romania vs Russia 18:27 (10:10)
Park Dome Kumamoto
Back in May, the Romanian Handball Federation (FRH) announced Tomas Ryde as their new coach, replacing the departing Ambros Martin after the FRH and him had come to a mutually-agreed deal.
In August, Martin was announced as the new Russian coach and today he faced his former players in a match where the Olympic champions were given a tough test in the first 30 minutes, before they powered ahead in the second to win 27:18 and put one foot in the semi-finals.
"They won and there is no doubt about that; they had more energy," said Ryde after the game, while Martin admitted he needed time to adjust at the break. "In the first half we had some trouble in offence, but we realised that if we kept our level in defence, we can wait for our moments in offence and this was the key to use keeping calm and not losing control. 
"We gave more speed to the ball, completed more transitions from offence to defence and were able to use our wings a bit more on the side," he added. "We also got better in offence and we now have two more points on our way to the semi-final."
Romania's Lorena-Gabriela Ostase revealed she was "sad and angry" at the turnaround in events which saw Russia score nearly all (nine) of their first half goals in a 15-minute spell as Romania could only respond three times. 
This 9:3 run put Russia ahead 9:4 and in control, but, like they did against Hungary last time out, Romania set about the goal chase, drawing level at 10:10 on the half-time buzzer after a 6:1 run – and they could have gone further ahead had Ioana-Laura Pristavita's weak lob had more intent.
That run was necessary for Romania as Russia Goalkeeper Anna Sedoykina herself scored twice in two successive attempts after Ryde attempted to force the issue with more 7v6 attacking, which had proved so effective against Hungary.
But this time he was undone as it changed the game and gave Russia their first breathing space, but Romania got back into contention at the break, with both Kseniia Makeeva and Iuliia Managarova discussing on court what had gone wrong for their Russia side, while Romania's players were high-fiving each other, after a job well done.
But it was only half-time, and it would prove to be a second half of two halves with the first 15 minutes seeing Romania lead a number of times (11:10, 13:12) before Russia again came back.
Both Denisa-Stefania Dedu and Sedoykina in their respective Romanian and Russia goals led by example with a number of saves and a goal each in the half but the last 15 minutes was a total disaster for Romania, who only scored once after Dedu tied the game (15:15 – 41st minute) - in the 44th minute until the 56th minute.
Just before this 12-minute blank period, Ryde had taken a time out, but his side failed in front of goal and were punished by eight straight goals from Russia, including four from Vladlena Bobrovnikova. Unfortunately for Ryde, they were unanswered by his side and Russia prevailed.
hummel Player of the Match: Vladlena Bobrovnikova, Russia