Romania take sensational win over Hungary, provide Yatsushiro with lasting memory
06 Dec. 2019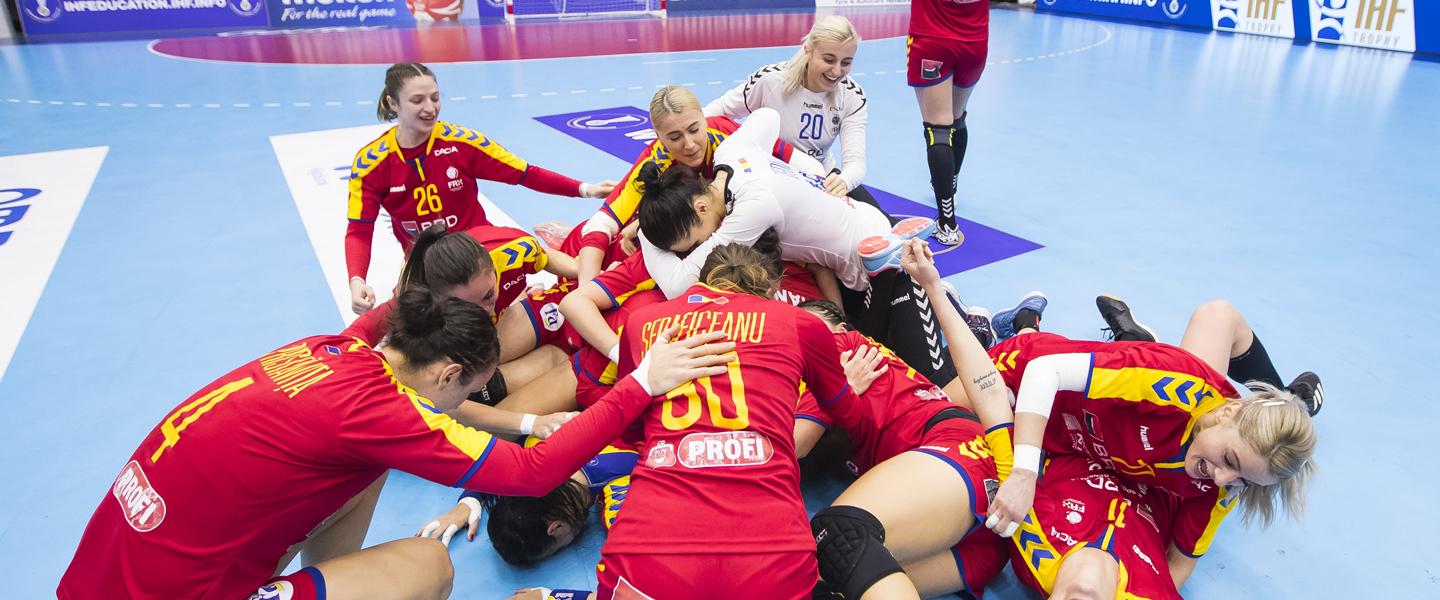 The 10th and last game at the Yatsushiro General Gymnasium of the 2019 IHF Women's World Championship promised much with Romania needing a win against Hungary to progress through to the main round, while the Hungarians had to ensure they did not lose to stay alive.
And both teams delivered on a large scale as quadruple-winning IHF Women's Handball Player of the Year Cristina Neagu slotted home a penalty shot with eight seconds remaining to put her side 28:27 up and squeeze through at the expense of their opponents who move into the unfamiliar territory of the President's Cup, missing out on a top seven finish and with it – an automatic, direct Tokyo 2020 Olympic Qualification Tournament place.
GROUP C
Romania vs Hungary 28:27 (10:16)
A member of Romania's team delegation told IHF.info directly at the end of this classic encounter that it was a lesson for any handball players or coaches in never giving up and they were 100% right.
A 5:0 run in the opening seven minutes from Hungary, eventually turned into a 7:1 lead in the 11th minute and the game – played in front of an influx of Hungarian and Romanian fans – appeared to be a non-event early on. Romania coach Tomas Ryde had already taken a timeout at 4:0 down (6th minute), but he could do nothing to address the slide.
The six-goal lead became seven twice in the first half as Romania went into the half-time break, no doubt in a daze, 16:10 down.
But any momentum Hungary had after 30 minutes quickly evaporated as Hungary found it hard to get their shots past the Romanian wall – what had Ryde said in the locker room at the break?
Whatever it was, was working - plus an aggressive 7v6 attack being used at will, nearly 30 times in the match, after Denisa-Stefania Dedu replaced Yuliya Dumanska in the goal late in the first half. A 4:0 run at 18:12 down stopped Hungary from scoring for nearly nine minutes (34th-43rd minute) and their coach Kim Rasmussen called a pause (39:19 on the clock) to try and stop the chase from his side's neighbourly rivals.
But they kept coming back, getting within one over the next 10 minutes and when the coach himself was given a two-minute suspension (56:35) for Hungary it paved the way for the game to get level again, for the first time since the opening whistle of the match at 27:27 (58:46 on the clock) when Ana-Maria Iguanu slotted home, assisted by Neagu.
Rasmussen hit the timeout button immediately for Hungary but following the pause, the next minute was a disaster for the team. First, captain Anna Kovacs, under pressure from finding a way to the line and with passive play being signalled, turned over the ball before her weak shot went onto the post.
A timeout was immediate again, this time from Romania and Tomas Ryde looked like the coolest person amongst the 2,000 inside the Yatsushiro General Gymnasium as his side sensed their first real chance of taking a lead – and that place in the last 12.
The ball was handed to Neagu on the restart with just over 30 seconds remaining and the Romania attack started – with seven players looking for a way through after goalkeeper Dedu was withdrawn to the bench, complete with her seven crucial saves in the match.
First Neagu looked to her right – Ioana-Laura Pristavita received the ball, but no luck getting through. Back to Neagu. Neagu looked to her left. No pass on. Neagu looked to her right again and Pristavita again tried the Hungarian defence and this time she found a way through only for Aniko Kovacsics to be penalised for a push on the back as the centre back attempted to get in and score.
Kovacsics was sent to the bench for a two-minute suspension and Neagu stepped up to the penalty mark, got her footing, got the feel of the ball and sent a rocket into the top right of Eva Kiss' Hungarian goal to break her heart and that of her team.
They barely had enough time to send the ball back for a restart as Romania's entire squad celebrated in a huge bundle on the floor, a floor soon to be pulled up as the venue returns to its normal life and Romania move into the main round.
"Unbelievable," said Romania goalkeeper Denisa-Stefania Dedu about the game to IHF.info after the match. "We didn't start so well and at the half they were leading with six goals, but I am really proud of my team that we didn't give up and we believed until the end.
"It was important for us to win and maybe in the second half they started a little bit relaxed," she continued. "But it's good that we started to defend really well, and we were thinking every ball to take it and to score, that's it.
"I believe in every player on my team, whoever has to be there to score, but of course, Cristina is a great player and I really believed that she would score," added Dedu about the final shot of the match.
"The story is – never give up and our fans here tonight were impressive. Wherever we go they are here close to us and supporting us no matter what and I am really thankful for them – they are helping us in those moments, they are the eighth player."
hummel Player of the Match: Aniko Kovacsics, Hungary
More statements after the match
Ana-Maria Iuganu, Romania
We are very happy that we won this game and we also want to congratulate the Hungarian team; they really played a very hard game but in the end we won.
We really believed until the end and we wanted this 150% and we did it and we are so happy for this and looking forward for the next matches.
Tomas Ryde, Romania Coach
I tried to convince my players that four balls up or down doesn't matter, but six is really hard. The Hungarian team started the half with one suspension, and we had a chance maybe to get more in contact and we played very well 7 against 6.
I needed to change goalkeepers sometimes because we had difficulty to figure out especially Kovacsics shooting. Especially, to figure out to have some good shooting all the time there was big pressures on our goalkeepers and in the end. I am pleased and it's good for me and good for Romania.
We didn't have the patience in attack at 16:10, and we were standing and sometimes we were waiting for Cristina. Then we tried to play 7v6 and I noticed that the Hungarian team have a problem. In the second half we played 7 against 6 again but with more patience, more runs and we tried to spread them out.
Kim Rasmussen, Hungary Coach
Congratulations to Romania and Thomas. In sport it is all about being ahead in the end and they were that one time. I am very disappointed in myself and I am very disappointed that we didn't at least get a tie.
I never found a way against their 7v6, we didn't punish it. But when you play 7v6, there will be one player open somewhere, it's logic. It's very difficult to handle Cristina in the middle and they kept feeding it to the wings, but if we stopped their wings they went on the outside of the back, so the 7v6 was a good thing for Romania today. It was smart, we never found the way – that's my job.
The frustration from that, I think we took a little to the offence from time to time, but we are up with three goals in the closing stages of the game, so this is the biggest disappointment in my coaching life. I have to take a look inside and see all the mistakes I've made and I'm so sorry for the girls that I couldn't be better than today.
Right now it sucks but this is sport; it has its ups and downs but today I am sorry to the Hungarian fans and to the players that I didn't deliver on the level I should.
Aniko Kovacsics, Hungary player
It was a really good second half from Romania. We started the match really good, the first half was the best half here in this world championship for us but maybe the worst end, so I am really sad now, but good luck for Romania. Everybody has the feelings and goals for the future so now it is hard.