Roller-coaster ride ends with Spain taking group title
06 Dec. 2019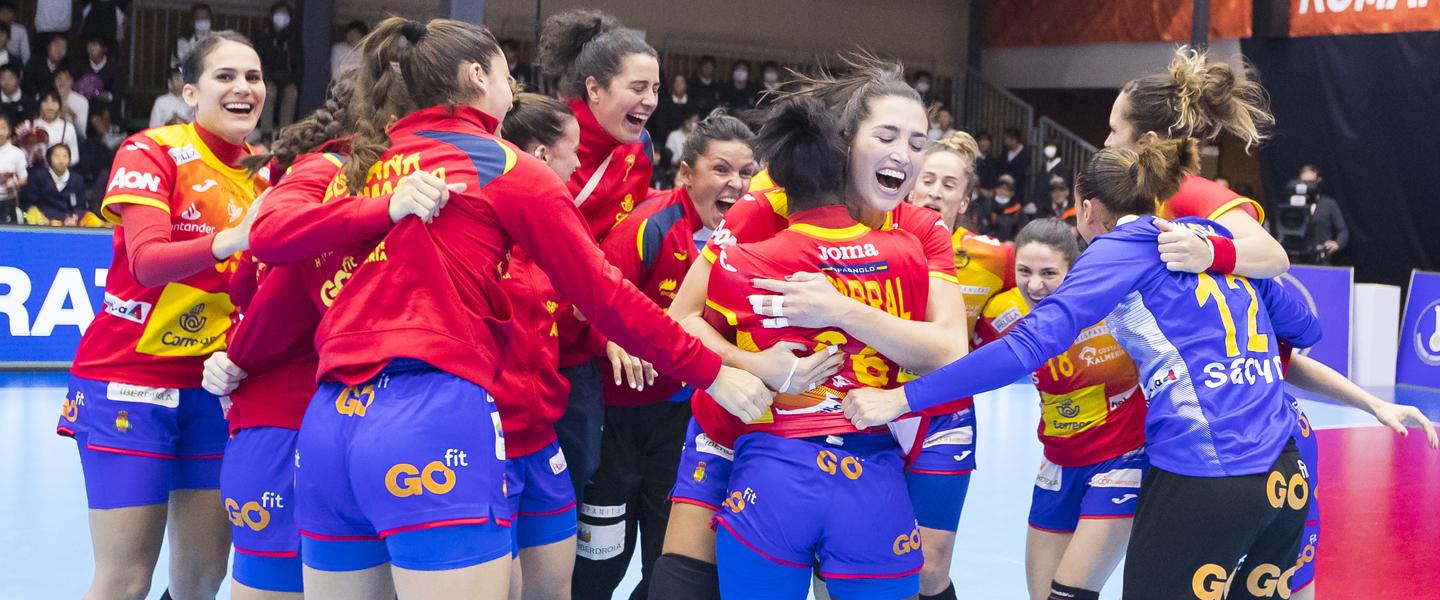 Montenegro were left in tears at the end of this 2019 IHF Women's World Championship clash, a straight fight against Spain for the group C top-spot but, more importantly, another two points to carry through to the main round.
With a lead changing hands a number of times in the match, it was two periods which turned the game, as Spain ensured they ended their preliminary campaign with five wins out of five and four points to carry through.
GROUP C
Montenegro vs Spain 26:27 (14:14)
In the fifth minute, Montenegro were 4:1 up and cruising against a Spain side failing to contend with their attacking threat, but Carlos Viver Arza's Spanish team finding their feet – and paying extra attention to Milena Raicevic – they came back with a 5:0 run to go ahead (10:6 – 10th minute) and not lose the lead again in the first half.
Per Johansson took a time out for Montenegro with 18 minutes on the clock and they gradually reduced the deficit from four to all-square (14:14) in the 27th minute and that was the end of the scoring in the first 30 minutes, as the remainder of the half saw a number of turnovers and saves, enthralling the passionate Japanese schoolchildren and fans on the last day of Japan 2019 action at the Yatsushiro General Gymnasium. 
The second half was an intoxicating recipe of skill, power and tactics as it was now time for Montenegro to move ahead with a 9:5 run to make it 23:19 with 17th minutes left – but would they blow a healthy lead again as the game entered the business end?
The answer was an emphatic yes as a 7:0 run from Spain (46th-57th minute) put them three goals up (26:23) with three minutes remaining. Even when Johansson took his third time out in the 51st minute the malaise could not be stopped.
Again Montenegro came back, as Jovanka Radicevic squeezed in the ball to make it 26:24 to Spain with just under two minutes remaining – two more goals came to even it up with Jaukovic's strike after a steal following a misplaced Nerea Pena coming straight after a late Spain time out with 45 seconds remaining.
After a foul, the clock stopped in the next possession for Spain and everyone in the arena had a chance to catch their breath as the clock showed 59:54. At the restart Alexandrina Cabral received the ball, took her time to choose her spot and threaded a bullet into the Montenegro net off the post with two seconds remaining.
The subsequent full-time whistle unleashed pure emotion from Spain who mobbed Cabral on court as Majda Mehmedovic and her teams sat dejected and inconsolable on court, despite their main round place with two points.
"I am very happy with the match, a match that was very good for everyone to see in the hall," said Spain coach Carlos Viver Arza. "All the attacks and all the defence was important in this match as we could have lost or drawn."
Montenegro coach Johansson was disappointed with the result but set out a warning to the other teams his side will face in the main round.
"We started very good, 4:1 up with lots of energy," he said. "But Spain came back and then we came back - it was a roller-coaster game, but we had a very bad period near the end. We were leading 23:19 and then kind of collapsed.
"We put our last energy into the match at the end and maybe we deserved a draw, but they won by one goal and I am very disappointed. It is like it is, we now go through with two points and we will be a danger for all teams in the main round who we will face."
"We beat ourselves in this game," said Montenegro's Sanja Premovic. "We began really good but then we had some technical mistakes and we give them goals like a Christmas gift and they, of course, used them."
hummel Player of the Match: Mireya Gonzalez Alvarez, Spain