Norway do enough to end Angola's dreams
05 Dec. 2019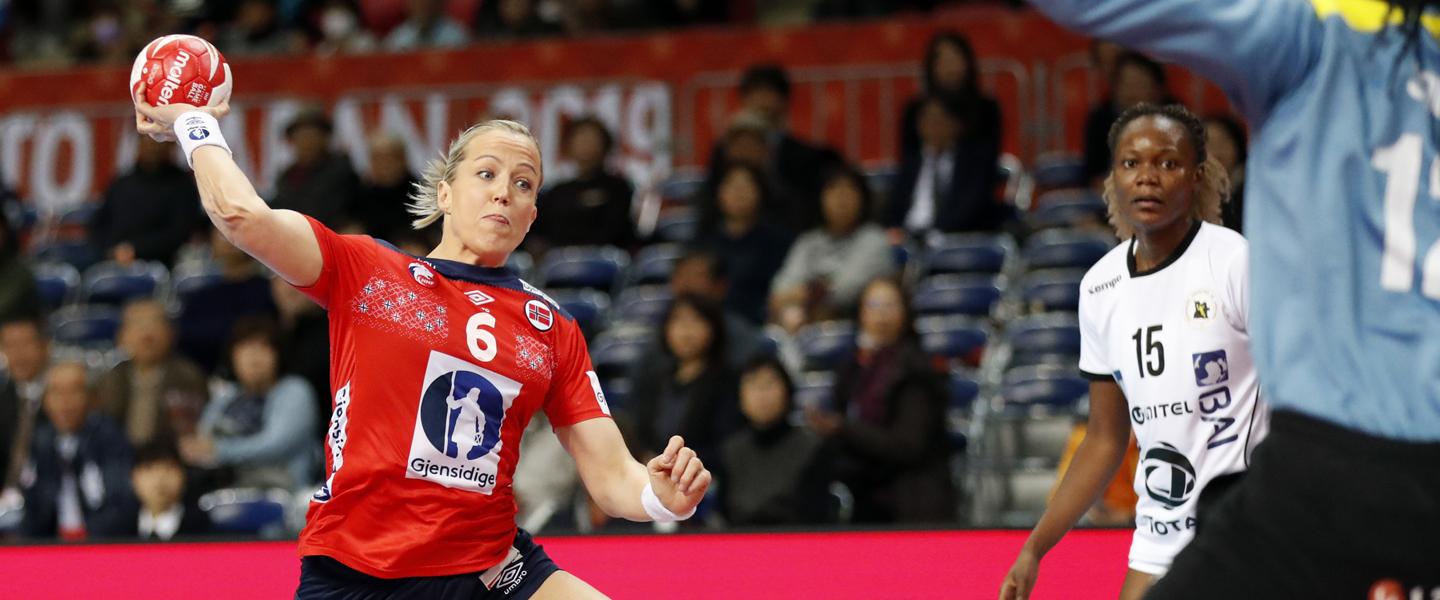 In the last match of the fourth round of Group A games in the 2019 IHF Women's World Championship in Kumamoto, Japan, Angola knew their hopes of progressing through to the main round would rely on them beating the might of Norway, who, themselves, had not confirmed their qualification through to the last 12 ahead of this Europe vs Africa clash.
After Angola opened the scoring in the third minute, the lead changed hands three times in a first half where the Icelandic coach of Norway and Danish coach of Angola must have been wondering how they could engineer a comfortable lead.
In the end it was Norway's Thorir Hergeirsson leaving the court happy as Morten Soubak was left wondering what might have been for his African champions.
GROUP A
Norway vs Angola 30:24 (12:11)
Having already qualified for the Tokyo 2020 Olympic Games through the CAHB Women's African Qualification Tournament in Senegal earlier this year, Angola are in Japan in preparation, but still wanting to finish inside the world's top 12.
After 25 minutes that dream was still a reality as a combination of wonderful saves from goalkeeper Helena Sousa in the Angola goal and effective attack was finally rewarded when a lovely pass across the area was put home by Janete Santos (10:9 to Angola). 
It had been all-square after 10 minutes (4:4) and when Norway threatened to pull away (7:5 – 14th minute), thanks to a Sanna Solberg fast-break, Soubak took a time out.
This empowered Angola to force the issue as Sousa denied Camilla Herrem from a fast break, the Norway player grimacing in pain at the missed opportunity. This allowed Angola to draw back level (9:9) and then take that lead on a 3:0 run.
Unfortunately, Angola missed the opportunity to pull further ahead, instead, Norway pulling them back, and then overtaking by the break (13:12).
A change of tactics in the second half saw Soubak employ the extra court player in the 7v6, but Norway raced ahead (21:16) with just under 20 minutes remaining (41st minute). But he persevered and, eventually, Angola came within one (21:20) with a quarter of the game remaining.
Unfortunately, the normally reliable Isabel Guialo turned the ball over which would make it an even match at 21:20 down and Norway did not need another opportunity to set up a table-topping clash against Netherlands tomorrow.
"It was a big fight," said Hergeirsson after the match. "We have seen the development of the Angolan team in the last few years. Morten is a smart coach and is doing a great job and it will be interesting to follow the team further over the next years.
"We had a tough game, but we made it in the end," he added. "We were fighting good and the girls were working hard, everything was not going as planned but we stayed cool and kept on fighting.
"This was the reason, together with the good goalkeeping performance from Silje Solberg (11 saves) that we won."
His player Stine Skogrand was full of praise of their opponents and noted that she expected to come up against them again in the future. "We had problems with their goalkeepers and their line players," she said. "Angola showed once again that they are a really great handball team and we should look out for you."
Soubak was clearly disappointed at missing the chance to progress and revealed that his team will have to work hard on minimising their errors which saw the turnover column read '12' with the last Angolan time out in the 51st minute.
"I hope we are progressing in the right way, but we are sad with the game because we fought back," he said. "We thought that 7v6 would be the way when we changed but Solberg and the Norwegian defence did such a great job and when you have some technical faults in attack and there is no goalkeeper back, then it can get very difficult."
hummel Player of the Match: Azenaide Carlos, Angola