Greece 2022 concludes with action-packed final day
26 Jun. 2022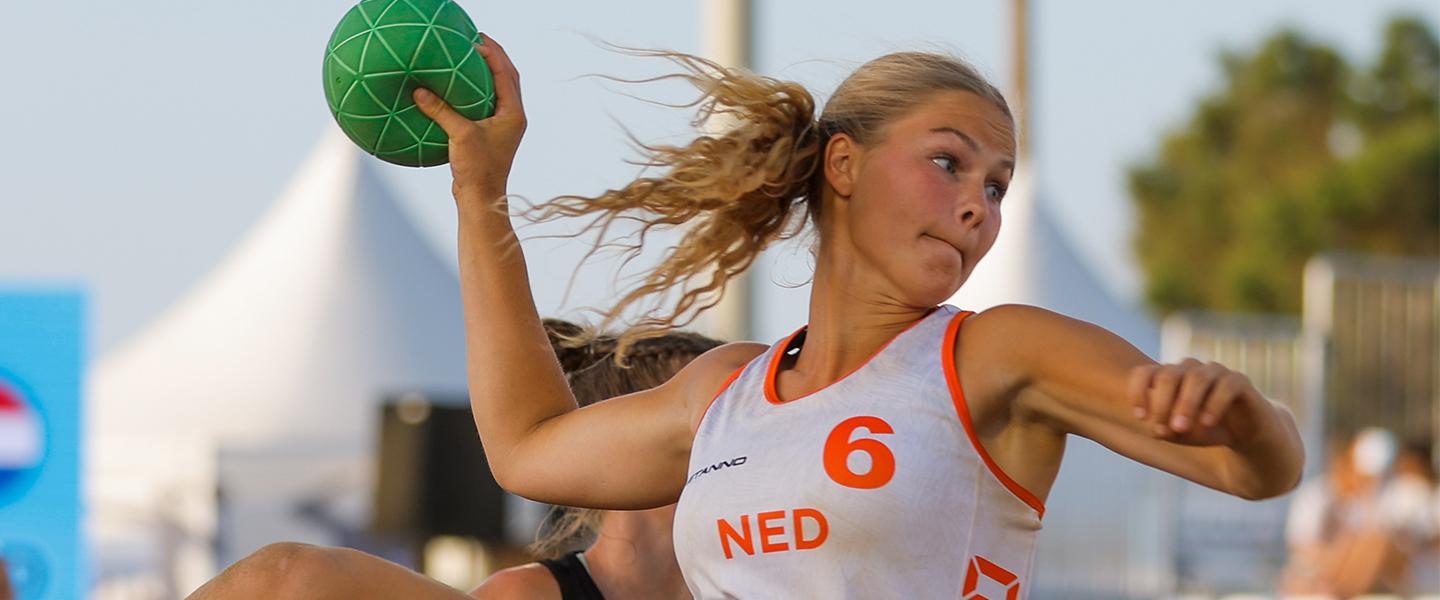 Live blog: It's time to crown new world champions and we can be sure of one thing: the 2018 world champions will not be able to defend their title.
Today's matches:
10:20 EEST 7/8 Argentina vs Portugal (2-0) / 11/12 Norway vs Uruguay (2-1) / 15/16 Australia vs Mexico (0-2)
12:00 EEST 5/6 Brazil vs Denmark (1-2) / 9/10 Hungary vs Thailand (2-0) / 13/14 United States of America vs Vietnam (1-2)
16:00 EEST Bronze-medal match: Greece vs Netherlands (1-2)
18:00 EEST Gold-medal match: Spain vs Germany (0-2)
19:00 EEST Your new IHF Women's Beach Handball World Championship champions, Germany
Unbeaten in two championships, 18 games won in less than a year. European and now World champions. The global title was won without any periods lost.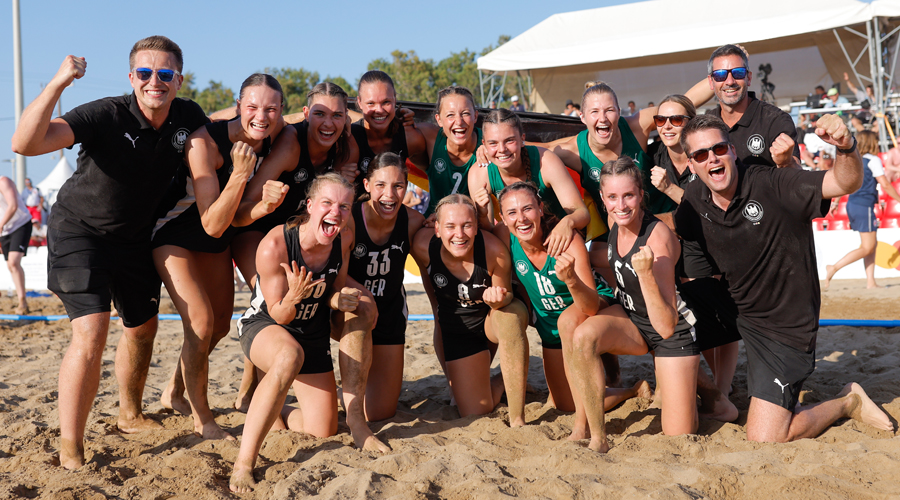 17:35 EEST 'Warming up' - well, they don't need to be any warmer, it was pushing 30 degrees here, but still...
Imagine, this is the biggest game of your beach handball life - you need to stretch and get in the zone. Could you?
If Germany win 2-0 they will become the first-ever team to win an IHF Beach Handball World Championship without dropping a period.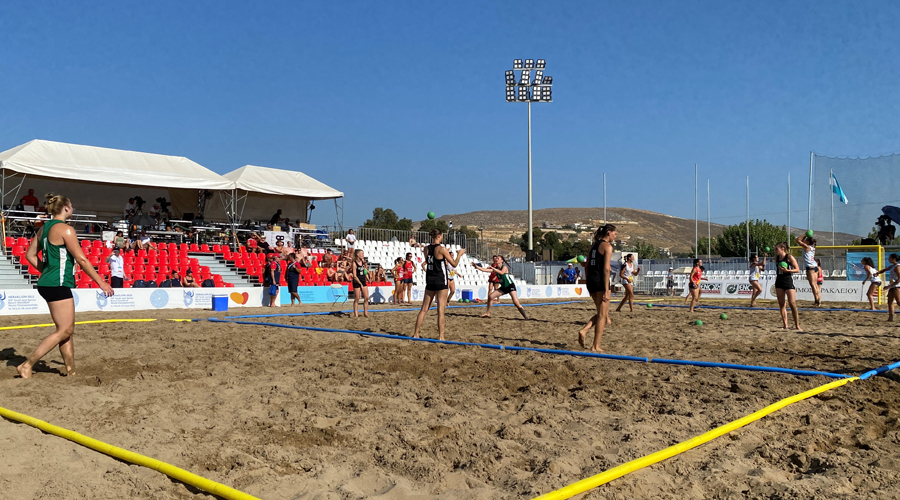 16:55 EEST Oranje = bronze
The Dutch have beaten host nation Greece in the shoot-out. After four shots each, perfectly dispatched, Ntafina Dimitri saw hers saved and Meike Kruijer scored the single point to break the home fans' hearts.
The 2018 world champions have finished fourth here.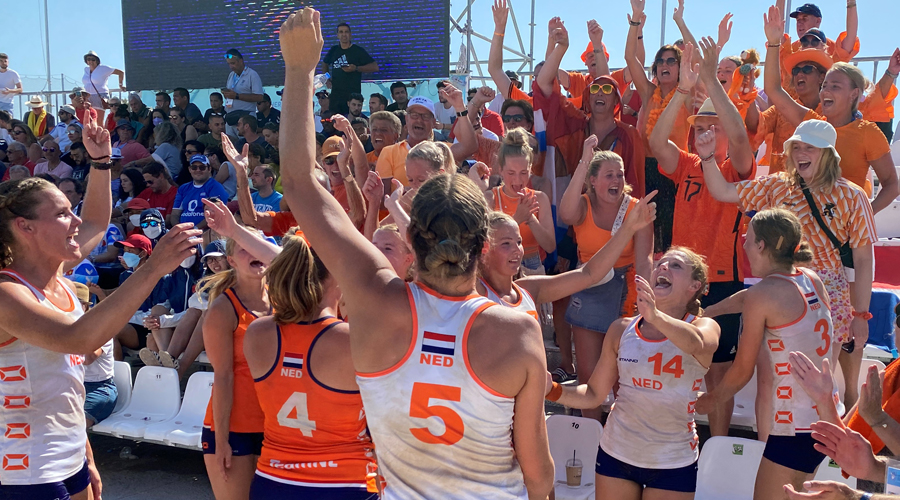 16:00 EEST The bronze medal is here
Can the hosts do it?
12:55 EEST ANOC World Beach Games title-holders make it through to the 2023 edition
After winning the debut edition back in 2019, Denmark have qualified through to the second edition of the ANOC World Beach Games, which will be played in Bali, Indonesia in 2023.
They won a shoot-out against Brazil 7:6 to secure fifth place and the final direct qualification spot through.
Brazil had taken the first period 18:14, but the strong Europeans came back hard, winning 20:16 in the second period.
In the shoot-out it was all-square (2:2) after the second round of shots and when Line Gyldenlove Kristensen need to secure the victory with a single point, she delivered.
Vietnam defeated USA via a shoot-out and Hungary beat Thailand 2-0.
11:05 EEST Uruguay push Norway all the way
Norway overcame Uruguay via a shoot-out (2-1) in a tight and dramatic third and final period. After five shots each it was 8:8 and it went to a fifth round. 
But it was the unlucky Florencia Lachaise Atto who hit the post and Norway breathed a sigh of relief.
Argentina and Mexico beat Portugal and Australia 2-0 each respectively.
09:15 EEST Unbeaten European champions Germany ready for 2016 world champions Spain
It's the final day of the 2022 IHF Women's Beach Handball World Championship today – we will end with game number 72, the final between Germany and Spain.
Germany are the favourites in the clash against Spain, having not lost a game in a year and dropping just two periods in the Women's EHF Beach Handball EURO – which they won – and now in a World Championship final. The team that took one of those periods will be one they face in the final. As you can see, a promising final lies ahead of us!
There is, of course, also the small matter of the bronze-medal match between the hosts and Netherlands, plus one final spot available for the 2023 ANOC World Beach Games in Indonesia to be claimed in a big match-up between Denmark and Brazil.
Read more about today in our preview here if you want to know how to follow this action-packed final day, read all about it here.