Greece 2022: Germany - World Champions
26 Jun. 2022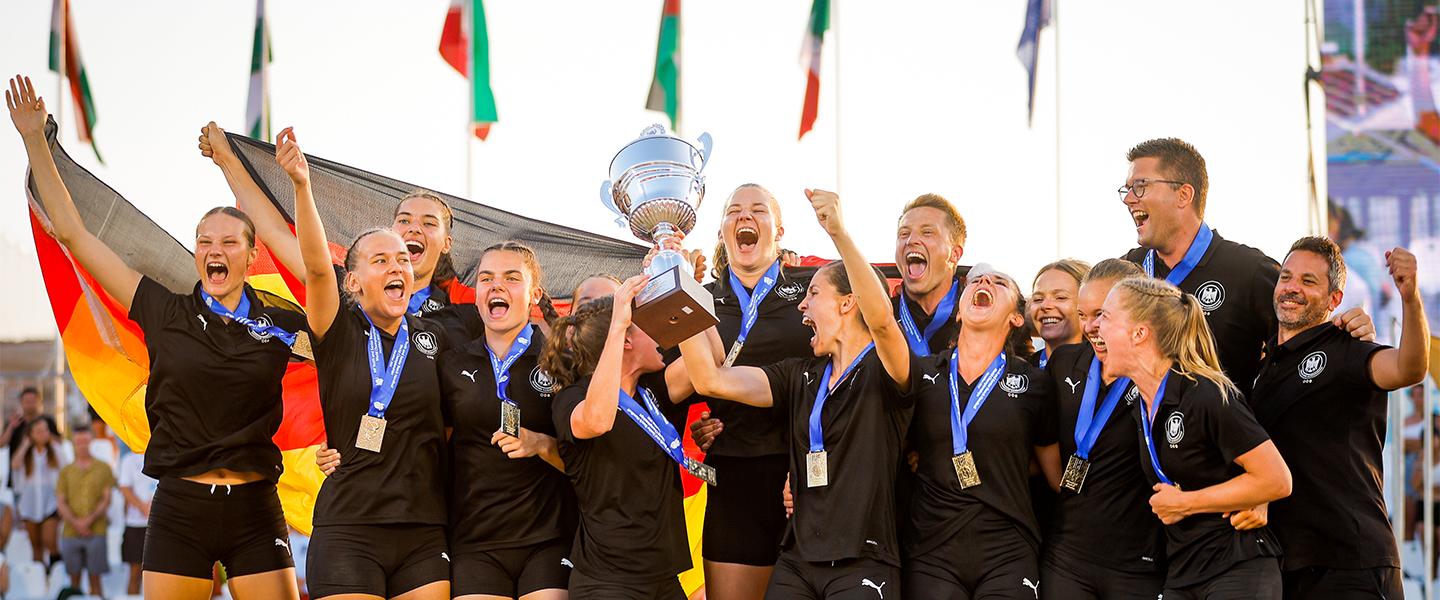 Germany have won the 2022 IHF Women's Beach Handball World Championship, beating Spain in the final. Netherlands defeated host nation Greece for bronze.

We hear from some of those involved (being updated)
Isabel Kattner, player - Germany:
On winning gold, winning nine games in a row with dropping a period, to add to nine wins from the European Championship last year, making 18 wins in a row:
"It's party time; we're celebrating. Nothing can stop us. I'm so happy. Unbelievable, I can't find the words. Last year I said it's a wonder, this year…I can't understand, I can't find words for it. It's crazy. It's crazy."
On winning both restarts from the referee throw in the golden goal periods:
"I'm a tall person, but it's difficult to find the right timing and the others have another strategy, but it's a little bit of luck as well. But we have a good defence who helped me and was team work."
On if these moments make the sacrifice of training worth it:
"It's the team. It's our emotion. We stay together and we know each other...and this handball knowledge they have."
Virginia Fernandez Robles, player - Spain:

"We are proud of the second place we won, although of course we were sad to lose in the final. We have improved as a team, we played very well throughout the world championship and we represented our country in the best way."

"We took the second place in the world, while a week ago our youth took first place here in Crete. Our sport in Spain is at a very high level."

Ana Alonso Fragua - assistant coach, Spain:

"We played very well in the final. We gave 100% of our strength and lost both sets to the golden goal. Germany is a very strong team, but we are also at a very good level. We are all proud that we took second place."
Fragua and Robles were talking to the official championship website.