USA's 'Self' promotion on the sand
22 Jun. 2022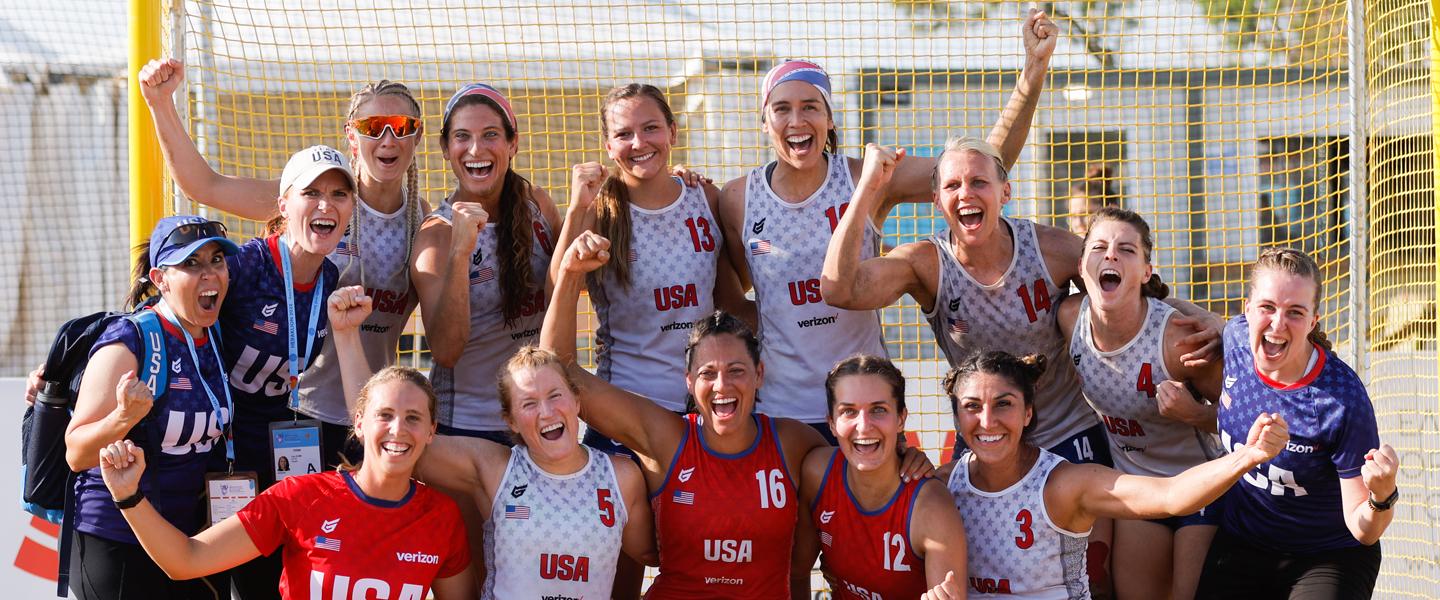 "We've come a long way," says United States of America goalkeeper Staci Self to ihf.info after her side had made history today.
They became the first from the country to qualify for an IHF Beach Handball World Championship main round.
It's an understatement to say the least. A team in just their second-ever World Championship after receiving a Wild Card for their first.
They made the main round by beating Vietnam via a shoot-out in their third and final preliminary group game earlier today at the 2022 IHF Women's Beach Handball World Championship in Heraklion, Greece.
"I feel really proud of our team," said Self, who saved the first Vietnam shot to help her side to an 8:7 win in the third period after a 24:20 first period win had been turned around by Vietnam into a second-period 12:23 loss.
"You just know that every person put an effort in for that shoot-out. Even though I got a save in the beginning, everybody made their shots and, especially after losing that second period, we just stayed positive.
"We came out a little slower on that second one, definitely. We didn't manage our energy levels celebrating that big first half win, not remembering that we had another one to go.
"But we've been putting in the work especially through covid, just coming together. We've trained for this, we've worked for this and it definitely feels good to have a w (win) after the end of the game, hold our heads held high; it's awesome."
Staci Self has a perfect surname for writing: 'self-respect', 'self-awareness', 'self-improvement', 'self-confidence', this list goes on about how you can use her name (and she is probably 'self-aware' of that). But all are relevant to her, her teammates and the team itself.
However, 'selflessness' is one word which has a special relevance to the former football (soccer) player from San Clemente, California and the IHF Women's Beach Handball World Championship.
After working for years to make her first event, like the rest of the players, spending their own money on the sport and squeezing training and competition in between a full-time career and education, Self was ready for that Kazan 2018 squad. 
But disaster struck. The physical therapist had to undergo wrist surgery on the eve of the event and miss it as a player.
However, she did not go off into the shadows feeling sorry for herself. She was determined to use her professional career to good, supporting those who had been on the journey with her and those who had started it.
"I was medical staff for those games," said the player who celebrated her 37th birthday at the beginning of the month. A look at the squad list back then simply says 'coach'.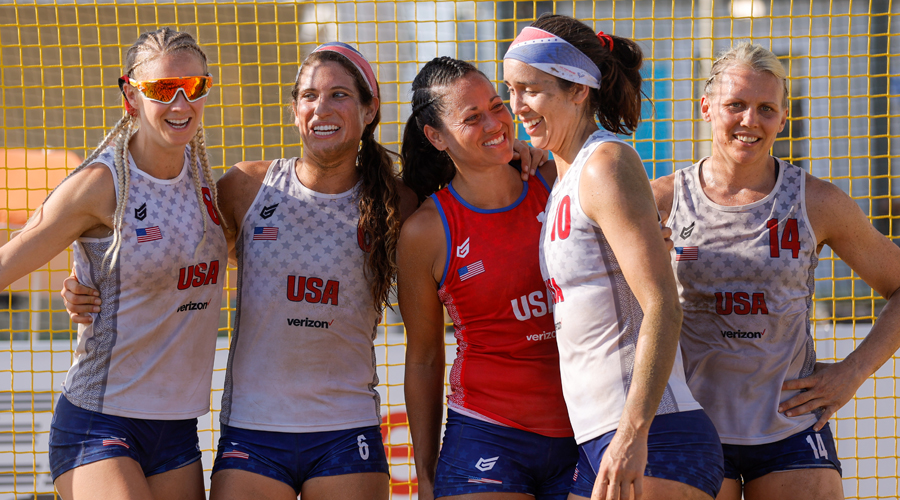 A 14th-place finish in Kazan came after a solitary win against Thailand in the consolation round. Four years and a 2019 ANOC World Beach Games later, the USA now have a mix of heritage, experience and youth.

"We had people in Kazan who started off and built the USA women's beach handball programme years ago like Marilyn (Elder). She was also in our first tournament, way back in the day – our coach Lisa played then too. 
"Then we have Ashley (Van Ryn), Courtney (Heeley) and I who were all in Kazan, but at the time we all lived in Alabama together training with the US women's indoor team. So, I guess, we're veterans now.
"Here, we also have some new girls who are in just their second tournament – their first actual competitive game on the sand was in our qualifiers down in Mexico. They have just been an incredible addition to the team, learning every day and they're picking it up.
"This is the most cohesive team we've ever had, on and off the court."
That it all came together is evidence for Self of what can be achieved and perhaps payback for missing out on Pescara 2020 – the first time the US women had competitively qualified for a world championship, which was subsequently cancelled.
"This result (today) shows that we're building our programme and that we've come a long way," she said. "In Russia we didn't even qualify, we got invited and for Italy we qualified, but that got cancelled. However, we qualified for this and we're making it to the main round now so we deserve to be here and we deserve to get there. 
"We're now pushing for that top five spot, to try and make it to the 2023 ANOC World Beach Games in Bali."
With a lot more on the horizon like Bali to come it is certainly exciting for the team who will represent their country at The World Games next month in the Alabama, but the US women already have a more localised success – qualifying first for a main round in less attempts than their men who finally qualified for their first main round stage directly after the women's match had finished.
So should the men be buying them drinks to celebrate this piece of US handball history?
"They should always buy us drinks," jokes Self, before adding. "We'll definitely get together after the tournament.
"We support them, love their success and want them to be successful, but it's cool to know that we did it in two and it took them three, I didn't even realise that," she said with a huge smile before adding that there was a "little bit" of friendly rivalry between the two.
Tonight both will be basking in their early success here in Heraklion as they enter unchartered water on their continued beach handball journeys.