Powerful Luanda claim 1st Women's Super Globe title
04 Aug. 2019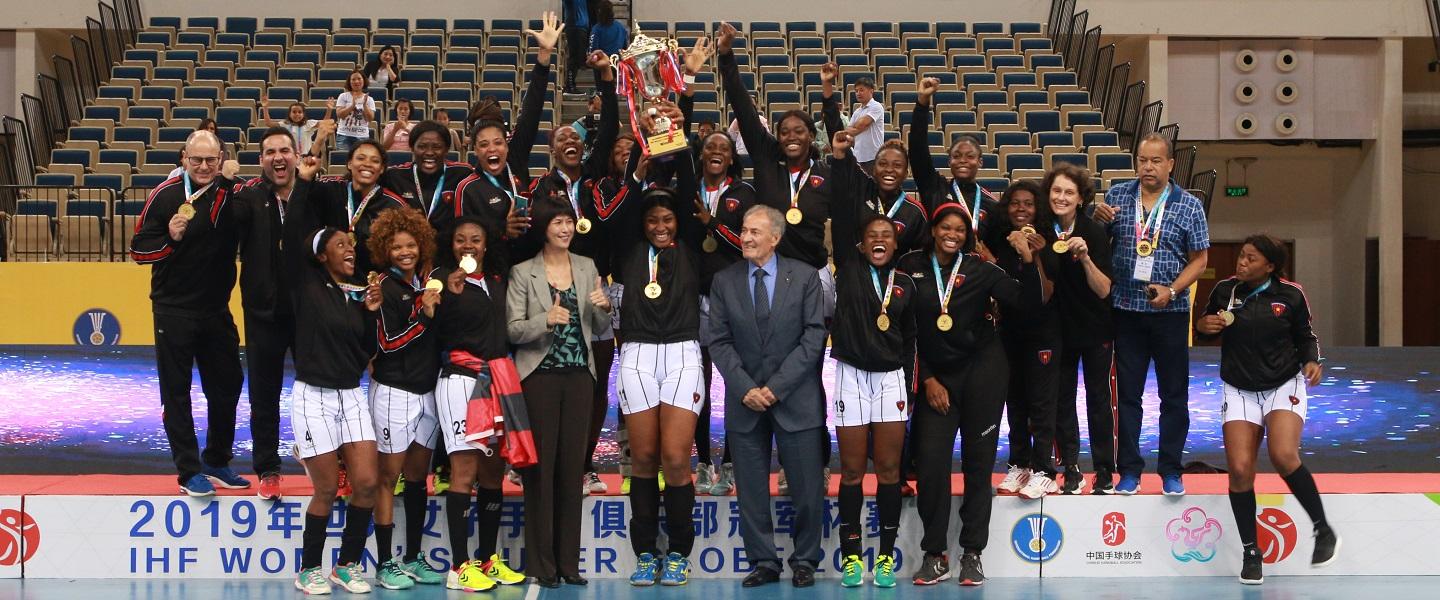 Agosto Luanda finished their impressive campaign at the 2019 IHF Women's Super Globe by raising the trophy after a strong victory in the final against Chinese National Club. Led by superb performances from their back-court starts Helena Gilda Simao Paulo and Cristiane Mwasesa, the Angolan team were in control from start to finish. 
FINAL
Chinese National Club (CHN) vs Agosto Luanda (ANG) 22:27 (10:13) 
The tone for the match was set immediately, with the top scorer of the 2018 IHF Women's Junior World Championship, Helena Gilda Simao Paulo, adding the opening goal off a breakthrough shot. Paulo went on to reach a huge tally of 10 goals overall, and was almost unstoppable. In combination with Cristiane Mwasesa, with seven goals, the back wreaked havoc on Chinese National Club's defence and rendered the goalkeepers all but helpless. 
CNC hit the post on their first two attacks, and Luanda immediately opened a two-goal distance thanks to Paulo. CNC equalised for a moment, at 2:2, but after that they were never level again. The co-hosts' coach Jorn-Uwe Lommel called the first time-out at the 10-minute mark, with the score at 5:2, and Luanda already well in control. 
The Angolan team made few errors and their attack was excellent. Two two-minute suspensions for Luanda within 30 seconds of each other, near the end of the first quarter, saw CNC reduce the deficit a little, to 4:6. However, after she was substituted off in the 11th minute, with a tally of three goals, Paulo returned three minutes later and immediately pulled her team in front to a three-goal lead, 7:4. 
Both teams' goalkeepers have been strong, but Yu Rou Yang and Eleneidys Lioveras were not as effective as usual in the final. They each tallied three saves in the first 15 minutes, but neither made any stops for the next seven minutes. Despite this, the score still moved slowly, as both teams worked hard in defence. Luanda were able to maintain a steady advantage through the rest of the half and held onto their three-goal lead at the break.  
Paulo hit the 10-goal mark in the 42nd minute, taking her team to 20:14 – at which point there seemed little chance CNC would be able to come back and threaten to take the trophy. With Mwasesa's seventh goal in the 50th minute, Luanda pulled ahead further, 24:17. However, CNC's comeback finally came after that – they decreased the gap to four goals at 21:24 with a goal from Hai Xia Zhang. 
It proved too little too late, however. With just over 60 seconds on the clock, it was captain Albertina Kassoma who fittingly secured a five-goal lead that meant the match was won.