Concordia win bronze-medal thriller
04 Aug. 2019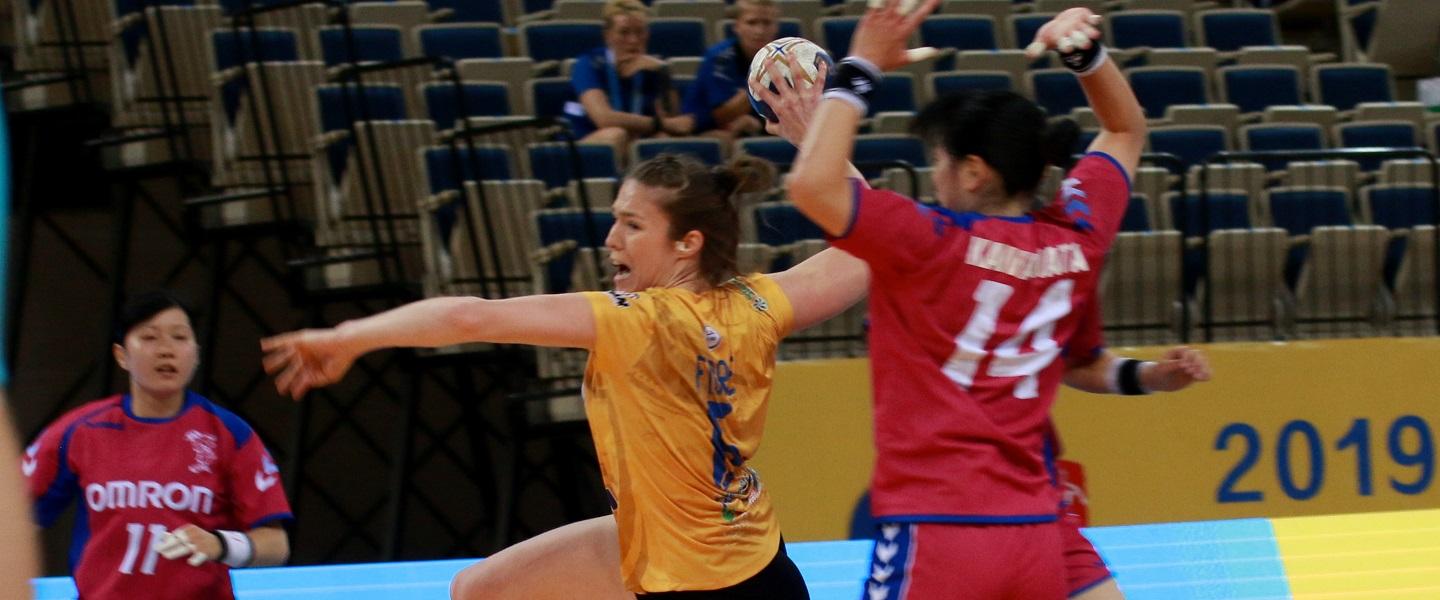 A.A. UnC Concordia claimed the bronze medal at the 1st IHF Women's Super Globe with a three-goal victory over OMRON, secured with a penalty save from Luciane Verona Rotta in the final minutes. The Brazilian side fought back from a six-goal deficit in the first 30 minutes for a level half-time score, and it was an exciting second period that decided the medal. 
BRONZE-MEDAL MATCH
OMRON (JPN) vs A.A. UnC Concordia (BRA) 32:35 (17:17) 
After a high-scoring game to decide fifth place, the bronze-medal match followed a similar pattern, where neither side's defence was able to counter the attack they faced – and the result was a goal fest. 
She had been crucial in their previous games, particularly in the semi-final although they were defeated by Agosto Luanda, but on Sunday, Concordia goalkeeper Maite Lima Dias did not perform at her previous level. After facing nine shots with no saves, Dias was replaced by Luciane Verona Rotta, in the 12th minute with OMRON in front 9:6. The tide of the match did not turn immediately, and Concordia found themselves a clear six goals behind, 12:6, at the end of the first quarter, before they mounted a successful comeback. 
Early on, Concordia relied on just two scorers, with all their goals from backs Daise Oliveira Sousa and Talita Alves Carneiro when the board showed 5:4 in the eighth minute. In contrast, all of OMRON's shooters were in form from the start, and their goals rained in from all over the court. 
As Concordia's attack fell into place – though still only seven players made their way onto the score board in the entire match – they steadily reduced the deficit. It was two long-range goals while OMRON missed Yuka Ishii on a suspension and therefore took out their keeper that levelled the score at 14:14 in the 25th minute. The score remained locked at half-time, and the second period saw an exciting race to the whistle. 
Both teams had brief glimmers of hope as they moved ahead by two goals, with Concordia in front 21:19 in the 35th minute and OMRON holding the edge at 25:23 in the 42nd and 27:25 in the 46th. As the last 10 minutes began, it was Concordia who inched in front. With Caneiro's 10th goal, Concordia took the upper hand at 29:27. Sousa scored her eighth minutes later, for Concordia to remain ahead by two, 30:28, in a critical moment. 
She saved at 25% in the game, but Rotta made the two stops that counted. In the 59th minute, with her team in the lead 34:32, Rotta saved a penalty, and she also stopped the final shot in the dying seconds – though the match was already won at that point. 
Players of the match:
OMRON: Ikumi Iwabuchi
A.A. UnC Concordia: Daise Oliveira Sousa