RHF

Coach: Liudmila Bodnieva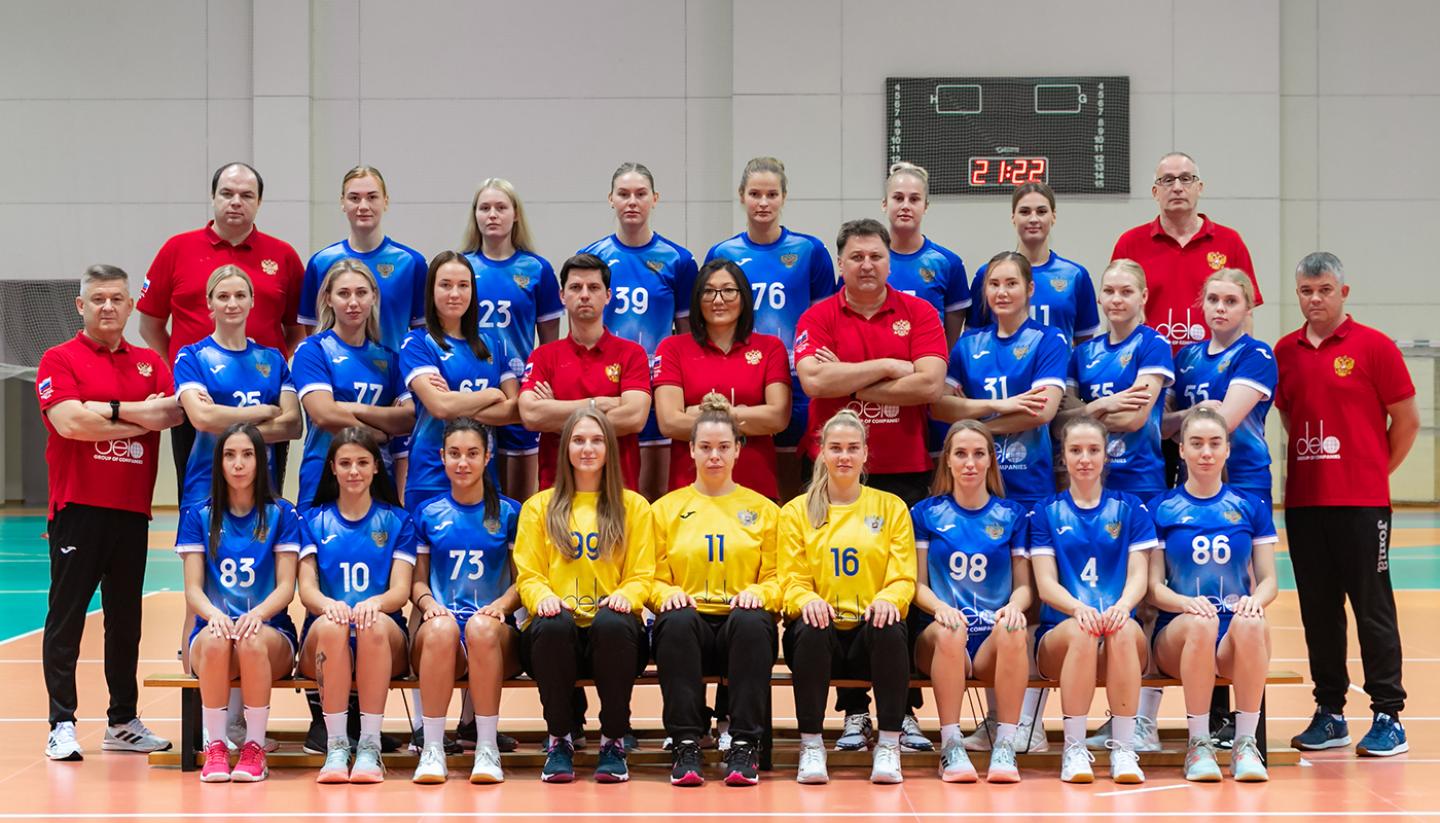 Russia
RHF
Team Players
Team Info
"We have a young, ambitious and fast team. The young players are willing to show themselves, trying to become leaders," declares right wing Olga Fomina. "Everything will be new for some. At the same time, it will be vital to build team chemistry and play as one team."
After taking silver at the Olympic Games Tokyo 2020, the tournament's Most Valuable Player Anna Vyakhireva decided to pause her professional career. So did her sister Polina Kuznetsova – the All-star left wing of the latest Olympics – and captain Daria Dmitrieva. Three major losses for RHF at Spain 2021.
"I want all the players to show maximum responsibility, demonstrate their best qualities, a good play and worthily represent their country," says coach Liudmila Bodnieva, once a formidable line player who won the 2001 and 2005 IHF Women's World Championships. "It will be the World Championship debut for many players, but we set the most ambitious aims as always."
Some of the most experienced athletes of the renewed squad led by Bodnieva are 31-year-old Rostov-Don line player Kseniia Makeeva – who scored 338 goals in 175 matches with RHF –, centre back Ekaterina Ilina – 318 goals in 119 international appearances – and right wings Olga Fomina and Iuliia Managarova.
Two of the biggest prospects of RHF are CSKA Moscow backs Antonina Skorobogatchenko and Elena Mikhaylichenko. At 22 years old, Skorobogatchenko has already scored 128 goals in the national team jersey. 20-year-old Mikhaylichenko – MVP of the 2018 IHF Women's Youth World Championship – is making continuous progress and constitutes a name to appoint for handball fans at Spain 2021.
"Every time when we play at such competitions, we are thinking only about victory. If you don't set the highest goals, you will never achieve them," states Olga Fomina. "Yes, our team have changed a lot, but all the players are good and eager to win."
RHF will take on Serbia, Cameroon and Poland in Group B. To gear up for the 2021 IHF Women's Handball World Championship, they will play friendly games in Germany and Norway in November.
 
Key players: Kseniia Makeeva (line player), Ekaterina Ilina (centre back), Olga Fomina (right wing) 
Qualification for Spain 2021: Qualification Europe Phase 2 – Winners versus Turkey
History in tournament: 1962: 6th, 1973: 3rd, 1975: 2nd, 1978: 2nd, 1982: 1st, 1986: 1st, 1990: 1st (1962-1990 as Soviet Union), 1993: 5th, 1995: 6th, 1997: 4th, 1999: 12th, 2001: 1st, 2003: 7th, 2005: 1st, 2007: 1st, 2009: 1st, 2011: 6th, 2015: 5th, 2017: 5th, 2019: 3rd
Group at Spain 2021: Group B (RHF, Serbia, Cameroon, Poland)