Golden Greece
29 Jul. 2018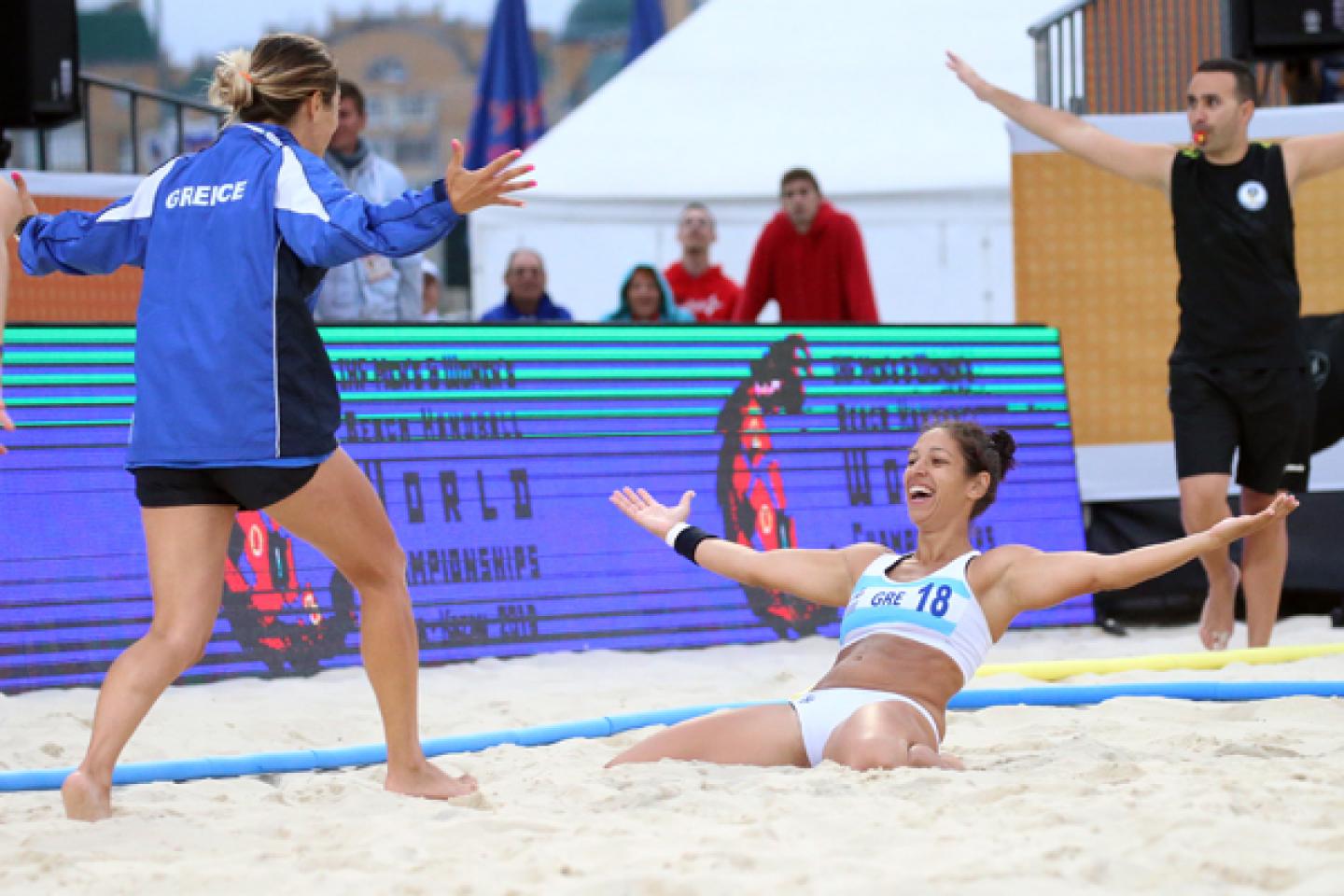 The final two games of the 2018 IHF Women's Beach Handball World Championship saw a sensational fairytale completed as debutants Greece beat Norway in a shootout to take gold. Brazil grabbed bronze with a 2:0 win over 2016 champions Spain.
2018 IHF Women's Beach Handball World Championship
Sunday 29 July
Final/Gold: Norway vs Greece 1:2 (14:18) (24:15) [2:5 SO]
Greece won gold in their first-ever appearance in a world championship, sensationally beating Norway in a shootout in Kazan, Russia.
"It's amazing, I don't believe it yet. It's really amazing, we don't believe that yet.," said an emotional Ntafina Dimitri after the match had ended. "I am so excited – we were one of the biggest outsiders in this world championships but we believed so much in us. 
"We worked alone with our training for the last five years and I think it's amazing. An amazing feeling.  So many people at that time in Greece were asking me 'what is this beach handball? We just hope that everyone in Greece knows what beach handball is now."
Her coach Maria Karantoni was also a shocked figure on the side of the court with the magnitude of what her team had achieved not having sunk in yet.
"What just happened!?," she said to IHF.info. "We took first place in the world? I cannot believe it – it is too soon. I remember the goal but I can't remember what I felt. It sounds amazing, I can't believe it."
3/4 Place Bronze: Brazil vs Spain 2:0 (14:10) (15:10)
Brazil were the quicker of the two teams to pick themselves up after their disappointment yesterday of losing their semi-finals.
"I believe one of the greatest things we can do in sport is to learn how to lose," said Brazil coach Marcio Magliano after the match. "We prepared really well, but Norway deserved their win yesterday and we were here prepared the best we could. Even though we didn't have the preparation we are used to, I believe our position is fair and it is a good result for us.
"My defence worked really well, we are taller, and we could occupy all the spaces and Spain had a lot of difficulties to make the score."
Nathalie Sena had sealed the first set with a last-second two-pointer to make it 14:10 and ended up as the top-scorer in the match with nine points and she helped guide her side to the podium which follows their silver medal from 2016 after they lost to Spain in the final.
"I am so happy [to win a medal]," said Brazil's Renata Santiago. "Of course we would like the gold medal but we are very happy for this medal because it's important as we had a lot of difficulties. I feel only happiness. It was very difficult to get here."