Montenegro defeat Romania with thrilling comeback
04 Dec. 2019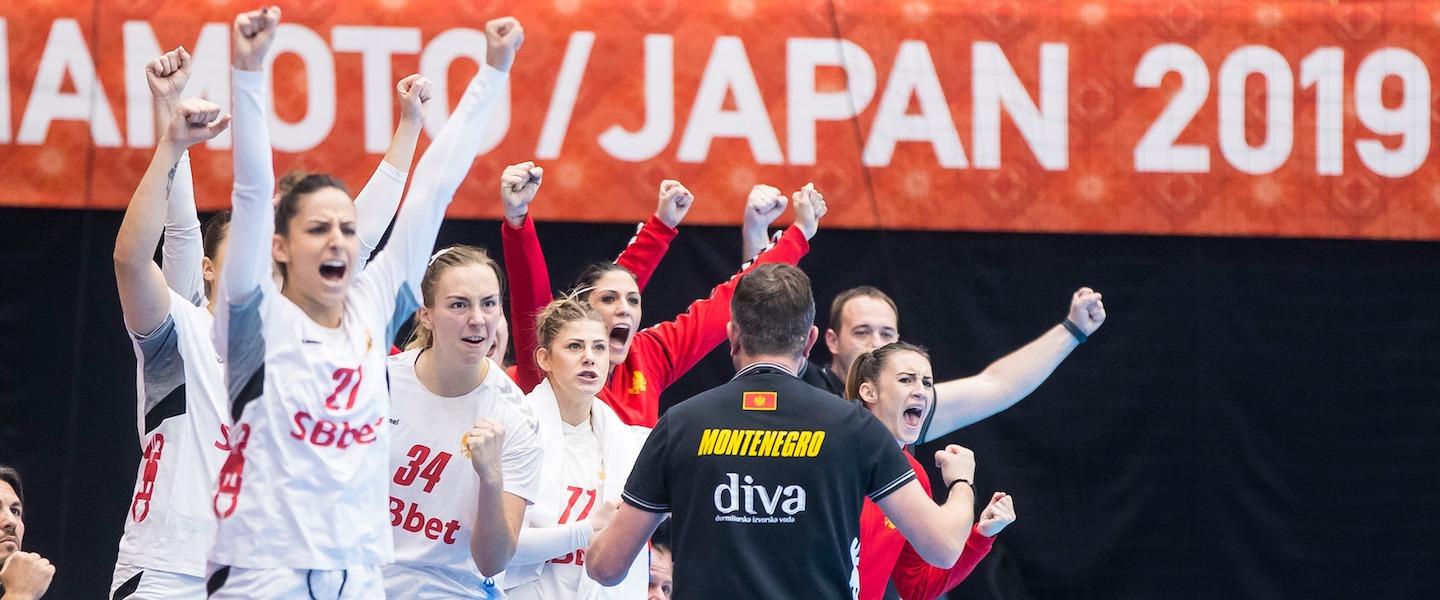 They had to fight back from behind in order to do it, but it was Montenegro who claimed the two points in an exciting match to open round 4 for Group C at the 24th IHF Women's World Championship. With the victory over Romania, Montenegro took their points tally to eight, where they sit alongside Spain, who defeated Kazakhstan in their round 4 clash. 
Montenegro and Spain are now set for a round 5 match that will decide first place in the group. Romania remain on four points and are currently third, with Hungary and Senegal still to play their round 4 match. 
GROUP C
Montenegro vs Romania 27:26 (10:11)
It was a thrilling match that opened round 4 of the 24th IHF Women's World Championship for Group C, with Romania pulling away to what looked to be a promising lead in the second half before Montenegro came fighting back. 
The turning point was a change in defence from Montenegro, as well as the entry of goalkeeper Marina Rajcic around the 40th minute. The 5-1 system used to mark out Romania left back Cristina Neagu wreaked havoc on Romania's attack, and a series of goals for Montenegro, including a long-range shot from Rajcic and several fast breaks profiting off Romania's lost balls in attack, turned the game completely on its head. 
A 21:17 lead for Romania became a level game at 21:21, and then Montenegro pulled ahead to 23:21 by the 51st minute. Romania finally settled in attack and ended Montenegro's unanswered run, and with five minutes remaining, the score stood at 25:23 and it was clear the match could still go either way. 
After a Montenegro shot hit the crossbar, Romania decreased the gap to one on a counter attack, 26:25. Left wing Majda Mehmedovic also hit the post on the next shot, and the chance was there for Romania. But Rajcic saved the next shot from the wing, and as the last minute began, it was Montenegro with possession and the advantage at 26:25. 
In attack, Romania were led by a huge game from current World Player of the Year Neagu, who reached a tally of 11 goals. For Montenegro, it was also the captain who top scored, as right wing Jovanka Radicevic collected six goals alongside back Milena Raicevic. 
The thrilling end of the game reflected the close match between the teams, after a level first half saw a distance of just one goal for Romania at the break. Following a stronger opening for Montenegro, 2:0, the next two-goal distance was created at the end of the first quarter thanks to two consecutive goals from Neagu, 4:6. 
Again, Romania looked to be pulling away at the start of the second period, as Neagu took her side in front by three, 15:18, in the 39th – and yet again it was Neagu who took the score to 21:17 in the 46th minute. But then disaster struck Romania. The entry of Rajcic and the change in defensive system seemed to spark fresh fire in Montenegro, and, led by Radicevic and Raicevic, they recorded a recorded a 7:0 partial that flipped the momentum in their favour, 24:21 with nine minutes to play. 
From that point, with such a strong comeback behind them, Montenegro were difficult to stop and although Romania caused some tension by coming within one in the last minutes, they could not level the game again. 
hummel Player of the Match: Cristina Neagu, Romania