Final answers to be delivered at the 2022 World & European Wheelchair Handball Championship
19 Nov. 2022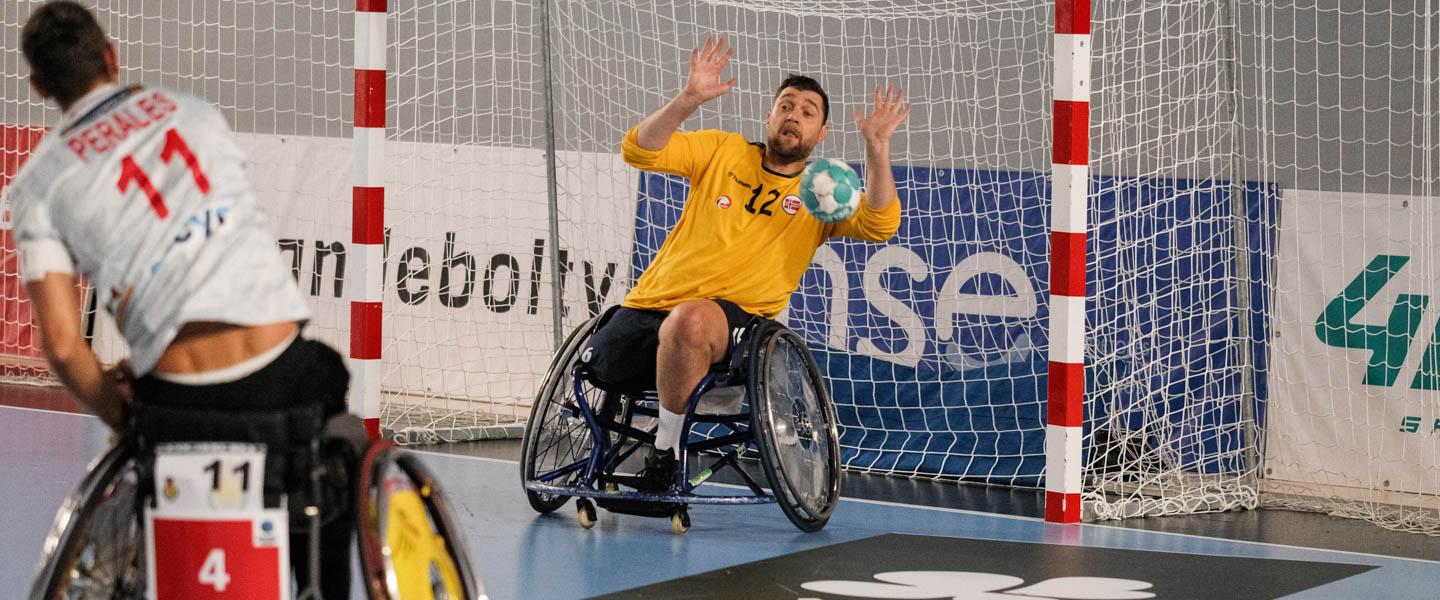 With the four semi-finalists decided on a roller-coaster Saturday evening, it is time for the final answers to be delivered on Sunday at the 2022 World & European Wheelchair Handball Championship, with two games separating one team from the trophy.
Hosts Portugal are the only side to emerge undefeated from the first two days, delivering excellent performances against India, Romania and the Netherlands. Still, they will have their work cut out, especially as they face India again in the semi-finals.
The Asian side, who finished on the group's second place in the preliminary round, needed a superb comeback against Croatia in the cross matches, which they eventually won after a shoot-out (13:11).
The two sides have also met on Saturday, when Portugal delivered a masterstroke of an attacking performance to take an 18:13 win after starting the game strong, with an 11:4 lead at the break.
Ricardo Queiros, Portugal's top scorer, had seven goals in the game, which the hosts duly dominated. Still, things might look different in the semi-final, as India definitely looks like a team that can spring a surprise or two.
"My team had a superb game. We entered the match with a little anxiety because we knew that if we won, we would go straight to the semi-finals. We will try to reach the final, but we know that anything can happen," said Portugal's coach, Danilo Ferreira.
In the second semi-finals, Norway and the Netherlands will face off, two teams with only slim chances after the first day of competition. The Netherlands lost their first two matches, against Portugal and India, but bounced back with a win against Romania (14:10) to progress to the Cross round.
Facing Spain, a side that won their first two matches, the Dutch team sealed a 20:18 win after a shoot-out, with the two sides ending the regular 40 minutes in a deadlock (17:17).
Norway had a rest on Saturday evening after taking first place in Group A in the preliminary round, with their 12:10 win against the Netherlands being instrumental, as the two sides finished equal on points, but the Scandinavian side held the tiebreaker.
Spain's Miguel Garcia Gomar and Croatia's Ante Stimac, both with 29 goals, are the competition's top scorers, as the teams will be facing on Sunday in the Placement Match 5/6. The top scorers' podium is completed by India's Javed Ramjan Choudhari, with 24 goals.
2022 World & European Wheelchair Handball Championship – Day 3
Semi-finals
11:00 CET SF1: Norway vs Netherlands
12:15 CET SF2: Portugal vs India
Final
18:00 CET Winner SF1 vs Winner SF2
Bronze medal match
16:15 CET Loser SF1 vs Loser SF2
Placement Match 5/6
13:00 CET Croatia vs Spain
Consolation Round
10:00 CET Hungary vs Romania (Placement Match 7/8)
12:00 CET Hungary vs Pakistan
15:00 CET Pakistan vs Romania
Photo: Handball Federation Portugal