Crucial day to decide future for teams at the 2022 World & European Wheelchair Handball Championship (six-a-side)
18 Nov. 2022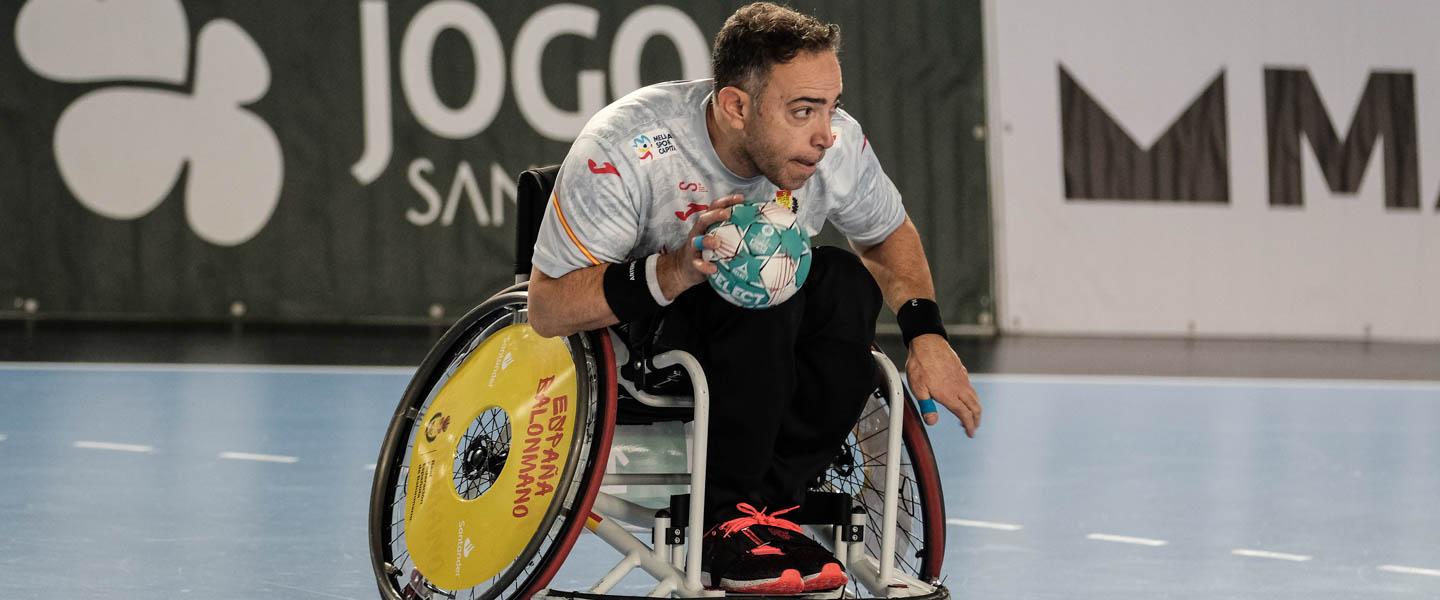 After an exciting first day at the 2022 World & European Wheelchair Handball Championship (six-a-side), there is no room for mistake for any of the sides, with the four semi-finalists decided on Saturday in Leiria, Portugal.
The first two sides in each group will qualify directly for the semi-finals, with a crunch match between Portugal and India in Group B, the last game of the group, which will decide the winner, with both sides at four points after day one.
However, Portugal will be favoured, as they scored the highest number of goals on the first day (41 goals), 24 more than India, yet the Asian side have the top defence, with only 11 goals conceded.
"We did not play at our best. We made too many mistakes, but what is important is that we won the first two matches, and now we set up a final against India for the first place in the group, which will see the winner go directly for the semi-finals," said Danilo Ferreira, Portugal's coach.
In Group A, Pakistan travelled to Portugal with only nine players (two women), although the competition rules stipulate that each team must field 12 players, including three women. Not meeting the requirement, the tournament management decided that Pakistan could participate in the championship, but without any official ranking. All matches played by the national team of Pakistan will be verified with 0:10 goals and 0:2 points.
Therefore, everything is open, with Spain having four points, Croatia have two points and Norway and Hungary are on the last two places, failing to add points to their tally.
A win for Spain against Norway in their first match would see them definitely to the semi-finals, with six points, while Croatia, who lost against Spain need a win against Hungary to prolong their chances for a place in the semi-finals.
"The team has been perfect on the first day, we controlled the games, and we are very happy. If we beat Norway, we will secure the first place, which will be very important," said Spain's coach, Ricardo Alonso.
The second and the third teams will progress to the cross matches, which will take place in the evening, with the second place in Group A facing the third place in Group B and vice versa.
2022 World & Europe Wheelchair Handball Championship (six-a-side) – Day 2
Group A
10:00 CET Norway vs Spain
12:00 CET Hungary vs Croatia
14:00 CET Pakistan vs Spain*
15:15 CET Hungary vs Norway
17:00 CET Croatia vs Pakistan*
Group B
11:00 CET Netherlands vs Romania
13:00 CET Portugal vs India
Cross matches
20:00 2A vs 3B
21:15 2B vs 3A
Photo: Handball Federation Portugal