Portugal, Spain and India record flawless start at the World & Europe Wheelchair Handball Championship (six-a-side)
18 Nov. 2022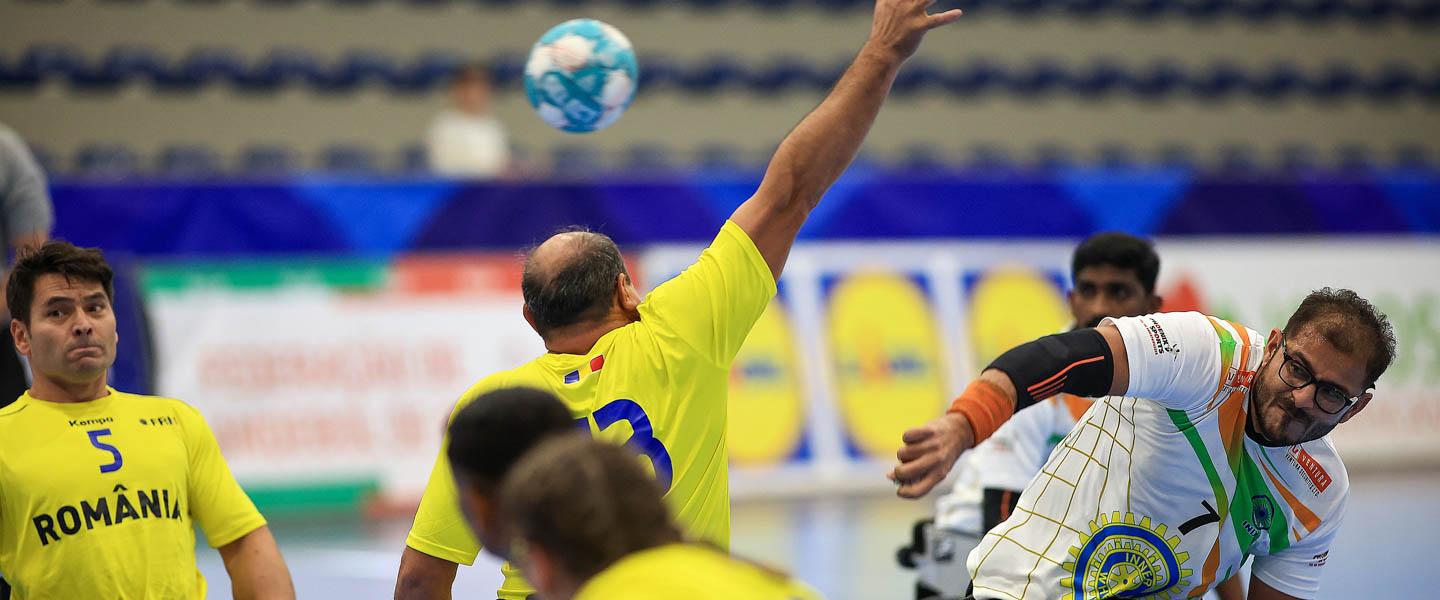 The first day of the 2022 World & Europe Wheelchair Handball Championship (six-a-side) brought some huge surprises. Spain, Portugal and India are the only three teams which sealed two wins in their first two matches.
Nine sides took the court for the first day of the competition in Leiria, Portugal, as the hosts really delivered two excellent games, with the best attack in the competition, the only side to score more than 40 goals.
With two clear wins, 20:10 against the Netherlands and 21:10 against Romania, Portugal looked like the in-form team of the competition, looking to be the one to beat in the next two days.
Portugal and India dominated Group B, as the Asian side delivered two excellent defensive performances against Romania and the Netherlands, taking two narrow wins, 9:5 and 8:6, respectively.
With one of the lowest attacking outputs, India cannot be leapfrogged by any of the two teams. Yet, Netherlands are out of contention for a semi-finals berth, the biggest surprise in this competition, as they had previously won two titles in the European Wheelchair Handball Nations' Tournament in 2015 and 2016.
Nothing is decided in Group A, with only Spain taking two wins in their first two matches, 15:9 against Hungary and a surprising 15:11 win against Croatia, one of the favourites in the competition.
With little experience, Spain delivered some excellent performances, with Oscar Perales Perez and Miguel Garcia Gomar combining for 19 of their team's 30 goals, which sees Spain take first place after the first day.
Norway, Croatia and Hungary follow Spain in the group, with one win each, while Pakistan travelled to Portugal with only nine players (two women). However, the competition rules stipulate that each team must field 12 players, including three women. Not meeting the requirement, the tournament management decided that Pakistan could participate in the championship, but without any official ranking. All matches played by the national team of Pakistan will be verified with 0:10 goals and 0:2 points.
Croatia's Ante Stimac leads the top goal scorer standings with 14 goals, followed by Portugal's Ricardo Queiros, with 11 goals and Spain's Oscar Perales Perez, with 10 goals. India's Javed Ramjan Choudhari, who started at the 2022 IHF Four-a-Side Wheelchair Handball World Championship, is his team's best scorer, with six goals.
The next games in the group phase will be played on Saturday, 19 November, with a full card to follow in Leiria, Portugal.
Results 2022 World & Europe Wheelchair Handball Championship (six-a-side) – Day 1
Group A
10:00 CET Croatia vs Norway 11:7
12:00 CET Hungary vs Spain 9:15
14:00 CET Norway vs Pakistan 10:0
16:00 CET Spain vs Croatia 15:11
18:00 CET Pakistan vs Hungary 0:10
Group B
11:00 CET Portugal vs Netherlands 20:10
12:00 CET India vs Romania 9:5
15:00 CET Romania vs Portugal 10:21
17:00 CET Netherlands vs India 6:8
Photo: Handball Federation Portugal