Qatar to face world champions Croatia in men's World Games final, Brazil out
15 Jul. 2022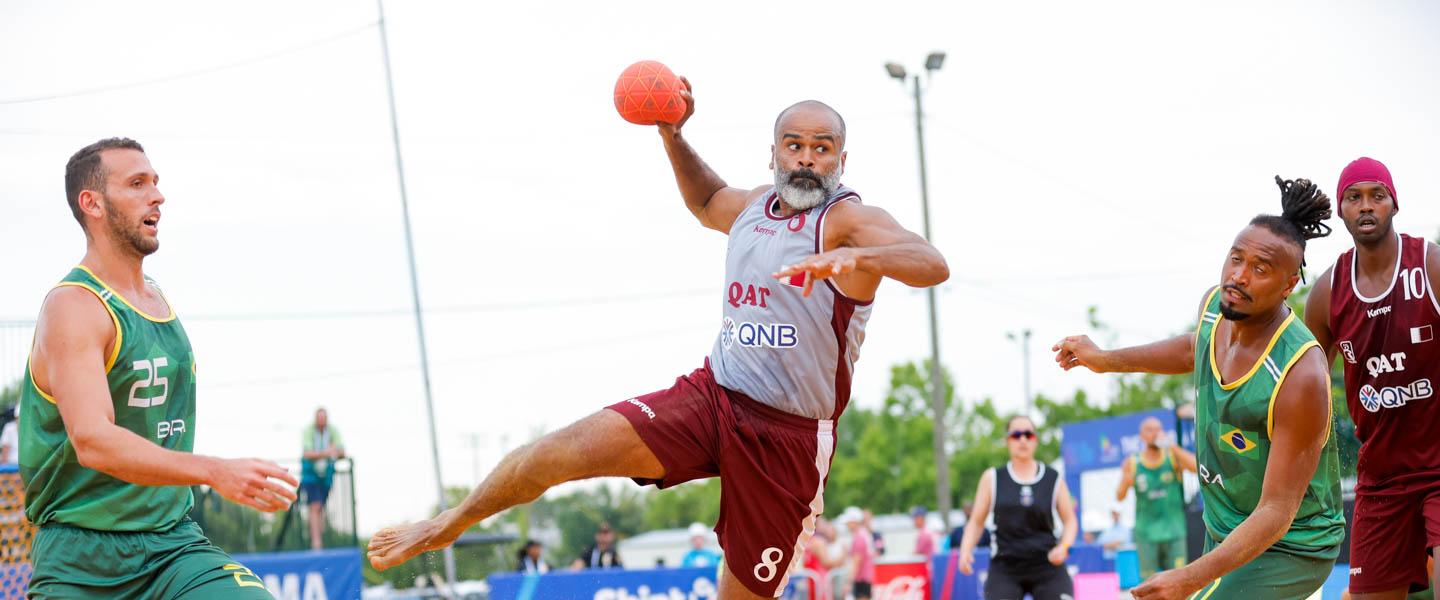 There were just four games on the penultimate day of The World Games 2022 men's beach handball competition on Thursday, but there was enough drama, emotions and sweat to last a lifetime.
Semi-final Thursday meant two teams would have secured a medal by the time the sun set on the sand at Sloss Furnaces in Birmingham, USA and two teams would be left dealing with their feelings of disappointment, and, perhaps, sadness, knowing they would have to bury them in that Alabama sand if they were to leave with a bronze.
The first semi-final featured the world champions Croatia taking on the USA.
In another step forward for the US since their 0-2 (20:23, 21:22) reverse at the 2022 IHF Men's Beach Handball World Championships in Greece, they took the game to a shoot-out.
Both periods before were intense. The USA took an early lead with Croatia then wrestled it back before the home team, buoyed by fantastic support took it back again. Backwards and forwards. 
The score was changing hands as much as empty plates going back to an Alabamian kitchen after one of the US states' famous barbeques.
By the fifth minute, with Croatia 14:12 ahead (4:08 on the clock), the match settled. The Europeans stepped up a gear and outscored their opponents 18:6 over the next five minutes to secure a 32:18 victory.
All over then? No. this US side never ever gives up. Period. Firing on all cylinders under the hot Birmingham sun, they raced to a 6:0 lead just over 60 seconds into the second.
They never looked back, despite an Ivan Juric strike bringing his Croatian side to within two points in the eighth minute (18:20).
So it went to a shoot-out and the imposing 2,02m Drew Donlin was the unlucky one, his second-round shot saved. All further shots were scored, including an Ivan Dumencic one-pointer with Croatia's fifth to ensure a 9:6 win.
Beach handball is a game where teams win or lose together. Donlin and his sandy crew will return to Sloss Furnaces on Friday and like the heavy iron-producing industry that used to be there for a century before, they are sure to provide their very own brand of blast furnaces to do all they can to win a medal on home sand.
For Croatia, it is a second, successive global final after Greece 2022.
"Everything we agreed on in the first set, we respected everything, including attack, defence, goalkeepers and professional staff," said Croatia's Lucian Bura to Beach Handball Croatia. 
"This was seen in the result and it is the real us. In the second set, the concentration in defence and attack waned. We came back from -8 and had three attacks to tie the game, but we missed that opportunity. Then we gathered our heads, concentrated and won the shootout and deservedly entered the final."
Dumencic top-scored for Croatia on 19 points, with Jacob Garcia grabbing 20 for the USA.
In the second semi-final, Brazil and Qatar met again in competition and it was no surprise it went to a shoot-out too.
Qatar took a 2-1 (18:21, 22:10, SO 8:6) win but what was surprising was a second-period defensive performance which saw Brazil only manage to score 10 points, one of their lowest-ever period scores.
The Asia continental runners-up had gone 8:0 ahead with less than two minutes on the clock thanks to a turnover, save and steal. This set the scene and Brazil could not come near at all. Qatar even led by 14 towards the end (22:8).
Like the first semi-final shoot-out a second shot was missed, by Marcelo Tuller and with Brazil shooting first, their fifth was turned over by the usually-dependable Bruno Oliveira and Qatar could celebrate their first opportunity to play for The World Games gold.
"We are feeling great, proud and all the fatigue has gone," said Qatar's Mohamed Ahmed Zaky to ihf.info. "And, most of all, we have earned what we have been waiting for years ago.
"We were very nervous in the first period, but we were bored of getting kicked off every semi-final we have been through, so then [we knew] anger is not working, revenge is not working.
"We calmed down and did what we are meant to do. That is: play beach handball and enjoy the show. No more stress, just give it all that you have in order not to regret anything later.
"I don't know how was it but we have been stress-relieved," added Zaky, trying to explain their defensive performance in the second period.
"We were actually flying, making plays from nowhere, making gaps in their defence with no effort and scoring every shot. But what was really strange was when I went out after an attack in the middle of the quarter I turned to my team and I told them: 'we are playing in the final', although we hadn't finished yet."
They are and will face Croatia again after losing to them in the past two The World Games – 2013 for bronze and 2017 in the semi-finals.
Record-winners of The World Games, Brazil, will play for their second, successive, major competition bronze after securing third at Greece 2022.
In the 5-7 placement round, Puerto Rico were the history-makers in their clash with New Zealand. Whoever won that clash would have recorded their first-ever The World Games win and it was the Central American nation who prevailed, winning 2-0 (23:12, 18:16) thanks to 20 points from Luis Gratacos.
The Oceania champions were only behind for just three seconds in the second period up until 23 seconds remaining. At this point (9:37 on the clock), Puerto Rico went 18:16, with Paul Ireland's shot in response for a draw saved.
New Zealand had another chance to make history, against Argentina in their second 5-7 placement match of the day, but they could not overcome the South Americans in a tight match.
Nahuel Baptista scored 21 points for Argentina in a 2-0 (25:22, 21:20) victory. The kiwis, as New Zealand call themselves, were ahead in both periods early on but it was the second which was the tightest. 
After an Ireland six-metre had secured a 20:20 finish to the second 10 minutes, Argentina's Lucas Moras managed to grab the ball and score the golden goal to end New Zealand's campaign in seventh and set up a 5/6 placement match against Puerto Rico on Friday.