Croatian Olympic Committee recognise men's beach handball team
13 Jan. 2023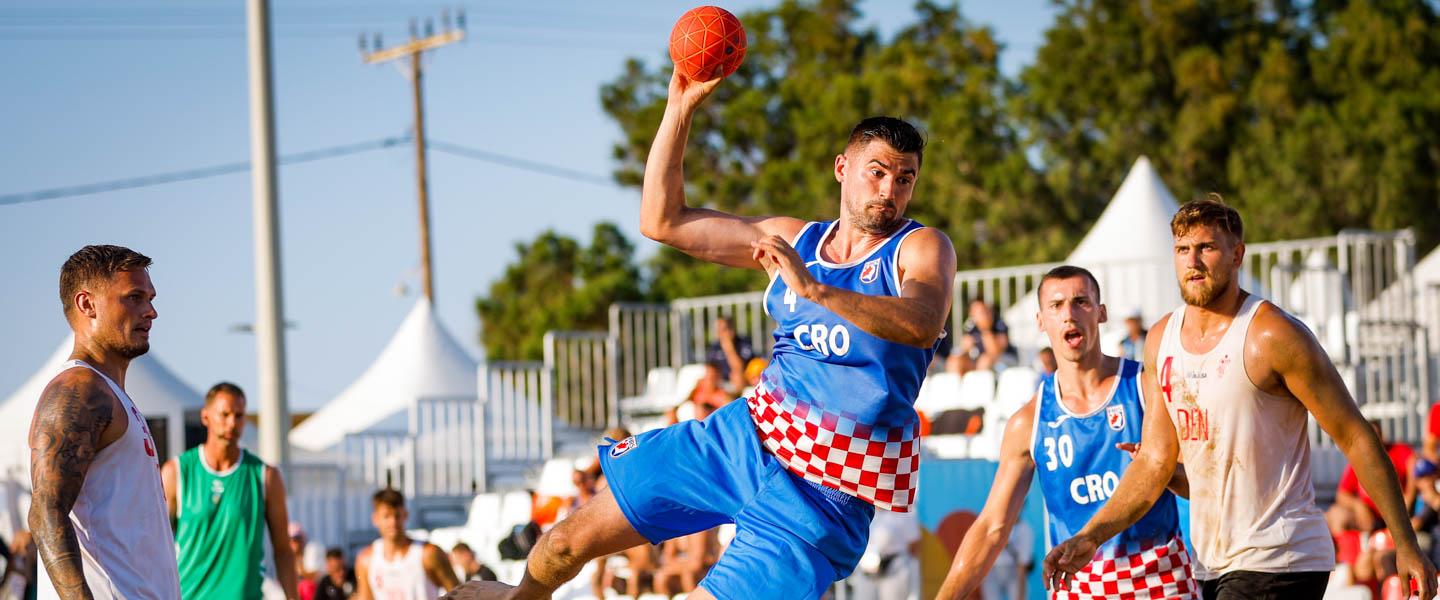 Success keeps coming for the Croatian men's beach handball team after a triple-gold 2022, which saw them nominated for the prestigious 'The World Games Team of the Year 2022' award.
Vote for the Croatian men's beach handball team to win 'The World Games Teams of the Year 2022' award here: https://www.theworldgames.org/awards/Team-of-the-Year-2022-109 
Last month, at the ceremony of the Great Day of Croatian Sports in the Crystal Hall of The Westin Zagreb Hotel, the Croatian Olympic Committee (HOO) announced and presented awards to the most successful sportsmen and women athletes and coaches in 2022 as well as other worthy recognitions. 
The Croatian men's senior national team won the award for the 'Most successful Croatian men's sports team in a non-Olympic discipline in 2022' and were also shortlisted for 'Recognition for an exceptional result in a non-Olympic sport'. 
The 2022 awarding ceremony also marked the first time in their history that awards were given to the best teams in non-Olympic disciplines.
And just last week in Poreč, Croatia, the Croatian Handball Association and Sportske Novosti also recognised the team at a ceremony. 
'Nationwide visibility' say Jurić and Paradžik
"The recognition through the Olympic award is huge for us and meant we were visible nationwide throughout Croatia," said Croatian men's beach handball captain Ivan Jurić to ihf.info. 
"Our friends and acquaintances have seen what we've been doing in the last few years; they are always asking us about the Olympic Games. Now we can say we are getting to it. I hope that it won't last just for five minutes, and we will get more recognisable, first in Croatia and then in the world."
Croatia men's beach handball national team coach Mladen Paradžik was happy to receive the plaudits for the good job done in 2022 and the stature it has brought to his team and the sport in general.
"Our main job was done on the court last summer, as we can say a lot in the matches. However, it is nice to see that others recognised our results," he told ihf.info.
"The Croatian Olympic Committee recognised our results and nominated us for the best Croatian male team of the year, which put us up there with the football team – who finished third in the 2022 FIFA World Cup, the water polo team – who won the 2022 European Championship, and the tennis team – who finished fourth in the Davis Cup. It is a great thing to be side by side with such great teams.
"It is good for helping beach handball become a mainstream sport, because after this more people hear about it and recognise it. Many players, coaches and officials have congratulated us. That is the real importance of this award," he added.
"Although beach handball is currently a non-Olympic discipline, this nomination and award for the outstanding performance and best non-Olympic team means a lot to the whole Croatian beach handball community.
"All these medals and awards belong to the whole Croatian beach handball community, because there are many things and aspects that need to be implemented to achieve these results; national tournaments, beach handball clubs, youth work and lots more.
"I want to thank them all once again for everything they have done for the promotion of Croatian beach handball."
Bigger than any award: responsibility to promote
With success, awards and recognition comes the responsibility to act as role models and ambassadors, and that comes easily to both Jurić and Paradžik as they, like the entire beach handball community, look towards the sport becoming part of the full Olympic Games programme.
"Being a top team on the international level automatically puts us in a role of beach handball ambassadors," explained Jurić to ihf.info. 
"This is also part of the game; to promote our sport amongst those who are not familiar with it, and I'm happy if I can contribute to this promotion.
"It was a very good sign when Mr Bach, the President of the IOC (International Olympic Committee), came to the beach handball venue at The World Games 2022 and watched beach handball. 
"We even had a chance to talk with him, to present ourselves and the sport itself. I hope beach handball will soon become a member of the Olympic family."
Mladen Paradžik was in total agreement with his captain, but was quick to point out the far-wider implications of the success and goals of his team.
"We feel all the time that we need to promote the sport itself, which is the main reason why we always try to highlight its beauty and attractiveness," said Paradžik, who also lectures about the sport in his role as IHF Beach Handball Expert.
"We are also trying to explain to the young people in Croatia that beach handball has a special atmosphere that has more to do with fair play, and I can assure you that most people fall in love with the sport after trying it.
"This is also one of the main aspects and reasons why we are organising more and more tournaments in Croatia. People have realised the beauty of the sport; they see that it is a great way to compete and see the world.
"It is a commitment because we need to do this to show the world that beach handball is not just beach, sun and fun. It is a highly competitive and organised sport with fair play as the main rule. Who would not love it and be its ambassador? It's our duty."
After enjoying their success of last year, Paradžik and co. are now refreshed and looking forward to an action-packed 2023.
"Next year, we have four or five major events and it will be a real challenge for our team," said the 39-year-old. "To do it all, we need to be even more focused and better organised with a broader base of players, officials and technical staff.
"But that's also the beauty of this sport; it's constantly growing before our eyes. We are not complaining about the busy schedule. On the contrary, we cannot wait to get started with the action."