Men's main round day will decide semi-finals in Birmingham
13 Jul. 2022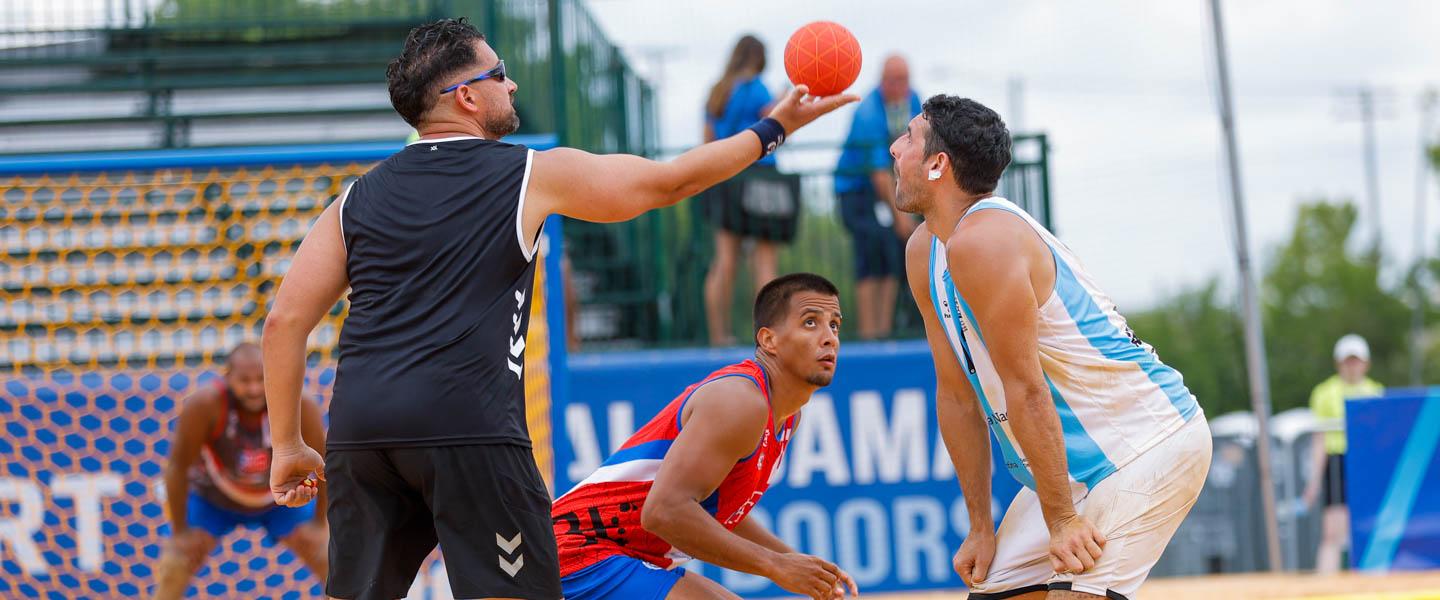 The men's beach handball main round starts – and ends – at The World Games 2022 in Birmingham, USA on Wednesday.
Two main round groups featuring seven teams will play six games to decide the four semi-finalists.
In group I, Argentina and Croatia both bring two points with them from the preliminary round and join Qatar and Puerto Rico.
Group II – featuring just three teams due to Denmark's flight cancellation – has Brazil with two points in it, alongside the USA and New Zealand.
The top two in each main round group will secure a semi-final place and with seven teams in the main round instead of the usual eight two teams play just once today (USA and Brazil), while five play twice.
The morning session will see the USA take on New Zealand, Croatia face Puerto Rico and Qatar play Argentina, while New Zealand go up against Brazil, Argentina and Croatia go head-to-head and Qatar do battle with Puerto Rico in the evening session.
Looking at form and recent results, the six clashes today all have clear winners. But this is beach handball and anything can happen.
There are two games which pit some of the best-ever teams in the sport against relative newcomers and The World Games debutants.
At 11:10 (local time) newly-crowned world champions Croatia face Puerto Rico, while Oceania champions New Zealand take on the most successful beach handball team of all time, Brazil (17:10).
Nothing is ever definite in terms of results, but the experience for both the developing beach handball nations of Puerto Rico and New Zealand get on Wednesday will be invaluable.
Considering the progression of teams to those semi-finals tomorrow, main round group I is interesting. Both Croatia and Qatar will likely defeat Puerto Rico, meaning their clashes against Argentina will decide the outcome of which of the three teams finish in the top two spots.
In main round group II, a win for the USA and Brazil against New Zealand will confirm their semi-final spots. 
One win will also be enough for New Zealand, who would go through on the head-to-head record against whichever team they beat. If the USA beat New Zealand and Brazil lose to New Zealand then all three teams will be on two points each and it will go down to the differences in periods and maths.
A number of the matches today are also repeats of ones from the 2022 IHF Men's Beach Handball World Championship held in Greece last month.
In the preliminary round Brazil beat New Zealand 2-0 (26:16, 26:16), Croatia defeated Argentina 2-0 (30:16, 28:26) in the main round and the USA were victorious over New Zealand 2:1 (26:20, 23:24, SO 5:4) in the 9-16 placement round.
With 57 points in his three games so far, Brazil's Gil Pires is the championship top scorer.