Look Back: The World Games Wroclaw 2017 – Men's competition
04 Jul. 2022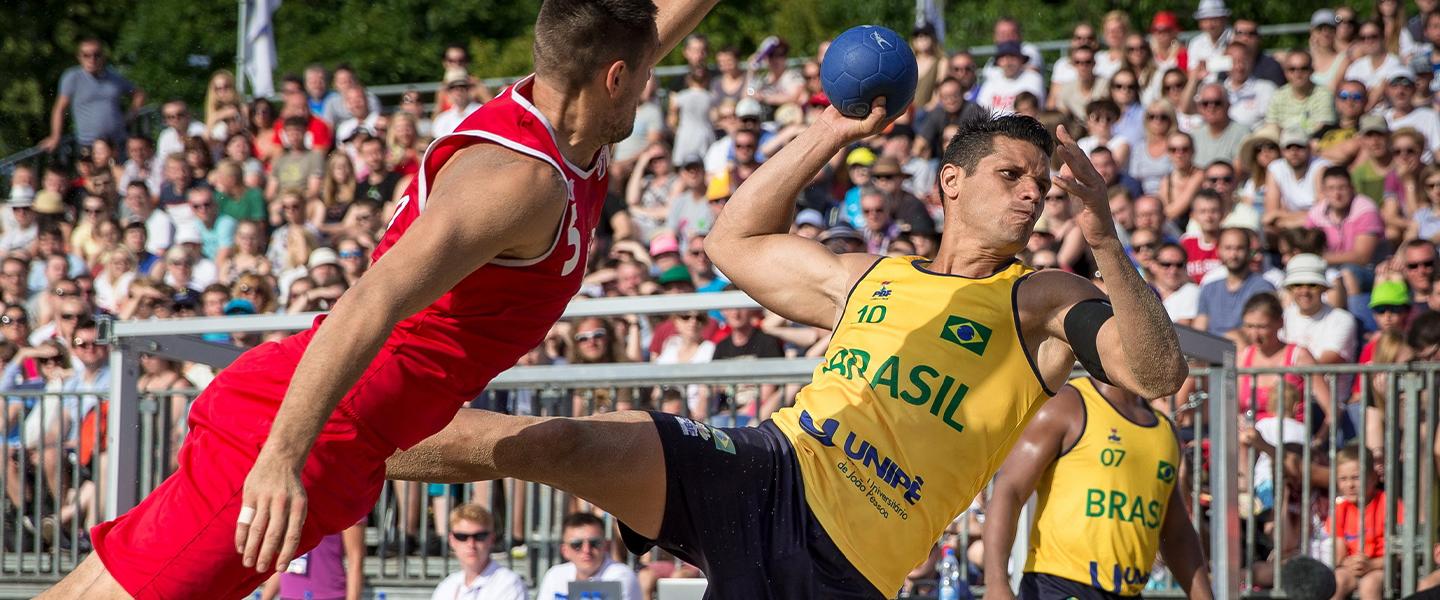 With the 2022 edition of The World Games starting next week in Alabama, United States of America, ihf.info takes a look at the last event, held five years ago in Poland.
Wroclaw, Poland was awarded hosting rights for the 10th edition of The World Games in January 2012 at the Executive Committee meeting of the International World Games Association in Lausanne, Switzerland.
It was the second time beach handball would appear at the multi-sport event as an official sport, after its full debut at The World Games 2013 in Cali, Colombia, as beach handball had been part of The World Games since it was introduced as a demonstration/invitational sport back in Japan in 2001, with Germany (2005) and Chinese Taipei (2009) following.
The event: The second official appearance of beach handball at The World Games featured eight teams competing in Marsowe Fields in Wroclaw, Poland, from 26 to 29 July 2017.
What was new: The first time The World Games had followed an IHF Men's and Women's Youth Beach Handball World Championship after the debut event had completed in Mauritius earlier in July.
The competition: Two preliminary groups (Groups A and B) of four teams each. Each group featured six games, with each team playing each other once. 
Following the conclusion of the preliminary group stage, all eight teams went directly into quarter-final ties depending on their final group position.
Afterwards, it was a straight knock-out with quarter-finals, semi-finals and medal matches played, plus a 5-8 placement round.
Who won: Brazil.
You can view the mini-site on the IHF Archive here. 
Review: It was somewhat inevitable that Brazil would face Croatia in the final at Wroclaw 2017.
Not only had they played each other in the previous two The World Games semi-finals, in 2009 and 2013, but they had played each other in the previous two IHF Men's Beach Handball World Championship finals, in 2014 and 2016 and met in the 2012 semi-final.
In the end, Croatia's record did not improve against the title-holders in Poland, despite coming into the event as world champions having beaten Brazil in the final on the sand in Budapest, Hungary, in the previous year– the only time the Croatians had beaten their rivals in that run of meetings.
Going into Wroclaw 2017, Davor Rokavec, Croatia coach, told ihf.info "… as world champions, we are not allowed to think differently. The goal is, as always, to be on top and to do so, we have to win against the best. There's no hiding, we have to give our best and that's it."
Brazil had won the previous two editions of The World Games – in 2009 when it was still a demonstration sport and the previous one, in 2013, when it was official for the first time.
Coach Antonio Guerra Peixe came into the championship under a backdrop of financial limitations on his team, but admitted that it gave his squad extra motivation.
"We are more determined," he said to ihf.info ahead of the competition. "There were people, players, handball community, companies and anonymous donors that pushed us up. Now we don't play for the federation, but for all these people of Brazil."
Another threat, Hungary, would be looking to do better than their fourth place at the recent 2017 European Championship in Zagreb and fourth at their home World Championship the previous year, but in Wroclaw they would eventually register another fourth place.
Croatia started their competition off with two clear 2-0 wins against Egypt and Poland, with Hungary also getting a pair of victories. In Group B, both Brazil and Qatar, tipped by many as a medal contender, ended top with two wins each.
This set up two matches to decide the group winners, with Hungary getting the better of Croatia via shoot-out (9:8) and going some way to banishing the memories of their World Championship semi-final loss. A bigger upset came in Group B, with Qatar defeating Brazil 9:6 via shoot-out to top the group.
The games were dramatic, with the cold wind and rain adding to the drama and the players wearing their cold weather kits.
With the other results complete, the quarter-finals were set: Hungary vs Uruguay, Australia vs Croatia, Poland vs Brazil and Qatar vs Egypt. 
All four games went as expected with Hungary, Croatia, Brazil and Qatar all winning 2-0 and setting up a pair of semi-finals primed for a Brazil vs Croatia final.
And they did not disappoint. Brazil scoring two two-pointers at the end of their first period against Hungary to turn around a 14:16 deficit into an 18:16 win. This reversal of fortunes put them in the driving seat and they powered ahead in the second, always leading, to win 16:12 and 2-0 overall.
Qatar pushed Croatia to a shoot-out in the other semi-final after the Asian side had overrun the Europeans in the first, taking a 21:14 win, and when they had thought maybe the second period was going their way, Croatia came back to squeeze a 19:18 victory and take it to shots. Rokavec's side prevailed, winning by three, 7:4.
"I still can't believe it," said Croatia's Zvonimir Dikic after the game. "Qatar played good and it was only one ball that decided and changed everything."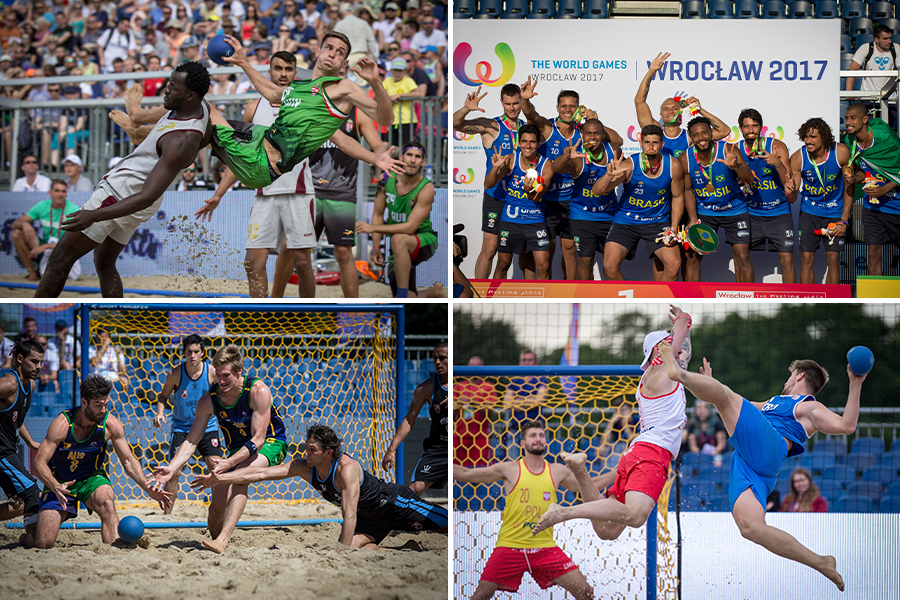 Ahead of the final a small piece of Uruguayan history was made when they won their first-ever match against a European nation, thanks to their 2-0 (19:15, 16:14) placement round victory over the hosts, Poland. "It is so emotional for us right now," said Uruguay's Felipe Adler Bonifacino after the match to ihf.info.
The conclusion of the placement games saw Poland defeat Egypt 2-0 to finish seventh and then Uruguay pick up their second win, defeating Australia 2-0 for fifth place. Qatar won bronze, defeating Hungary 7:6 via shoot-out. This was despite the Hungarians leading 4:0 on shots early on after Qatar had missed their first two.
The final was a classic with both periods won by six points each. Croatia scored 28 of the total 50 points in the first to go ahead 1-0, but then Brazil came back to score 24 and win the second (24:18). Croatia had their chance via a shoot-out but Brazil prevailed again, 9:8.
"We were sleeping in the first period," said Brazil's Gil Pires. "It's always hard to win a game in a shoot-out and we faced so many problems during the competition – the rain, the sun, the whole tournament was really hard.
"To win The World Games again is like a crown to our work. It's even more special because it happened thanks to the crowdfunding and the people of Brazil. We owe them, because this would never happen without them."
Final Ranking:
1. Brazil
2. Croatia
3. Qatar
4. Hungary
5. Uruguay
6. Australia
7. Poland
8. Egypt
What happened next: The 2018 IHF Men's Beach Handball World Championships in Kazan, Russia.