Spain seal podium place in highest-scoring bronze-medal game ever
29 Jan. 2023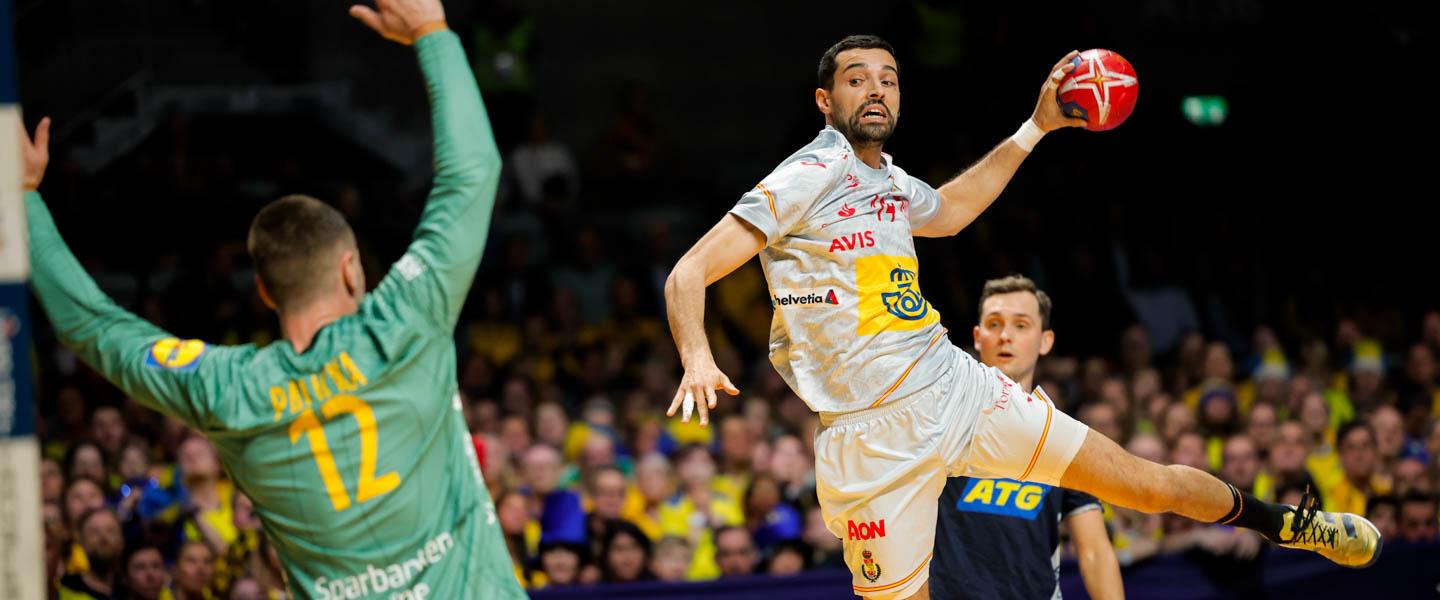 Delivering a huge comeback in the second half against co-hosts Sweden, Spain sealed their second bronze medal in a row at the IHF Men's World Championship with a 39:36 win. The two sides combined for 75 goals, a new scoring record for a bronze-medal match in 28 editions of the world handball flagship competition.
Bronze-medal Match
Sweden vs Spain 36:39 (22:18)
One would think that after eight tough matches in 16 days at the 2023 IHF Men's World Championship, Spain and Sweden would have relished a slower tempo in the bronze medal match, especially as "Los Hispanos" have really not tried to outscore their opponents in the previous two matches, rather than playing their rhythm.
But Sweden looked to be a totally different beast when completing Spain's trifecta of Scandinavian opponents after Jordi Ribera's side won against Norway in the quarter-finals, only to meet their match against Denmark and lose the semi-final.
By half-time, the two teams combined for 40 goals on their way to the highest-scoring bronze medal match in the history of the IHF Men's World Championship, more goals than in the seven previous such matches.
And it was thanks to Sweden, who really deployed their fast-paced game that was slowed down in the previous matches, with fast throw-offs and pacy wings, as Spain had no answer in defence, conceding goals from every possible position, especially with goalkeeper Gonzalo Pérez de Vargas failing to bring his magic in one-on-one situations.
Sweden's two wings, Hampus Wanne and Niclas Ekberg, combined for 10 goals, with Wanne starring with six goals, while line player Max Darj was incredibly efficient, converting all four shots he had on goal. In total, Sweden delivered an excellent 76% attacking efficiency, taking a clear 22:18 lead after 30 minutes.
But it was really centre back Felix Claar who took control of the match. Claar's game has been analysed under a microscope in this competition, especially after Sweden's best player, Jim Gottfridsson, fractured his hand during the quarter-final against Egypt and was out of contention for a place in the squad.
While Claar might not have been at his best in the semi-final against France, this time he shone in the first part of the match, with 10 of the 22 goals scored by Sweden in the first half being assisted by him. It meant that Spain had to change something in the last 30 minutes if they wanted to clinch the bronze medal, as Claar had a direct hand in 54% of Sweden's goals in the first half after also adding two goals on the board.
And this is why Jordi Ribera has been widely regarded as one of the best coaches in men's handball over the last few years. Spain changed their defensive system from the static 6-0 to a more aggressive 6+1 throughout the second half, cutting Claar off from the rest of the attack.
Moreover, Ribera also changed goalkeepers, ushering in Rodrigo Corrales in Pérez de Vargas's place, with the shot-stopper displaying an excellent streak by stopping three of the first four shots he faced. The result? Spain jumped with both hands to a 7:1 run to start the second half, turning the match on its head and forcing Sweden's coach Glenn Solberg to take a timeout to try and stop the rut.
However, with Claar clearly regressing and missed shots starting to pile up, Sweden were in serious trouble. They could not stop line player Adrià Figueras, who scored nine of his nine goals in the second half, with "Los Hispanos" getting a firmer grip on the match as minutes went by.
With ten minutes to go, Spain were leading 33:30, a remarkable turnaround from the first half when their defence shipped goals at an incredible rate. By comparison, Sweden scored only eight times in the first 20 minutes of the second half, with Spain clearly setting a better tempo and defending much better.
Much to the sorrow of their fans, Sweden failed to engineer their own comeback, as Spain were simply too strong in attack, firing from all cylinders, with Figueras starring with a nine-goal match. At the same time, right back Alex Dujshebaev added seven goals and five assists in a magnificent display.
With the 39:36 win, Spain obliterated the previous record for the number of goals scored in a bronze-medal match, set in the previous edition, Egypt 2021, 64 goals, when "Los Hispanos" beat France (35:29).
Sweden finished the tournament with two losses in a row after winning seven on the trot, and they missed the chance to secure their 13th medal in history, yet they still proved to be one of the best teams in the world.
On the other hand, Spain have extended their streak of medals at major tournaments to five, with the last time they missed the podium being at Denmark/Germany 2019, when they finished in seventh place.
"Los Hispanos" have now won the fifth medal at the IHF Men's World Championship and their third bronze one, securing a place on the podium in five of the last ten editions of the competition.
hummel Player of the Match: Hampus Wanne (Sweden)