Egypt end Poland/Sweden 2023 on a high with extra-time win over Hungary
29 Jan. 2023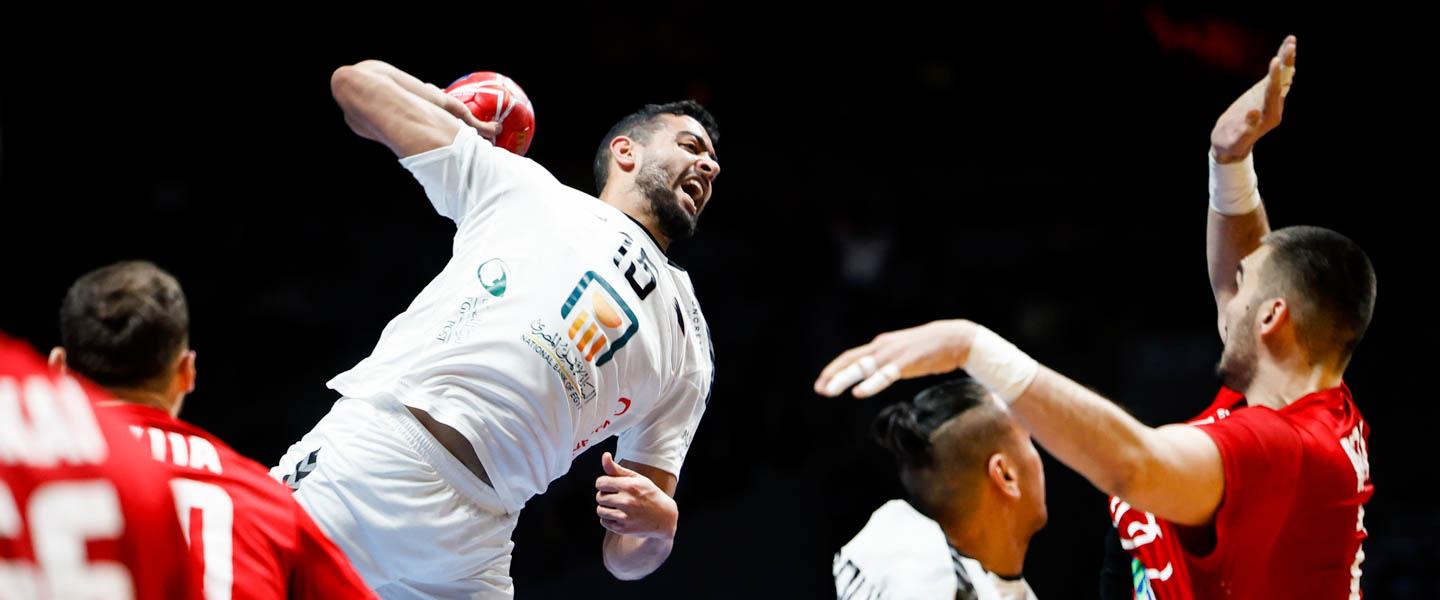 Egypt started the Placement Match 7/8 against Hungary with a 4:0 unanswered run, but needed four extra-time halves to clinch a 36:35 win and end up in seventh place in one of the most dramatic matches at Poland/Sweden 2023.
Placement Match 7/8
Egypt vs Hungary 36:35 after extra-time (17:11; 28:28; 32:32)
The disappointment in Egypt's camp was there to be seen after a five-match winning streak to start the competition at Poland/Sweden 2023 was followed by three losses on the trot against Denmark, Sweden and Germany.
That did not mean that Egypt were not ready to challenge for a place among the top teams at the IHF Men's World Championship, but that they still needed that extra boost that also prevented them from winning against Denmark in the quarter-finals two years ago when they hosted the competition, in one of the best matches in the history of the world handball flagship competition.
Nevertheless, the players huddled up in what was likely to be the last match on the Egypt bench for Roberto García Parrondo. They decided to send their coach off with a win, clinching seventh place at Poland/Sweden 2023, the same place they secured two years ago.
The start of the match against Hungary, where García Parrondo clashed with his former teammate in Spain's lineup, Chema Rodríguez, was flawless for the Pharaohs, who jumped to an early 4:0 lead after only four minutes, with the combinations with the line players Mohamed Shebib and Ibrahim El-Masry working wonders and being impossible to stop by Hungary's defence.
Another 7:3 run spurred by left back Ali Zein, was also instrumental in cementing Egypt's total domination in the match, with the gap constantly growing to seven goals, 16:9, after 22 minutes, as Hungary were losing control of the match. A timeout taken by Rodríguez did not help, with Egypt marching towards the win by securing a six-goal lead at the break (17:11).
Some excellent saves from Karim Hendawy, who finished the match with 13 shots stopped and a 34% saving efficiency, helped Egypt stay in front, but Hungary constantly tried to pull some goals back. Attack after attack, the European side managed to claw back, even in difficult situations when they were two players down on the court for over 90 seconds due to suspensions.
With the back line firing from all cylinders, Hungary used a 3:0 unanswered run to erase three goals from Egypt's lead, cutting the gap to only three goals (22:19) when there were a little over 16 minutes to be played, prompting a timeout from Egypt's coach Roberto García Parrondo.
That timeout proved to be crucial as Egypt went on a three-goal run to establish the six-goal lead once again, only for Hungary to cut it back to two goals (26:24), when there were only nine minutes left.
But the roller-coaster was far from over. Hungary used an excellent finish to tie the match, 28:28, as Richárd Bodó scored a crucial goal with 11 seconds left to push the match into extra time.
After 70 minutes, the two teams were still tied, making way for another two five-minutes halves of extra time. Eventually, Egypt stayed true to themselves and used their experience to sneak out a 36:35 win, ending the tournament on a high, with Ali Zein scoring 12 goals. In contrast, goalkeeper Mohamed Aly finished with an excellent 41% saving efficiency.
After García Parrondo extended his contract to coach Egypt at Poland/Sweden 2023, the Spanish coach will likely end his reign for the African team, which spanned over the last four years. The Spanish coach has transformed Egypt into a powerhouse, having made the top eight at the last three editions of the IHF Men's World Championship.
Despite their three-match losing streak to finish Poland/Sweden 2023, Hungary have finished in the top 10 of the competition for the ninth time in a row. However, after ending up in fifth place at Egypt 2021, they ended up in eighth place, still a great performance after being eliminated early at the EHF EURO 2022 after the preliminary round, which set up another rebuild for the European side.
hummel Player of the Match: Ahmed Mohamed (Egypt)