France break six-year drought to get back in the final
27 Jan. 2023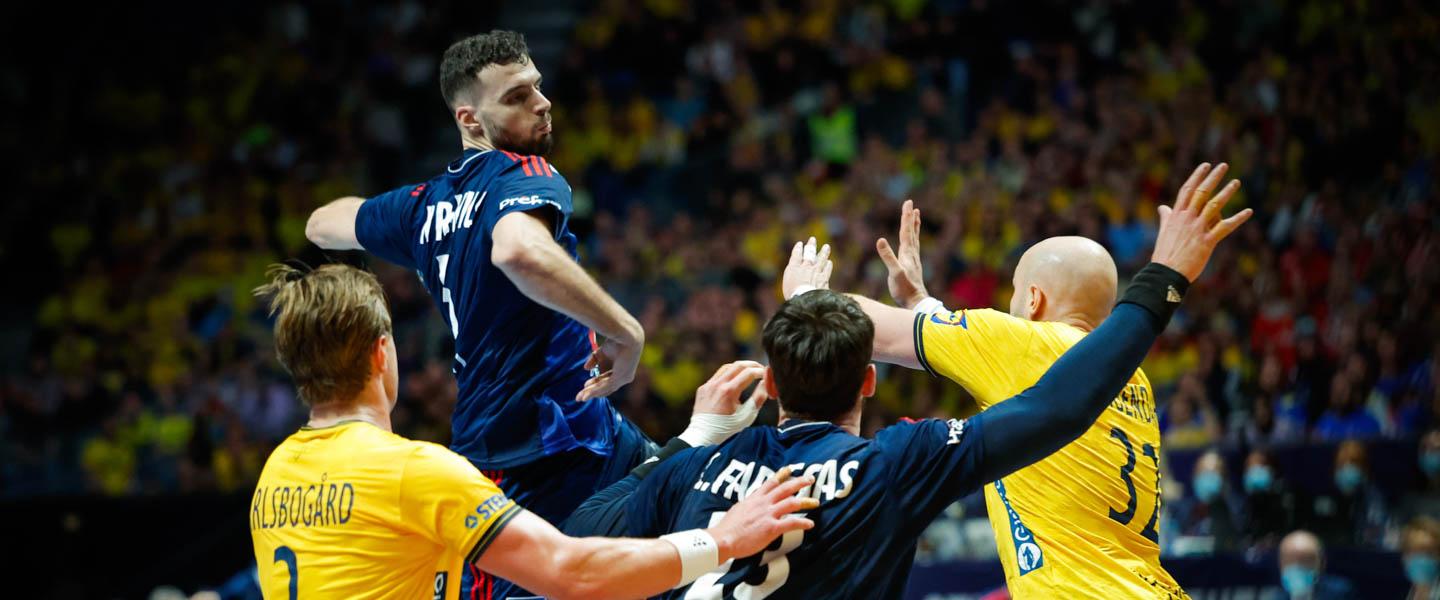 France qualified for the final of the IHF Men's World Championship for the eighth time in history, tying Sweden's record of appearances in the final act of the competition by breaking the hearts of co-hosts Sweden in a superb display (31:26).
"Les Experts" will face Denmark in the last act at Poland/Sweden 2023, trying to cement their legacy as the most decorated team in the history of the competition in a superb decider that will feature the only two unbeaten teams still standing in the 28th IHF Men's World Championship.
Semi-final
France vs Sweden 31:26 (16:12)
Two years ago, Sweden denied France a return to the final of the IHF Men's World Championship after a flawless attacking display in the penultimate act at Egypt 2021, with Sweden missing their first shot of the match in the 26th minute, totally outplaying their opponents.
It would have been hard to think that Sweden were going to rekindle that magic. Still, if they had been successful, they would have surely taken the initiative, despite missing their most influential player, centre back Jim Gottfridsson, who suffered a fractured finger on his non-throwing hand in the quarter-final against Egypt.
Was Gottfridsson's absence going to prove decisive? And how would Sweden really play without his excellent leadership and calming presence? The answer was quite easily seen on the court after only 11 minutes in the match. Yes, it was always going to be difficult without Gottfridsson, as his playmaking skills are next to none, being able to influence the game like no other player on the court.
After Andreas Palicka and Vincent Gérard, the two goalkeepers, traded four saves in the first seven minutes, France upped the tempo and their defence worked wonders in blocking every attempt by Sweden. Soon after, "Les Experts" embarked on a 4:0 unanswered run that prevented the co-hosts from scoring for four minutes and 38 seconds, opening a big 6:3 lead.
It was a lead that they never relinquished in the first half, with France displaying better efficiency, an excellent attack and a strong, very physical defence which morphed from a 6-0 into an aggressive 4-2 at times, trying to block the connection between Sweden's backs.
This defence worked wonders on Gottfridsson's replacement Felix Claar, who finished the match with three goals from nine shots and delivered a single assist, too little for a match of this magnitude, where Sweden needed everything to work flawlessly.
Backed by the superb fans that transformed the Tele2 Arena in Stockholm into a sea of yellow, Sweden gave one final push and they really looked like they were on to something when they went on a 4:1 run between the 42nd and the 48th minutes, managing to stop France's attack from firing on all cylinders. But apart from the hummel Player of the Match, Eric Johansson, who finished the match with five goals, Sweden failed to provide anything meaningful.
But it was more of a collective effort – even if France missed left backs Thibaud Briet and Nikola Karabatić due to injuries – and relied heavily on Ludovic Fabregas and Nedim Remili, who combined for 11 goals to bring the goods to the reigning Olympic champions. 
And if Gérard was missing in action at the previous World Championship semi-final against Sweden, well, this time he was around to deliver some clutch saves in crucial moments to lift his team to a 31:26 win.
As Sweden were left dejected on the bench, lamenting the chance they missed to progress to a final, basically showcasing themselves in front of the whole country, France started the celebrations early on thanks to a flawless game, executed to perfection, after they broke a streak of two consecutive semi-finals losses against their Scandinavian rivals at Egypt 2021 and the EHF EURO 2022.
It will be the eighth final at the IHF Men's World Championship for France – tying Sweden's previous record – with "Les Experts" being, well, experts in the last act of the competition, having won six out of seven finals they played so far. 
hummel Player of the Match: Eric Johansson (Sweden)