"I'm like a little boy; I'm so excited"
26 Jan. 2023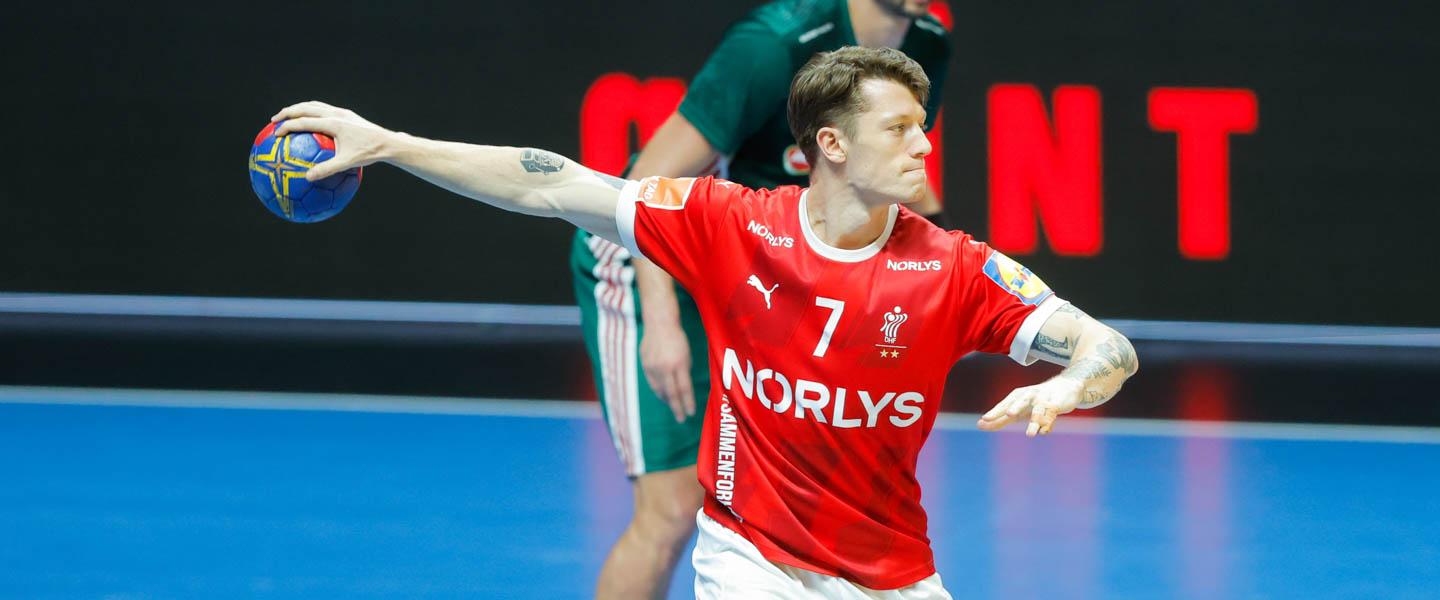 Emil Jakobsen is buzzing. A few hours after arriving in Gdansk, Poland, the Denmark left wing cannot hide his anticipation to play Spain in the 2023 IHF Men's World Championship semi-final on Friday (27 January).
"We're in a semi-final of a World Championship and that's amazing," he tells ihf.info. "I will play handball for free. I'm like a little boy; I'm so excited for tomorrow. I can't wait to play this match. This is why we play handball; for all of these matches, the semi-finals, the final and for these titles."
And World Championship titles are all that the 24-year-old Jakobsen has known since joining the senior team in 2019 after graduating from the junior side.
First, he watched the Danes take gold on home soil at Germany/Denmark 2019, and two years later, at Egypt 2021, he was part of the title-winning squad, playing in five of their nine matches and scoring 22 goals. 
At Egypt 2021, Jakobsen played against the hosts in that classic World Championship quarter-final, won by the Danes after two periods of additional time and penalty shots.
Denmark's semi-final opponents in 2023, Spain, had a similar experience in their quarter-final on Wednesday (25 January), taken to a second period of additional time by Norway at the ERGO Arena in Gdansk at the same time as Denmark were beating Egypt again, this time in the normal 60 minutes.
And this is something the SG Flensburg-Handewitt player believes could help Denmark, who flew into Gdansk from Stockholm on Thursday.
"For us, it was perfect," said Jakobsen about Spain playing 80 minutes in another World Championship classic. "We have a long, long day today, so it was good that Spain had a little bit of extra time.
"We saw the [end of the] match in our locker room (after beating Egypt). It was a good match, but it was not about [bringing up] memories (playing Egypt at Egypt 2021) – that was a crazy match – we were just focused on who we were going to play [here]."
Ahead of Poland/Sweden 2023, Jakobsen sat on 37 appearances for the senior team, exactly the same number as right back Mathias Gidsel, who currently sits second in the championship scoring charts on 51 goals and who is in the form of his life.
And Jakobsen could not be happier.
"Mathi and I are very good friends, he's one of my best friends from handball and we have a long history together," smiles Jakobsen.
"He's a good, kind guy and we are very close. It very amazing to enjoy this with him and another moment in our history. He just has the big legs on the floor, and you can feel that he's so good – and so successful. He's just a good guy."
These good guys are clear favourites tomorrow. They are going for their third consecutive title and are unbeaten in 25 World Championship matches in a row. Memories of Poland/Sweden 2023 are good, despite a disappointing performance in their main round, a nine-goal win against the United States of America.
"That was not the way we see ourselves; we got a wake-up call and said to ourselves, 'okay, we have to do this better'. Nikolaj said that to us too, but with more fire in the eyes," said Jakobsen.
"My best memory so far is the arena in Malmö," added the winger about the venue just 45km from Denmark, where they played all their preliminary and main round matches. "Every match we played there, Danish fans were there, a full hall. Everything was amazing and it was beautiful.
"So many from Denmark came all the way to Malmö and enjoyed the moment with us, so that was amazing."
With Jakobsen's performances making him a fan favourite and key element in the national squad, it is now up to the former GOG player to ensure he is a regular fixture.
And he only needs to look at the squad in Poland to see what can be achieved for his country. Both Niklas Landin and Mikkel Hansen are now sitting on 250 appearances or more, while Hans Lindberg is getting closer to 300.
"I would love to get these numbers," explained Jacobsen, who was part of the 2017 IHF Men's Youth World Championship All-star team. "I don't think that's going to happen as a lot of things can happen, but that's a goal; I would love to play for the national team as long as possible."
Now Spain lie between him and another guaranteed medal. So how do they beat Jordi Ribera's side?
"That's a good question, and maybe you should ask Nikolaj about that," smiles Jakobsen in reference to his coach Nikolaj Jacobsen.
"Our defence has to be very good, and, of course, Niklas (Landin) needs to have a good match in goal. If we have a good defence, then we will make easy goals in the fast break.
"I think we have an OK chance if our defence is good and our attack has a good flow and we make good chances. (Spain goalkeeper – Gonzalo Pérez de) Vargas will have many saves, so we have to create many chances to create a lot of goals."