France do the business with more to give
25 Jan. 2023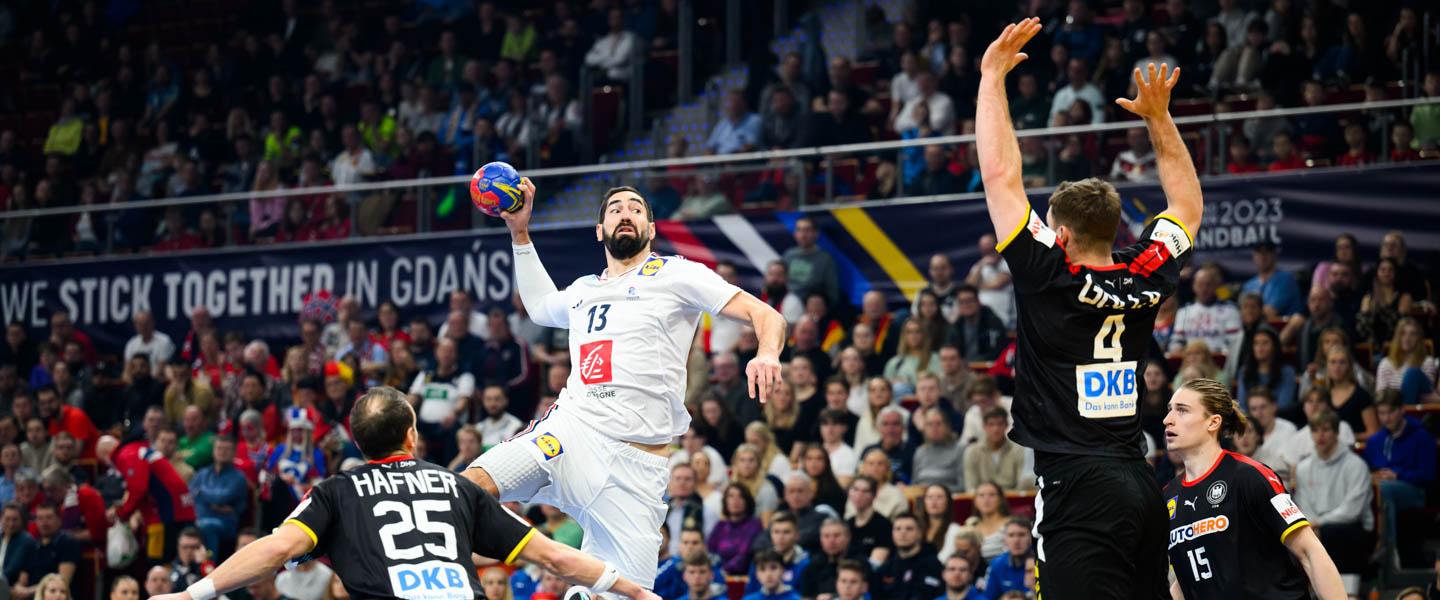 France have reached their 14th IHF Men's World Championship semi-final after turning on the rockets in a blistering second-half performance against Germany in their Poland/Sweden 2023 quarter-final clash at the ERGO Arena in Gdansk, Poland.
Quarter-final
France vs Germany 35:28 (16:16)
Olympic champions France did not lead once in the first half of this encounter, the match started late after the match between Spain and Norway went into extra time twice. But still, went into the break equal (16:16) – a question of doing enough to stay in touch or Germany causing them problems?
The second half provided the answer. 
With just 10 minutes gone, Dika Mem (21:20) put France ahead for the first time, and Guillaume Gille's men did not look back.
Nicolas Tournat then made the lead three (23:20, 44th minute) and Ludovic Fabregas extended it to five (29:24) by the 52nd minute. 
Germany's coach Alfreð Gíslason took a time out shortly afterwards, but the exasperation of his side turning over the ball was clear to see as he threw his arms down in disappointment at yet another turnover (16 in total).
But maybe it was the prowess of French goalkeeper Rémi Desbonnet, who made 11 second-half saves (ending on 14 saves from 30 shots, 47%)? 
His big save from Patrick Groetzki after the German right wing had stolen the ball after just three minutes gone in the second period was a clear statement and might just have been the crucial mental turning point for the French team. 
"It was a very important moment," admitted France legend Nikola Karabatic to ihf.info after the game. "We started quite good in the second half, but made some easy mistakes, lost some balls, and we could have taken the lead.
"We didn't do that and allowed Germany to go into this fast break. This save from Patrick was very important for us because it gave us hope and also it gave momentum and an energy to Rémi who entered into the zone and then who was on fire all the second half."
It was a completely different second period for Gíslason and his team, who were still in single goalscoring figures in the second half with just three minutes remaining. Against any team at a world championship, this is not going to win matches.
France are now in their second successive World Championship semi-final and a repeat of their 2021 last four match, as they will face Sweden.
"I'm just feeling so happy, so blessed, to be able to play another semi-final," added Karabatic.
"Today was not our best game and we could have done better, but it was a fantastic second half and we're very proud of what we did today against a very good German team."
Germany, meanwhile, lick their wounds and look forward to regrouping for their placement match.
hummel Player of the Match: Rémi Desbonnet (France)