Tunisia secure top spot in President's Cup Group II
21 Jan. 2023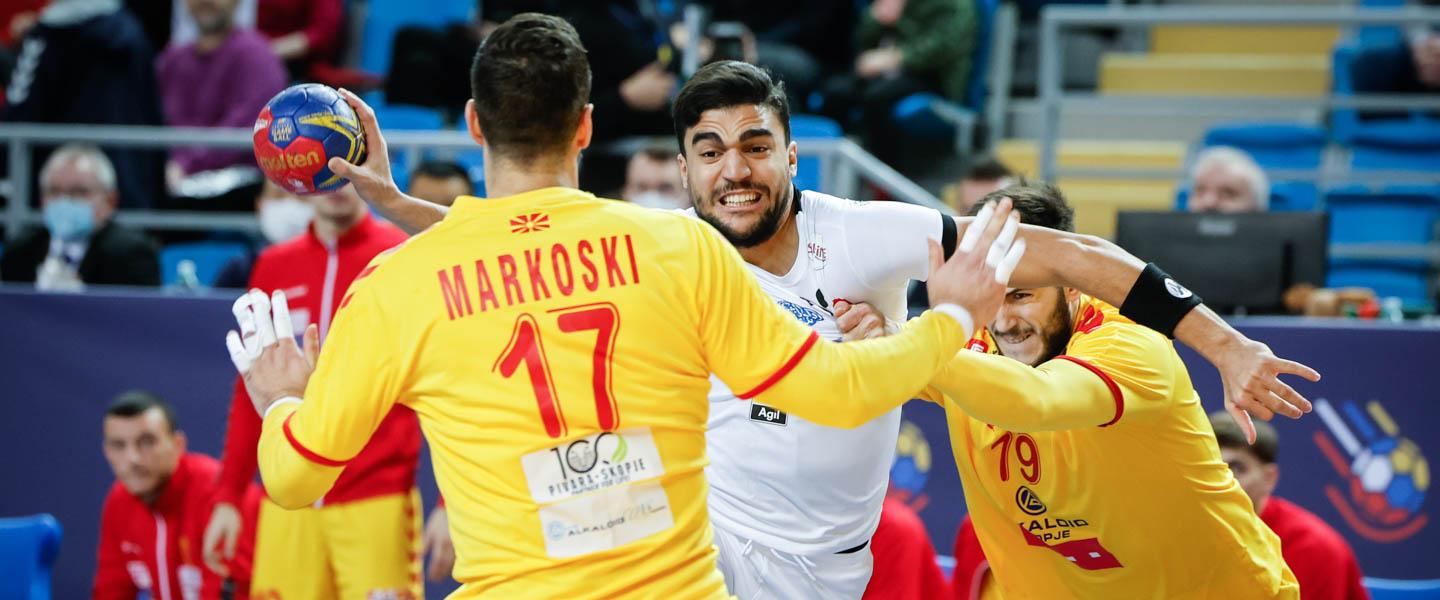 The two teams, who had started the President's Cup with wins, hoped to achieve another success and Tunisia ultimately earned a victory.
With four points, the African side have already secured a top position in Group II as they have a head-to-head advantage over North Macedonia and Morocco, who are tied on two points. 
President's Cup Group II
North Macedonia vs Tunisia 28:33 (14:16)
Two days ago, in an African derby against Morocco, Tunisia snatched two points thanks to a late 5:0 run. But now the team coached by Patrick Cazal took early control of the match, opening a 5:0 lead by the fifth minute and turning the score into 7:2 three minutes later. 
Left back Youssef Maaref was hard to stop, netting four times during that run and capitalising on North Macedonia's defensive woes. However, he failed to add any more goals to his tally as the match progressed and the Europeans started to catch up. Dejan Manaskov had a remarkable impact in the first half, scoring six goals. Still, as the Tunisian goalkeeper Mehdi Harbaoui boasted a 38% save rate in the opening 30 minutes, Kiril Lazarov's team failed to draw level by half-time.
However, they continued their chase as the match resumed. While Tunisia's Ghazi Ben Ghali scored the first goal after the restart, North Macedonia responded with a 4:0 run to take their first lead in the match in the 35th minute (18:17).
The pendulum swung back and forth for a while, but a strong 4:0 run, propelled by Mohamed Darmoul's three consecutive goals, put Tunisia back on track with a 24:21 lead. Overall, center back Darmoul played a crucial role in this match, becoming its top scorer with eight goals and four assists.
Led by Filip Kuzmanovski, who scored seven goals from as many attempts in this match, North Macedonia continued to fight. Yet, they made a lot of technical mistakes and were punished by a much tougher opposition than two days before when they defeated Algeria 40:25. Tunisia punished their rivals time after time. The match was basically decided when they pulled clear by five goals (30:25) five minutes from full-time.
On Monday, the match between Tunisia and Algeria will be a mere formality for both sides, as Tunisia have already booked their ticket to the President's Cup final. At the same time, Algeria are certain to finish fourth in Group II. On the same day, North Macedonia and Morocco will fight for second place in the group in a direct duel. 
hummel Player of the Match: Mohamed Darmoul (Tunisia)