Norway mark best-ever start at IHF Men's World Championship with big win over Qatar
21 Jan. 2023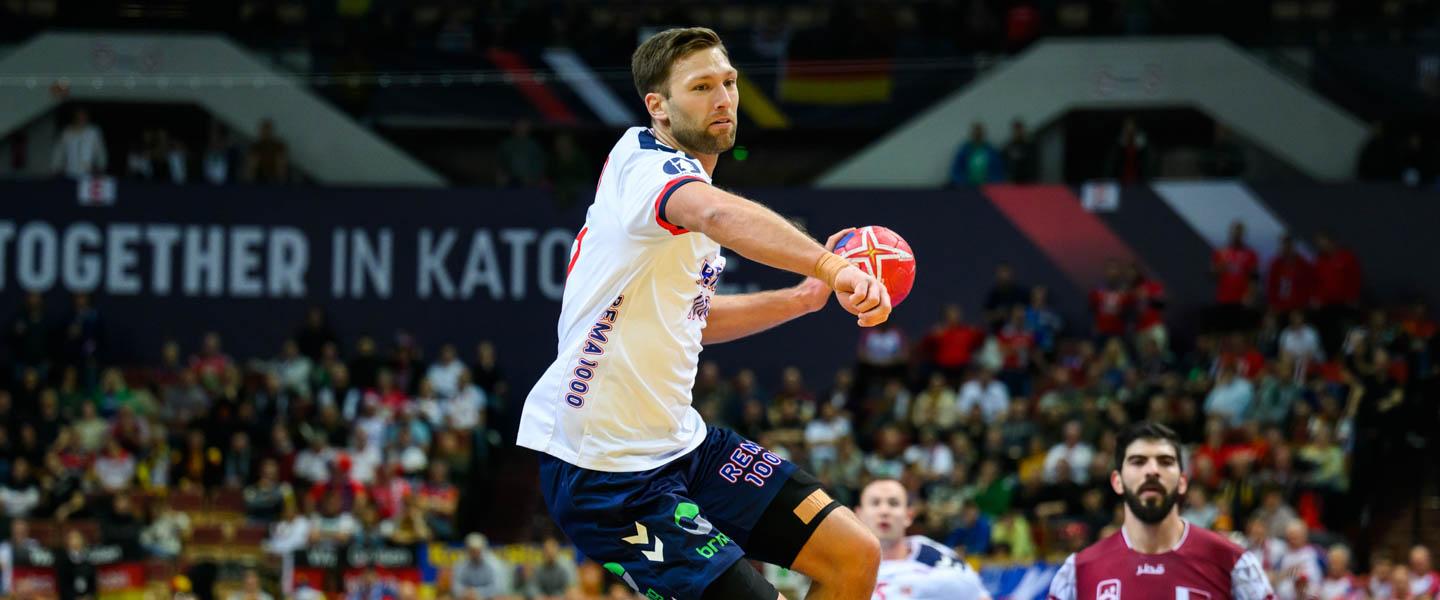 Norway edged closer to their fourth consecutive quarter-final berth at the IHF Men's World Championship, cruising to a clear win against Qatar (30:17). Jonas Wille's side has now won five matches in a row, their best-ever start in the history of the competition.
Main Round Group III
Qatar vs Norway 17:30 (9:14)
A win against Qatar would have seen Norway edge closer to the quarter-finals of the 2023 IHF Men's World Championship for the fourth time in a row, an objective clearly set in coach Jonas Wille's debut at a major international tournament.
Therefore, there was no question about motivation for the Scandinavian side, especially against a team that was already eliminated after conceding three losses in the first four matches and not having the injured left back Rafael Capote in the squad.
Norway, clear favourites on paper, immediately made their mark on the match, jumping to a 5:0 lead after only seven minutes with a dominant display in attack, but mostly in defence, where goalkeeper Torbjørn Bergerud outshone everyone else on the court.
Bergerud, slowly getting to his top form for Norway, saved the first five shots and conceded the first goal after seven minutes and 40 seconds. The evolution of the match prompted Qatar's coach Valero Rivera to take an early timeout after eight minutes and 40 seconds to instil some life into his players.
With an important match against Germany scheduled for Monday, Norway started to take out their most essential starters – like Sander Sagosen – but also lost a bit of focus, enabling the Asian champions to come back in the game, slowly but surely.
By half-time, Qatar were down by five goals, mostly due to Bergerud's excellent form, which sat over 50% with 10 saves. But in attack, the Scandinavian side made too many easy mistakes and conceded seven turnovers, underlining their lack of focus throughout the first 30 minutes. 
A 4:0 unanswered run, quickly followed by another 3:0 one, spurred on by wings Sebastian Barthold and Kristian Bjørnsen, who combined for 10 goals in the match, created a 10-goal gap by the 43rd minute, as Qatar could only muster four goals until that point in the second half, struggling mightily against the Scandinavian side.
Bergerud displayed some excellent saves, finishing the match with 15 shots stopped for a 54% saving efficiency. At the same time, Norway took advantage of almost every chance they had on fast breaks, converting nine of the 10 shots they had a one-on-one with the opposing goalkeeper in transition.
In the end, there was no question about the winner, with Norway's superior experience and depth being clearly on display, as the Scandinavian side sealed a main round berth with a 30:17 win, the highest loss for Qatar at the IHF Men's World Championship since Spain 2013, when they conceded a 14-goal loss against Denmark.
This was Norway's fifth win in a row at Poland/Sweden 2023, marking their best-ever start at an edition of the IHF Men's World Championship, a win more than their previous record. They have not sealed their quarter-finals berth yet, but they have their fate in their own hands before the match against Germany on Monday.
Qatar will now face Argentina in the last match of the main round in Katowice as they try to avoid finishing last in the group, which could mean their worst finish in the competition, which is now the 23rd place at Germany 2007.
hummel Player of the Match: Torbjørn Bergerud (Norway)