An unexpected hero: 31-year-old globetrotter Dupoux shines in debut for Brazil
21 Jan. 2023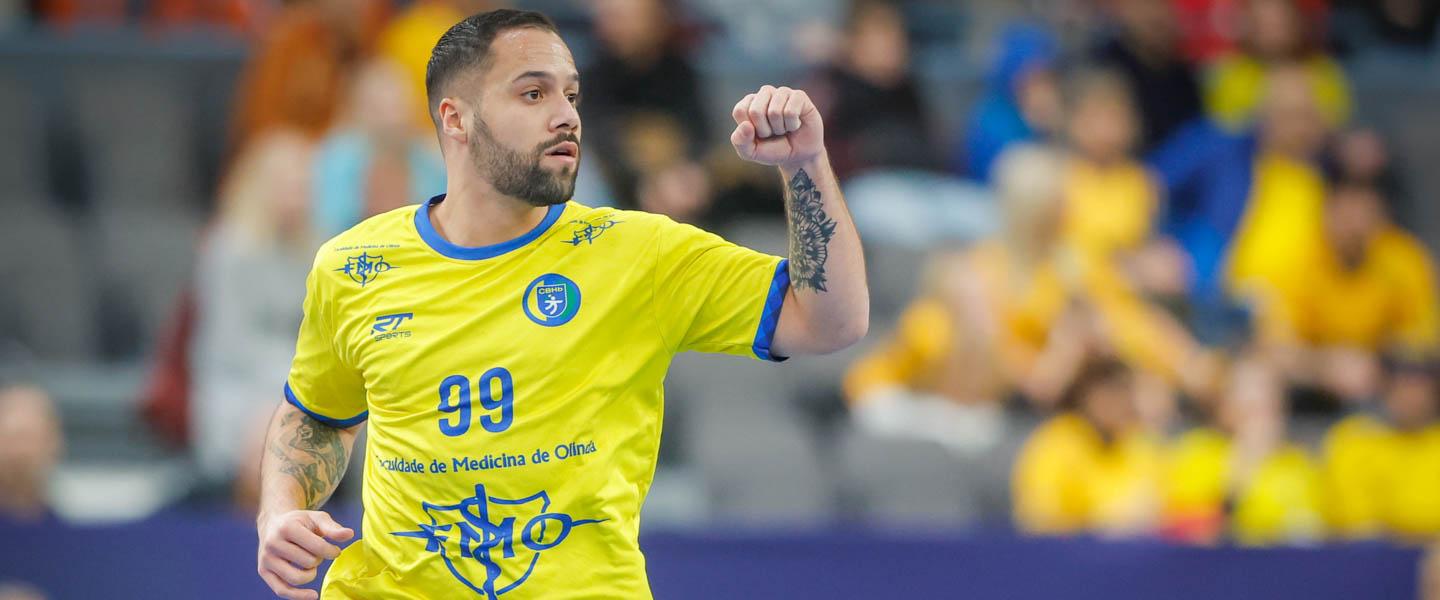 From the team that finished in 18th place at Egypt 2021, Brazil came to Poland/Sweden 2023 with only seven players, marking a major overhaul of the roster in the past two years.
Players have come and gone, with several young stalwarts being ushered into the side, as coach Marcus Oliveira has been trying to inject some much-needed youth into the squad which is still one of the most experienced in the competition with an average age of 28.4 years.
One of the players making his debut at the IHF Men's World Championship is Jean-Pierre Dupoux, a left wing with only three international matches under his belt. But Dupoux is not an inexperienced player. He is 31 and has played plenty of matches in the French first league at club level. 
So how did a player whose name sounds 100% French break into Brazil's squad for Poland/Sweden 2023?
"Well, my mother is Brazilian and my father is French, but I was born in Rio de Janeiro, in Brazil. However, I did not stay there for long, until I was 11 years old. I moved to Saudi Arabia, Morocco and Thailand and eventually settled in France, only going to Brazil on vacations," says Dupoux.
"France was the country where I discovered handball. I fell in love with the sport after I also played some football and I started training more when I was 14 years old. Then, at the age of 16, I signed up for Pontault-Combault Handball, the team where I am also playing now. I started handball because of my friends and I will always be in debt to them," says Dupoux. 
In the past two seasons, Dupoux has been in flawless form in the French second league for his club side, being the top goal scorer in the competition in the previous season with 231 goals. In the current season, the 31-year-old left wing is also the top scorer with 116 goals in 15 matches, an average of 7.73 goals per match.
Breaking into France's roster was almost impossible due to the current system in place, with plenty of talent in all positions on the court. Yet Dupoux, who has played all of his club career for Pontault-Combault Handball, still had his Brazilian citizenship, making him eligible to be a part of the South American squad.
"There were some contacts before, but they turned to nothing in the end. Now I have a teammate in my club squad, Gustavo Rodrigues, who talked to the Brazilian federation once again last year, and everything started to click from that moment on," adds Brazil's left wing.
"When I got the call-up, I was really excited because it was a dream to be here, at the World Championship and represent Brazil. I said yes and I started preparing for the competition for my debut. The group is excellent, I got an amazing reception and I am feeling at home here."
Speaking the Portuguese language helped him settle in immediately and the results could be seen as Dupoux has been Brazil's top scorer at the 2023 IHF Men's World Championship, scoring 27 goals in five matches, a performance which has seen him climb to the ninth place in the top goal scorer standings.
He was also the standout player for Brazil in their most significant result so far in the competition, a 28:28 draw against Portugal, where Dupoux scored 10 goals, being the top goal scorer of the match. Immediately he settled into the team and started delivering the needed performances, being both a good scorer and a team player.
"We instantly clicked and it has been an amazing journey, one that I could not have thought of a few years back. I am really happy to be here, to deliver some good performances and play in a World Championship tournament, because it is the dream of every player to be able to deliver on the biggest of stages," adds the 31-year-old left wing.
His ambitions surely do not stop here, and Dupoux will aim even higher with Brazil and his club team. While the South American side only have an outside chance of a berth in the quarter-finals, they really proved themselves at Poland/Sweden 2023 as they drew with Portugal and lost by only three goals against Hungary.
Their last match in the competition will be against Iceland, a crucial match for the European side who faces a must-win situation to qualify. But with Dupoux in such good form, things might get difficult for Iceland.
"We want to finish the competition on a high and prove ourselves against the best teams in the world," concludes Dupoux.