Main round schedule released after the conclusion of the preliminary round
17 Jan. 2023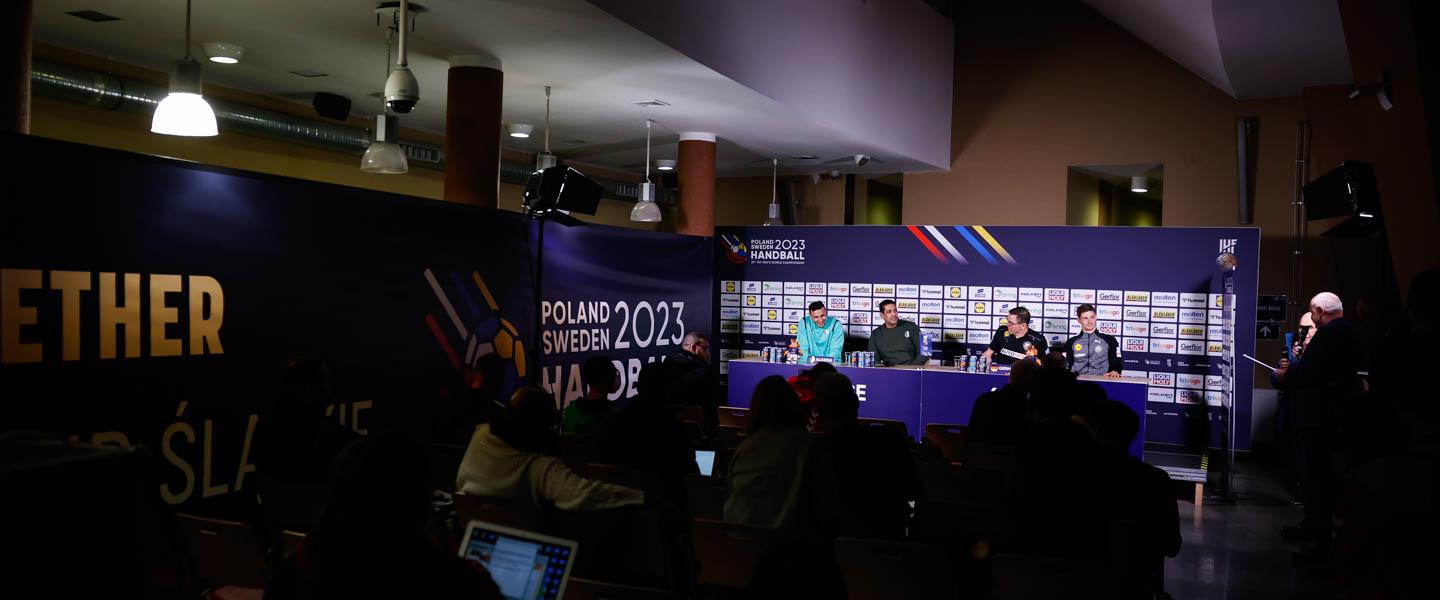 Following the conclusion of the last four groups of the preliminary round of the 2023 IHF Men's World Championship in Poland and Sweden, the International Handball Federation has released the schedule for the four groups of the main round, scheduled in Krakow, Gothenburg, Katowice and Malmö, as well as for Group I of the President's Cup, which takes place in Plock.
The top three teams from each of the four concluded groups have advanced to the main round, taking with them the points secured against the other qualified teams, while the fourth-placed sides went directly to the President's Cup, where the standings start from scratch.
All matches in the main round are scheduled in three slots, with the day starting at 15:30 CET, followed by matches set to start at 18:00 CET and 20:30 CET in all four venues.
In Group III, Germany will face Argentina in their first match, starting at 18:00 CET on Thursday, 19 January, before meeting the Netherlands on Saturday, 21 January, at 20:30 CET and Norway two days later, also at 20:30 CET.
The big clash between Egypt and Denmark, which can decide Group IV's outcome, will also occur on Monday, 23 January, at 20:30 CET in Malmö.
The schedule part 1 with the rest of the matches you can find here. 
Poland/Sweden 2023 – Main round schedule
Group III (in Katowice, Poland)
Thursday, 19 January
15:30 Qatar vs Netherlands
18:00 Germany vs Argentina
20:30 Norway vs Serbia
Saturday, 21 January
15:30 Serbia vs Argentina
18:00 Qatar vs Norway
20:30 Netherlands vs Germany
Monday, 23 January
15:30 Qatar vs Argentina
18:00 Serbia vs Netherlands
20:30 Germany vs Norway
Group IV (in Malmö, Sweden)
Thursday, 19 January
15:30 United States of America vs Bahrain
18:00 Egypt vs Belgium
20:30 Denmark vs Croatia
Saturday, 21 January
15:30 Bahrain vs Egypt
18:00 Croatia vs Belgium
20:30 United States of America vs Denmark
Monday, 23 January
15:30 United States of America vs Belgium
18:00 Croatia vs Bahrain
20:30 Egypt vs Denmark
President's Cup
Group II (in Plock, Poland)
Thursday, 19 January
15:30 Algeria vs North Macedonia
18:00 Morocco vs Tunisia
Saturday, 21 January
15:30 Algeria vs Morocco
18:00 North Macedonia vs Tunisia
Monday, 23 January
15:30 Tunisia vs Algeria
18:00 North Macedonia vs Morocco