Egypt 2021: Bronze Medal - in quotes
31 Jan. 2021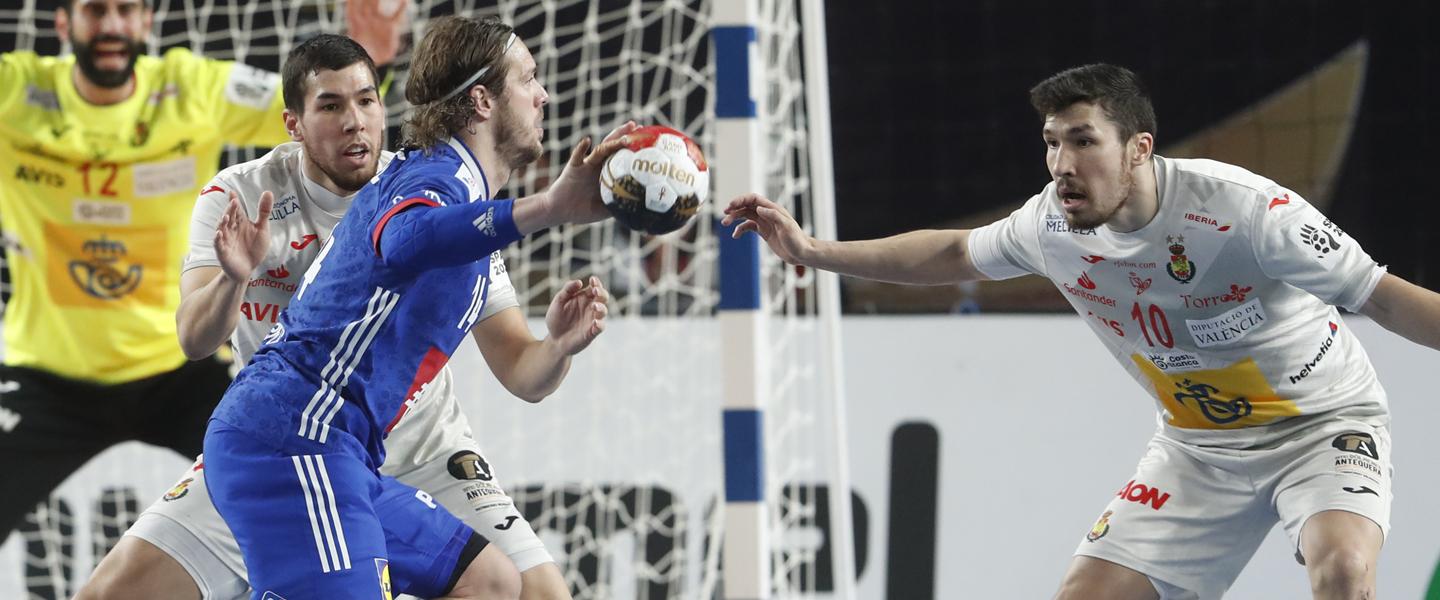 After Spain beat France 35:29 (16:13) in the bronze medal match of the 2021 IHF Men's World Championship in Egypt 2021, the players and coaches spoke to the media.
Jordi Ribera – coach, Spain
Media Conference opening statement:
Firstly, I want to congratulate France for their performance and for their tournament. Secondly, I want to congratulate Spanish handball for having another medal and, thirdly, I want to congratulate the team for their performance in this tournament. 
We had a good recovery since our first match when we drew with Brazil, and then step-by-step, we started to improve here and improving our performance. 
The level of our performance [against France] was good for the whole 60 minutes of the game. All the players had a very good level of playing through the whole game and they were able to change their positions and they had a very good attacking plan, also the performance of our defence and goalkeeper were very good too.
France always had a good reaction to the goals, trying to score after we have scored and France were trying to react all the time, however our defence performed well.
I want to thank the local Egyptian organisation for having a very good tournament here in Egypt. We had a good time, and the local organisers were trying their best to give us a very good stay here in Egypt.
ihf.info: The players celebrated at the end of the game, and then you and your coaches celebrated too. How important are the 'team behind the team' to you?
As a whole, the team is very big, it's a very big team, however the technical and officials have another small team. Each member of this 'officials' team has a role to play and a specific contribution part to make to the team. It is very important to celebrate with each and everyone the success of the team. 
Alex Dujshebaev – player, Spain
Media Conference opening statement:
France really made a great championship, but I think today we were better. We deserved to win the match because we have only lost just one match by one goal with our performance in all the tournament. The guys today don't deserve to go out from the world championship without the medal, we just focussed on this, and we tried from the first to last minute as it was our last match.
ihf.info: Some of the players in this squad will be retiring after the Tokyo 2020 Olympic Games. How important was it to end their world championship career with a medal and are the young players ready to take over?
For sure it was the last world championship for some of the members of the team, some of the guys and we were really very proud for them for all that they give us. We tried to win [the semi-final] for them too. 
We have a lot of new guys, young guys who have been given chances in the championship. We have very good players. We have one goal with this group and that is the Olympic Games, after we will see.
Right now, we have to celebrate and focus, we will be ready for the Olympic Games and do our best to win.

Hear more from Alex Dujshebaev in our IGTV interview here:
Guillaume Gille – coach, France
Media Conference opening statement:
It's always very difficult to lose your last game in a championship, Spain deserved the medal they played the best and we have to accept they show us what form we have to work to and we have to become better and better but I'm really proud how we found ourselves in this tournament.
ihf.info: How important is it now to switch your focus to the Olympic Qualification Tournament?
It will be easy because all the players will have to get back to their own clubs and then in five weeks' we have to be together. Our Olympic destiny depends on this tournament and it's three fantastic games to be play in France. 
We don't know exactly where, or with fans or in which condition we play, it's also a very important goal of this season and that's why it's important to switch to the next test.
Kentin Mahe – player, France
Media Conference opening statement:
Spain deserve it, it's not easy to finish a competition with two losses. I didn't think we deserved it because the first part of the championship was good. We improved as a team. 
The face of the French national team changed a lot, actually, I am quite satisfied with how we managed to play some games, before those two crucial games we lost. It's obvious that we're not satisfied with [them]. I am convinced that the future is bright for our team.
Hugo Descat – player, France
Mixed zone
ihf.info: How are you feeling right now?
It's terrible, we fight a long time against Hungary to get to the semi-final and we played totally – I don't know the expression in English – 'wrong'.
It's not possible to play like this in a semi-final, first but after that we had the possibility to win one medal also and again, today, we played again 'wrong'. 
ihf.info: You are clearly very disappointed…
It's terrible, and when we play two bad games like this it's very hard to find something positive at the end of the competition. We make a great competition, but I don't know if we play 'correctly' until the end, it's like that. We go home without nothing and it's the worst situation. It's a big disappointment.
Now, the problem is that all the players must go back to their clubs, think about their clubs and to go forward and focus on our competitions and objectives at our clubs and I will do that to pass this frustration.
ihf.info: You played some really exciting games and won seven in a row here at Egypt 2021, there's enough to be positive about with the Olympic Qualification Tournament coming up…
We switch about this competition, now in March we have the Olympic tournament with Croatia, Portugal and Tunisia. It's at home but with COVID and rules and without spectators it's exactly the same, so we will switch to that and play strong enough to catch this Olympic Games [place].
Dani Dujshebaev – player, Spain
Mixed zone
ihf.info: You won gold at the 2017 IHF Men's Junior World Championship in Algeria, now bronze at Egypt 2021. North Africa is good for you…
It's very good. We deserved it. We made a good tournament. It was so difficult from the beginning with our first game and we started by not winning against Brazil. But this team deserves it – we make a great tournament.
ihf.info: Did that draw with Brazil in your first game inspire you to go harder?
I think yes. It was a good experience for us even though the bad result. I think the team got much better after that game and it's a really good feeling right now.
ihf.info: How hard was it to forget the semi-final loss and be positive for today?
It was very difficult because I think we had a great chance and opportunity to be in the final, but we have a lot of experienced players who gave us the mental power to be ready for today and I think we showed we were really ready.
ihf.info: Rodrigo Corrales won the player of the match award, ending with 16 saves. What's it like to play with him and Gonzalo Perez de Vargas behind you?
I think it's really good, they are two of the best goalkeepers in the world in our national team and it's really good when you see your goalkeeper saving every ball, it makes it much better to play in defence.
ihf.info: It's been well-documented that a number of your team will retire after the Tokyo 2020 Olympic Games, what is the future like for the team?
We have a really good team. We are working out of young players in the national team already. I think it will be difficult because this generation, these great players, really give a lot for Spanish handball but we will work hard to make the same.