Superb Dujshebaev brothers help Spain secure bronze medal
31 Jan. 2021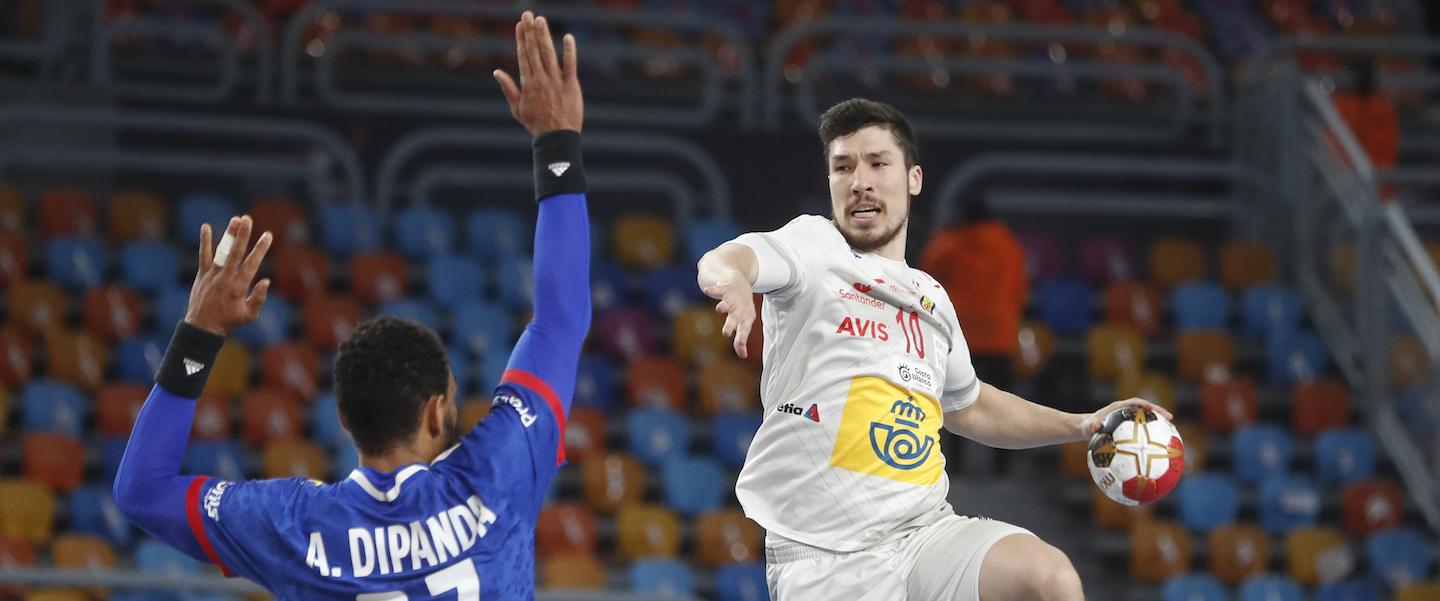 Spain's coach, Jordi Ribera, dubbed the bronze-medal game against France at Egypt 2021 as "a prize" after a long, tough and gruelling tournament.
It did look like Spain were truly motivated against "Les Experts" and they executed the game plan to perfection, sealing their second-ever bronze medal at the IHF Men's World Championship, after a compelling 35:29 win.
Despite falling to Denmark in the semi-final, it was a superb tournament for "Los Hispanos", maybe the last world flagship event for their golden generation, as changes will surely be made ahead of the next World Championship in Poland and Sweden.
But the future still looks bright for Spain, as the Dujshebaev brothers, Alex and Daniel, combined for 14 goals, showing a glimpse of what is to come for Jordi Ribera's side.
Meanwhile, after seven consecutive wins to start Egypt 2021, France lost their last two games, to finish fourth, their worst placement since Spain 2013, when they ended on the seventh place.
This was also the highest-ever scoring bronze medal game in history at the IHF Men's World Championship, three goals more than at Germany 2007, when Denmark beat France, 34:27, and at France 2007, when Slovenia won the medal against Croatia, 31:30.
BRONZE-MEDAL MATCH
Spain vs France 35:29 (16:13)
Miraculous comebacks have happened on the biggest of stages in handball, but they are called like that because strong teams usually do not let the guard down, despite being up by a handful of goals.
The scenario was once again on in the bronze medal game between Spain and France, with Spain taking a page of Denmark's playbook in their mutual semi-final, where the title holders started with a convincing lead and never relished it.
By the time France had scored their first goal, after five minutes and 34 seconds, Spain were already up 4:0, scoring at free will, with the French defence still reeling after missing Luka Karabatic and Timothy N'Guessan, both injured in the quarter-final against Hungary.
With an aggressive 5-1 defence that even shifted to a full-on press in a 3-2-1, Spain continued to deal blows and went up by five, 11:6, after 15 minutes, as right back Alex Dujshebaev proved unstoppable in attack.
France managed to claw back, despite missing key shots that were saved by the ever-present Spanish goalkeeper Rodrigo Coralles, but the same Dujshebaev invented a shot from way back to help Spain take a 16:13 lead at the break, with the bronze medal, only their second in history, in sight.
Coralles, who saved 10 shots for a superb 43 per cent efficiency in the first half, continued his magnificent game in the second part, helping Spain establish a five-goal lead, 23:18, with 20 minutes to go, after a pair of virtuous goals from right wing Ferran Sole.
It looked like game over for a French team that lacked the power or the grit to fight and end the tournament on a high, with their fifth bronze medal in history, a new record at the IHF Men's World Championship.
Indeed, it was. Failing to improve on their 55 per cent attacking efficiency, France were also hampered by a niggling calf injury for right back Dika Mem, who was struggling to develop his outstanding speed on fast breaks.
Led by the same impressive work from the Dujshebaev brothers, who combined for 14 goals, Spain never missed a chance to take advantage and headed for their seventh win in nine games at Egypt 2021.

"France really made a great championship, but I think today we were better," said Alex Dujshebaev to ihf.info after the game. We deserved to win the match because we have only lost just one match by one goal in all the tournament. The guys today don't deserve to go out from the world championship without the medal, so we just focussed on this, and we tried from the first to last minute as it was our last match."
With more saves from the hummel Player of the Match Coralles – 16 stops for 38 per cent saving efficiency, Spain were never in danger to concede the lead, sealing a 35:29 win against France, despite left wing Hugo Descat scoring seven of France's 16 goals in the second half.
It was also the highest-ever scoring bronze medal game at the IHF Men's World Championship, topping the previous record from Germany 2007 and France 2017, 61 goals, by three goals.
It is Spain's second bronze medal at the IHF Men's World Championship and the fourth in total, as their golden generation with players like Raul Entrerrios, Joan Canellas, Daniel Sarmiento or Gedeon Guardiola reaches its zenith.
Meanwhile, France had a disappointing end of the tournament, after a flawless start, with Guillaume Gille back at the drawing board before the Olympic Qualification Tournament they will host in March in Paris.
hummel Player of the Match: Rodrigo Corrales Rodal, Spain