"Surprise" Sweden enjoying Egypt
30 Jan. 2021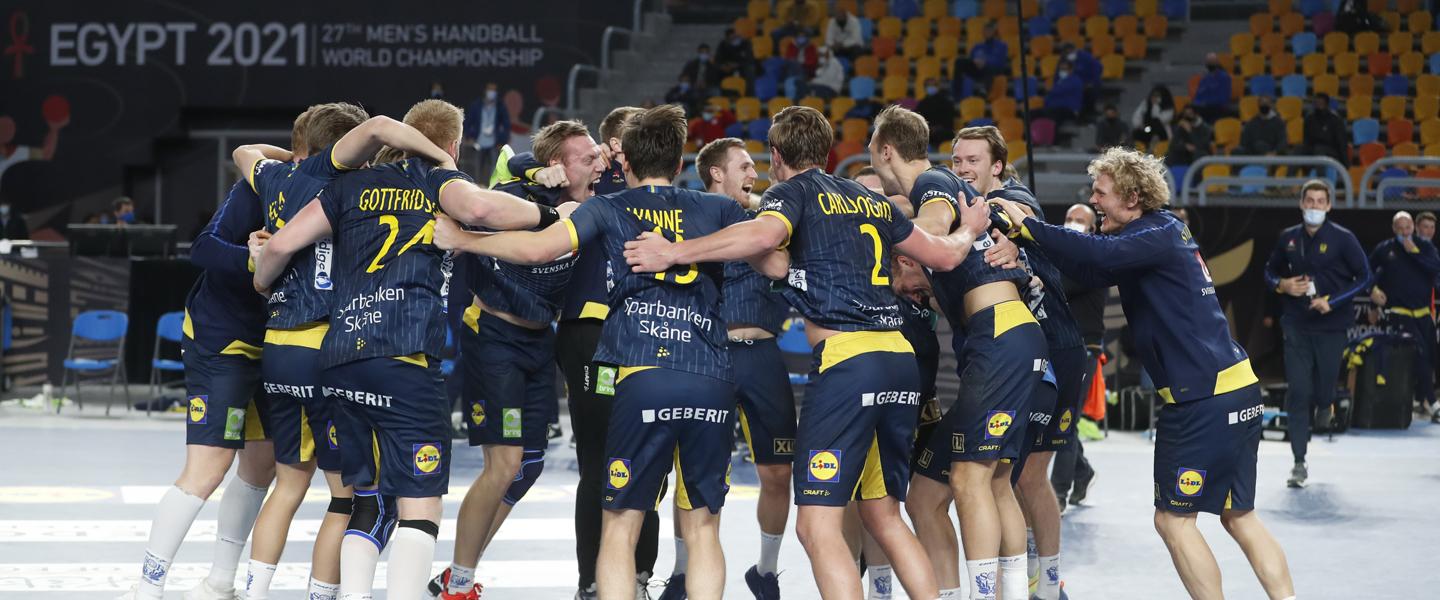 By Ahmed Gamal, Egypt 2021 Media Volunteer
Directly after their impressive 32:26 semi-final win over France last night, Swedish winger Hampus Wanne expressed his pride in the success of eliminating the French to book their ticket to the 2021 IHF Men's World Championship final on Sunday.
"We played well during this match; we defended tightly and had an attentive goalkeeper and he appeared in good shape, so we had the advantage in settling the match in our favour," said the SG Flensburg-Handewitt player who is a crucial element in the fundamental part of the Swedish success – their fast breaks – and who leads the scoring charts for his country, on 48 goals.
"It makes it a lot of fun because I am winger that likes to run, not just when I get the ball directly from the goalkeeper, but also when I get the goal from Jim (Gottfridsson)," acknowledged the player about the offensive system he is in. "But look at my colleague Lucas (Pellas), he has also scored I don't know how many goals. We have both have had a couple of great games [here] and I am very focussed."
Those great games have included two 'hummel Player of the Match Karma Awards' for Wanne – against North Macedonia and Belarus – but Wanne himself is quick to say it is all about the collective.
"These individual awards do not matter much to me, I just want to win matches with my country," he said. "This is the only important thing for me, and this is what we think about before any match. Pellas also plays well, very good and also won the award."
Despite competing in the same position, there is no friendly rivalry between the two left wingers.
"It's not how it works," he said. "If we start do things like that it won't work. We're a team. Everyone is helping everyone, and I think you can see it [on court], I hope so. We both think positively for the benefit of the team, so I am very happy for the two of us and happy because the team is winning, and this is the most important for us all."
And what about the Swedish national team reaching the final despite its reliance on a large number of new and young players?
"It is a surprise to many followers," said the 25-year-old. "We have gone through difficult circumstances and we had to quarantine before coming here in Egypt. We have a good mentality and I see that as long as we play as a team, we have to think and believe in the same thing, so we can do more than we want."
While their victory against France was impressive, for Hanne, the preliminary round 24:23 victory over host nation Egypt was the most difficult for him during the tournament, something he recognised while watching the classic quarter-final between Egypt and Denmark.
"I followed that match at the hotel on television," he said. "Both teams had equal chances of winning the match and Egypt were very close and could have beaten Denmark. The two teams played a very impressive match."
And the question on everyone's lips for the Swedish players in the mixed zone after the match, was the potential history repeating of when Sweden last won an IHF Men's World Championship – at Egypt 1999 – with the legendary 'Bengan Boys' squad.
"It has been a very long time since Sweden competed in that final in Egypt," he said. "It is very different this time. At that time, we had a great generation with many legends but [we can only compare ourselves in as much as] we both play handball, and both come from Sweden - they won so much over so many years.

"It's cool that Sweden are able to play such cool handball in Egypt. It seems that it is good for us to play in Egypt. We're doing good handball and we're doing great here."
Translated by Mina Adel Naguib