Final: Denmark seek perfection against Sweden
31 Jan. 2021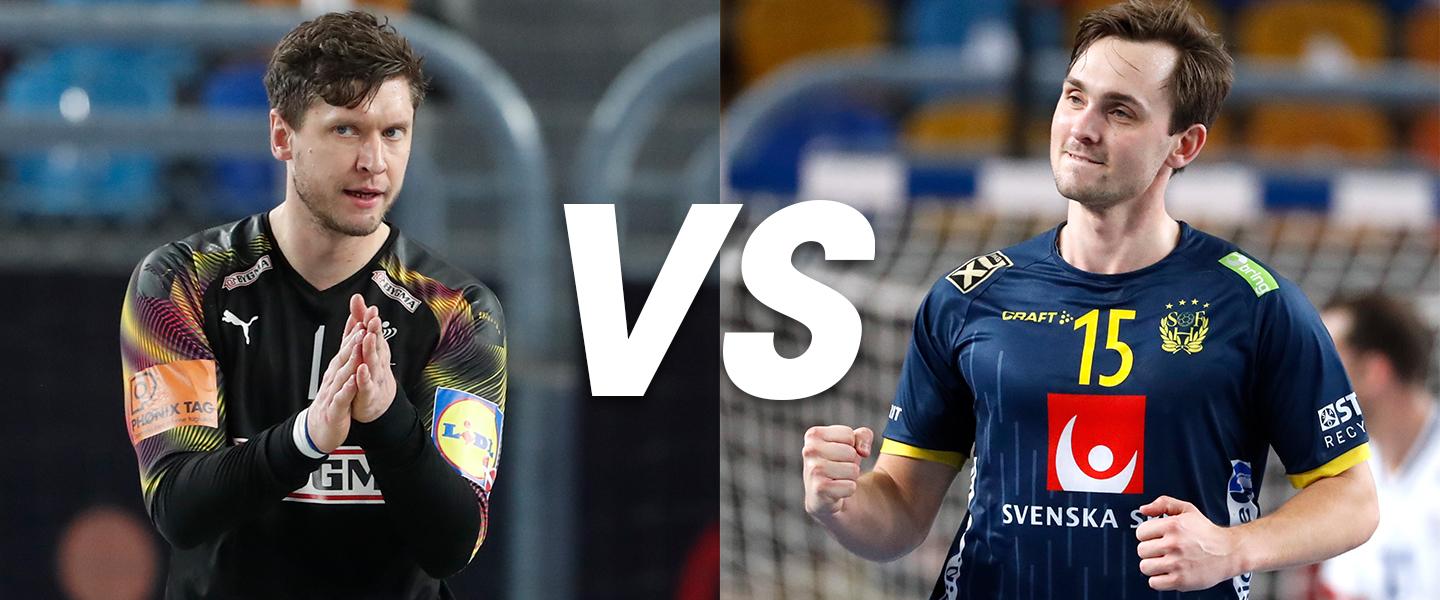 This is the game we have all been waiting for, the only two unbeaten teams in the competition to face for the big prize: the world title. For the second time in a row – and also for the second time ever – it will be a 100 per cent Scandinavian final, with Denmark facing Sweden in a winner-takes-all match.
Title holders Denmark can become only the second side in the last 47 years to clinch back-to-back world titles, while Sweden aim to end a 22-year wait for an IHF Men's World Championship gold medal.
To close the circle, the last Swedish title in the IHF's men's flagship event was also claimed in Egypt, after the Scandinavian team won eight games and drew one. Their record at Egypt 2021? Seven wins and one draw with their biggest match yet to come.
FINAL
Denmark vs Sweden 18:30 CAT
If somebody had told the Swedish players that they would progress to the final before the start of the World Championship, few of them would have gone for it. Their preparation had been hampered by the COVID-19 pandemic, with the team having been put into quarantine two weeks before flying to Egypt for the IHF Men's World Championship and many of them having little, or even no experience, in such a big competition.
Only one year ago, Sweden finished seventh at the Men's EHF EURO they co-hosted with new coach, Norwegian Glenn Solberg at the helm, who had replaced Kristjan Andresson.
Seven wins and a draw later, with a consistent defence, a lot of speed, the largest number of goals scored via fast breaks and a young and hungry side, Sweden are (at least) 60 minutes away from their fifth world title in history.
Two decades ago, Sweden were riding high, as the golden generation, the 'Bengan Boys', were dominating world handball. Now, this young side can follow in their footsteps, despite household names being scarce in Solberg's roster.
"I think now we have to focus on that game, the final on Sunday, and do the hard work again and hopefully we can achieve something really good. I have a lot of confidence about this team and hopefully we can continue our flow and hopefully we can come out and do a good result on Sunday," said defence specialist Fredric Pettersson to ihf.info after the 32:26 win against France in the semi-final.
An expert in defence, Pettersson, one of the most experienced players in the Swedish side with 64 caps, will have his hands full on Sunday.
While Sweden recorded wins against tough opponents like Egypt or France and drew against Slovenia on their way to the final in Cairo, none of those teams boast numbers like Denmark.
After a disappointing 25:27 loss against Hungary in the Round of 16 at France 2017, Denmark are currently on one of the best-ever winning streaks in the history of the competition.
In the past four years, Nikolaj Jacobsen's side have won 18 games in a row, tying France's run set between 2015 and 2019. Another win against Sweden and Denmark would go down in history with an unprecedented streak.
Denmark brought back 11 players from their title-winning campaign at Germany/Denmark 2019, but few of them have excelled like right back Mathias Gidsel. At his first-ever IHF Men's World Championship participation, Gidsel, who is still only 21-years-old, played as many games as he had caps in the national team prior to Egypt 2021, scoring 38 goals, only three shy of Denmark's top scorer in the competition, Mikkel Hansen.
"I have not realised yet that I am a finalist at the IHF Men's World Championship. Maybe on Sunday, when I sing the national anthem, it will sink down. Hopefully, we will win and seal the world title, it would be nice to be part of the history," said Gidsel to ihf.info.
Both Gidsel and Hansen will be crucial to Denmark's plan against Sweden, as the two backs will need to be once again at their best against Sweden. The two finalists are the only sides at Egypt 2021 to boast a scoring efficiency better than 70 per cent, with Sweden (74 per cent) topping the charts ahead of Denmark (72 percent).
However, if Sweden replicate their semi-final achievement, converting a championship-best of 86 percent of their shots, few teams could stand in their way.
"We say the team is going first every time, we have respect for each other and we have a lot of happiness with hard work and we want to better every day and I think we have found a group who thinks the same and wants to go in the same direction and knows that hard work is the first thing and then we can develop our skills.
"Hard work pays off. We have had a perfect and fantastic championship until now and we are dreaming about winning the world title," said Sweden's coach, Glenn Solberg.
For starters, Sweden will need to emulate their semi-final against Denmark from three years ago at the EHF EURO 2018. A 28:28 draw in regular time was followed by an outstanding two five-minute halves of extra time, as Sweden claimed a superb 35:34 win. However in the last two games at the IHF Men's World Championship, Denmark got the best of Sweden, winning 30:26 at Germany/Denmark 2019 and 27:25 at France 2017.
Yet, when the first whistle is blown, every part of history, every statistic, even the fact that four of Sweden's players are currently at Danish clubs, will be thrown out of the window. In the end, only the performance today matters, this one match to determine the one team to call themselves world champions.