"Until I puke or die" – Sweden's Pettersson leaves it all on court
30 Jan. 2021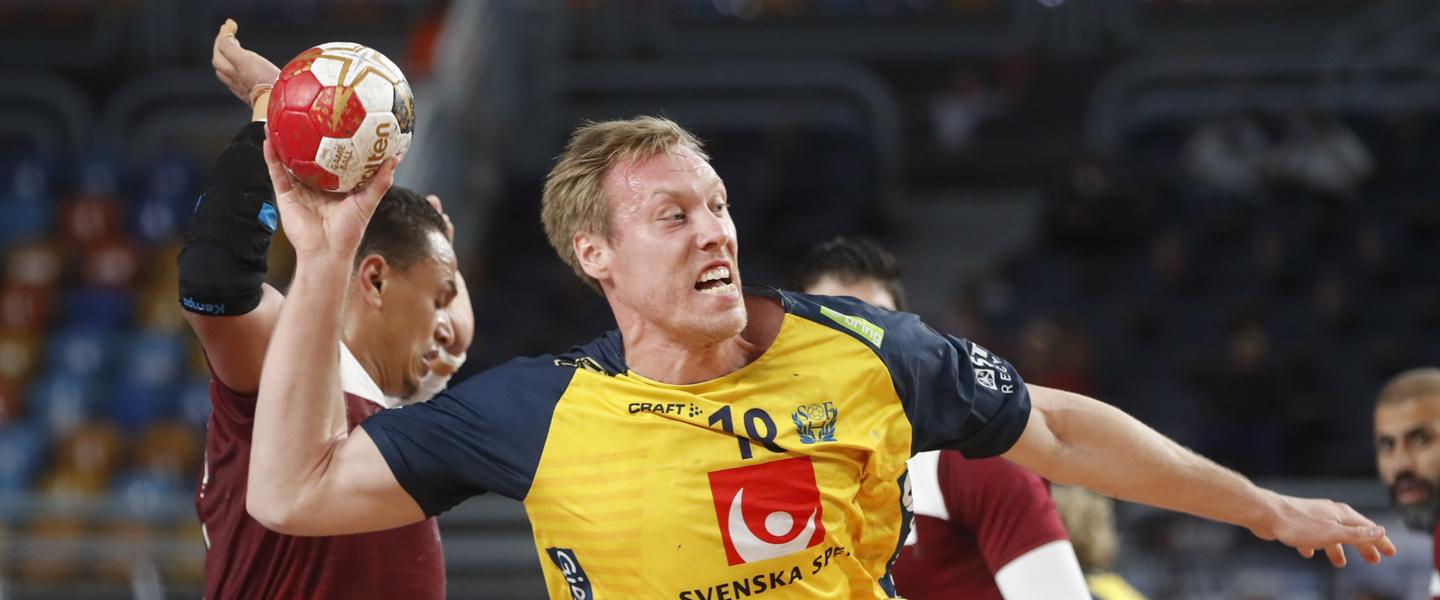 Sweden and their players are living a fairy tale in Egypt. Memories of the great 'Bengan Boys' from days gone by and their last IHF Men's World Championship won in the very arena – the Cairo Stadium complex – back in 1999.
Names and stories from that team such as Magnus Andersson, Staffan Olsson, Stefan Lovgren, Ljubomir Vranjes and Magnus Wislander are etched in the memory of Swedish handball fans thanks to their incredible medal haul under coach Bengt Johansson.
One of those handball fans is current national team player, Fredric Pettersson, who made his Sweden debut back in 2010 and has one silver medal – from the 2018 Men's European Championship.
But now, following their semi-final victory over France and another, guaranteed, silver medal, can he start thinking about being written into the same books as those famous players from recent times?
"Oh wow," he answered when asked by ihf.info. "For me, these guys were the guys I grew up looking at and for me I hope this is what other people – young kids – will remember when they see us on TV now, that they have the same feeling I have about these guys. 
"This is the joy of handball and the happiness that we hopefully bring to everyone, and it's amazing to be one of the guys in the team."
The joy that Sweden have brought to Egypt is based on hard work, a devastating fast-break and defence – with goalkeeping heroics from Andreas Palicka, assisted by Mikael Aggefors. This has led Pettersson to confirming just his second-ever medal, something which, maybe, those back in Sweden had not expected beforehand with a number of key players missing from the squad including Niclas Ekberg, Andreas Nilsson, Lukas Nilsson, Mikael Appelgren and others.
"It's amazing and I think no-one believed that" said Pettersson about the journey to the final which has seen Sweden gone unbeaten in their eight games so far. "The guys in the team, we knew what we could do of course, but everyone thought we were underdogs, and now we're here, so it's just amazing.
"We have a lot of new faces for many people at home who have never seen these guys before and I think that's a little advantage that we took, because no other team really knows how they play and today they really shined and I'm really proud to be part of the team."
Those new faces include three left backs Jonathan Carlsbogard (25 years old), Alfred Jonsson (22) and Oskar Sunnefeldt (22), along with 23-year-old centre back Jonathan Edvardsson and line player Oscar Bergendahl (25) – with just six senior appearances to their names a month before Egypt 2021 got underway.
Together, they obliterated France with a devastating 86% attacking efficiency across the 60 minutes, winning both halves of their semi-final 16:13. However, Pettersson was keen to stress his side will never take their foot off the pedal or mind off the game.
"We have [a 60-minute] mentality because you never know? But in the beginning, right from the start, it felt like we were the stronger team. And I know, the guys were saying it, but we had to be focussed for all 60 minutes and that's exactly what we did.
"Everyone left it out on the field, we saved nothing and for the result, we get really good positions to shoot and then it's really hard for the goalkeeper."
But did Pettersson really leave everything on the court against France and have nothing in the tank for their final clash against Denmark tomorrow?
"I hope not, I really hope not," he said, smiling. "I think we have a young team and a lot of them love to run. The coach (Glenn Solberg) put a really good group of people [together] and we have a perfect mix.
"We have the experience and the young [players] that just are so hungry and take every opportunity they get, it's a really good mix.
"I just try to contribute with my experience and [against France] it served me good because almost all of this team play in France where I play normally (for Montpellier) so if anyone had any question, I was glad to help.
"We have to say thanks a lot to our fans," he added. "We will really give everything in the last game, and I know they are with us."
One question remains though, with Sweden topping the charts with that devastating fast break – 51 in total (6.6% of all fast breaks at Egypt 2021 in total), would the 118kg, 2,01m Pettersson really do anything to help the team?
"It's not the first thing that comes to mind," he tells ihf.info, laughing. "But I will do it [for the team] until I puke or die."