Algeria-Morocco derby showcases African growth
14 Jan. 2021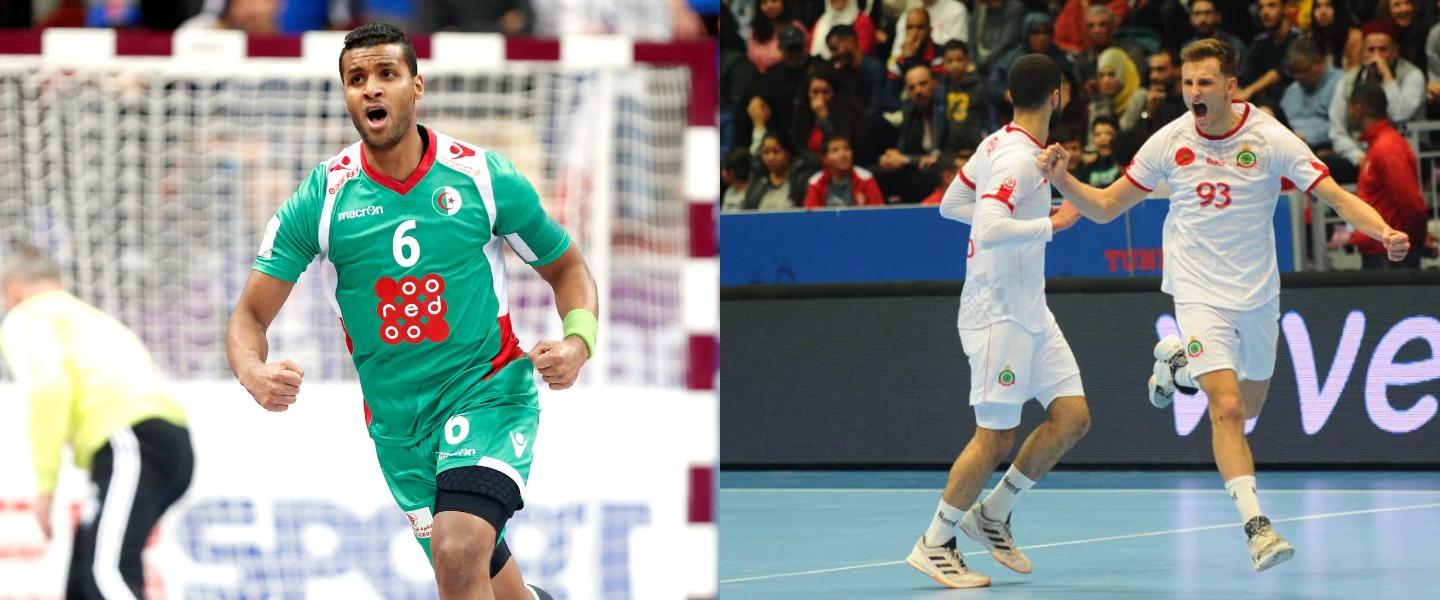 At the 1999 IHF Men's World Championship in Egypt, Algeria and Morocco were drawn into Group A. At the 2021 IHF Men's World Championship, also in Egypt, the African neighbours are once again together in the same preliminary group.
A new chapter in this handball rivalry will be written Thursday when the two sides meet once again at New Capital Sports Hall, 22 years after their 19:19 stalemate in the preliminary round.
Having two African sides facing each other on African soil in a World Championship is far from a novelty, but the fiery rivalry between the two nations will be rekindled. 
Last January, at the 2020 CAHB Men's African Championship, Algeria met Morocco in the group phase securing a 33:30 win, their sixth win in a row against their neighbours.
But this time around, the stakes are higher. With European stalwarts like Iceland and Portugal also in Group A, the winner of the all-African game will most likely secure their main round berth.
"For African handball, pitting two teams in the same group against each other was the only bad news of the draw, because, in this World Championship, there are six African teams, which can only help develop the sport in these countries," said Algeria's coach, Alain Portes.
With Algeria firmly in control of the head-to-head record, yet failing to win the only mutual game at the World Championship, the Moroccans concede they will be the underdog on Thursday. 
Boasting players playing in France and Spain, like goalkeeper Khalifa Ghedbane, who also won the EHF Champions League with RK Vardar, Algeria look like they have the upper hand.
"This game is a true Maghrebian derby, both teams know each other so well. Algeria might have the advantage, they are more experienced and have better players than us, at least on paper. But we will not back down from the challenge, we will rely once again on the team and do our best to win and secure a main round berth," said Morocco coach, Noureddine Bouhaddioui.
Both Algeria and Morocco will make their IHF Men's World Championship comeback after lengthy hiatuses. Algeria are back for the first time in six years, while Morocco's last appearance was 14 years ago at Germany 2007.
Morocco have never finished higher than their 17th place in 1999, while Algeria's best placement was the 13th place at France 2001.
"For us, this World Championship is of the utmost importance. We all are motivated and ready to play. For Algerian handball, a win against Morocco would be key, because we would improve our chances to progress to the main round and. All eyes are on us, handball is very popular in Algeria, so that would also bring a lot of joy to our fans," continued Portes, who has been Algeria's coach since 2019.
The two sides have also set their sights firmly on a main round berth.
"I was not satisfied with the draw, because, from our perspective, both Algeria and Morocco progressing to the main round from this group is a difficult scenario to complete. Yet we want to showcase African handball and show that we can play good handball here," added Bouhaddioui.
The quota for the African Handball Confederation (CAHB) has increased from three to seven teams at this World Championship, thanks to the 32-team expansion and the competition hosted in Egypt, which can only help develop African handball throughout the next years.
"It is a good feeling to see more African sides taking part at such an event. I think there are more and more countries in Africa are getting better and better at handball, Egypt is working very well, Tunisia are also very good. Angola and DR Congo are also looking more and more to improve, watching from afar and implementing good decisions," concluded Portes.
When the final whistle at New Capital Sports Hall is blown on Thursday, there might be only one winner between Algeria and Morocco. However, there is certainly another: African handball, which will have at least one team from Group A progressing to the main round of the 27th IHF Men's World Championship.
You can follow the Algeria men's national team here.
You can follow the Morocco men's national team here.